Cindy.Chen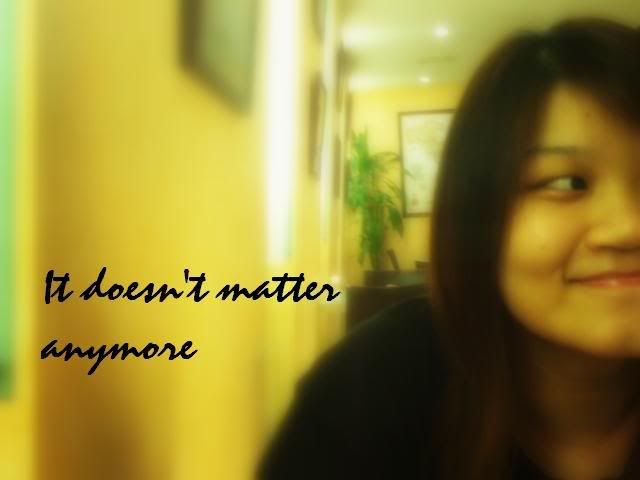 About ME


+25th Jan 1988.
+20 years old
+PSBAcademy.
+mhss.
+family.
+music.
+travel


Thursday, August 28, 2008
I know this sounds crazy but...i'm actually quite addicted to Hannah Montana!
Laugh out loud please.
Yes,Miley Cyrus aka Hannah Montana.The show is actually quite nice and..and..the songs.OKOK,don't have to remind me that i'm no longer a teen.
'neways,school has started again.Had my 1 week holiday last week and it went by so quickly!So now,my next 2 modules will be Econs and Accts.Thanks,you'll see me begging for mercy soon.And the books are so expensive!!2 books and it already costs me $86!Luckily not i pay.LOL!!It doesn't look like books to me though,more like dictionary.Siao one leh,so thick!
Think.Sec 5's Maths textbook (X) 2!WOOOHOOOO!In time to come,i'll probably be shorter by 5cm.
Oh,by the way,i'm already late for work but i don't care.I slept at 4.30am last night!And really had problem waking up and the weather's partly to blame too.So nice to sleep in!
Hmm..basically i've nothing to update.
Boring..
cindy
[ 12:25 PM ]

Wednesday, August 20, 2008
OMG,LOOK WHAT I'VE FOUND!!!AMAZING!!!
I believe it's the eyes though!But HOW CAN A GUY LOOK SO MUCH LIKE A GIRL?!!!?AND,TO LOOK LIKE BRITNEY SPEARS!?!HOLY MOLY!!!Just that he has a square face,other than that..WOWNESS!!!

And this,unbelieveable!
So it's really true there are at least 7 people in this world that looks like you.Where are my clones!?
cindy
[ 12:26 PM ]

Tuesday, August 19, 2008
My dad is overseas now so,i get to use the car the whole day today!It's really quite tiring to be driving the whole day though.

Went over to my grandma's place for lunch and decided to take my mom and grandma out for a spin since my niece was out with her grandma.Whenever she's around,my grandma will choose to stay at home instead to look after her..so it's high time for her to enjoy instead of being so busy with the baby.

We all just love car rides,don't we?

Since i hardly get the car during daytime because my dad needs it,i'd better make full use of it now since he's away!So this is basically where i went,

- Clementi (to pick my aunt up)
- Bukit Merah (to drop my grandma at the salon)
- Vivo(to drop my aunt)
- Tiong Bahru (to drop my grandma and mom off)
- Clementi (to pick up Miss Piggy)
- YCK (to pick up Sister Zaw)
- Jln Kayu (for dinner)
- Pek Kio (to drop both of them off)
- Home Sweet Home

Amazing!

I was supposed to meet Christy but i'm so tired i decided to come back home instead.

Anyways,Miss Piggy joined this 'Friendly Face' contest at Watsons and she got into the finals(miraculously!!!)and she need your votes!!The reason why i'm helping her to spread the words is because she promise to treat me IF she wins it.Then what has it got to do with you right?Well,you're right.I don't know.

Don't be so kay kao lah!Just vote lah,wah lao.Heeheeeeee!

So yup,
this is the link
.Voting only begins on the 21st of August i think?So, if you have nothing better to do,if you wanna see our very own Miss Piggy win, just vote!:)

Cheerios!:)
cindy
[ 10:24 PM ]

Monday, August 18, 2008
OMG,i really have a bimbotic sister.How ah??
She actually ordered 2 plates of food when she's eating alone in the hotel.And all i can do is to watch her eat..2 person's share.
See what i mean?
cindy
[ 10:40 PM ]

Sunday, August 17, 2008
So,i went to collect my phone today.And for the first time in my life,i was so pissed off i decided to write a complaint letter to Nokia.
'I'd like to say i'm very disappointed with your technical support system.

I've sent my phone(E65)for service on the 16th of August 2008 at Nokia,Parkway Parade.My phone is still under warranty.However,i got a call from one of your staff on the day itself and she told me the technician found some liquid substance in my phone and that i'd have to pay $150 for the repair.

She went on to tell me that the warranty only covers the 'external components' of the phone so without further ado,i told her i'd like to cancel the repair.

I went back to take my phone today(17/08/08),and to my disappointment,my phone was in a worser condition than before.

Initially,it was only the LCD screen light which was giving me problem as it went off.
But now,not only has my problem NOT been solved,it's giving me more problems after i sent it to the centre.Apparently,there's this small black column at the right side of the screen which blocked the view of the battery and,it just gives a sudden 'pop' sound at the speaker when i tried using the phone.

The thing i'm most displeased with is that,your staff keeps telling me it's because my phone is already corrupted,which is why all this problems are surfacing.

This is NOT an excuse.

The phone was okay other than the screen light before it was sent for 'repair'.How can so many problems suddenly surface within a day?!Even if its so,i believe it takes time for all these apparent problems to start to surface instead of all coming at one shot,isn't it?

And,OBVIOUSLY i know my phone has some problems which is why i sent it for service.Would i send it for repair if it was okay?!

I've been a Nokia user for the past few years but after this incident,i'm really disappointed and have definitely lost confidence in this brand.'
Like,seriously man!
They can't even give me a straight answer when i asked them why has my screen become like that and etc.All they could say was BECAUSE MY PHONE IS ALREADY CORRUPTED.SHIT YOU PLEASE.
I swear other than the LCD screen light,everything was okay before i stupidly went to 'repair' the phone.I've never felt so angry in my life before it's like,they obviously made a mistake but refused to apologise and then blame it on the phone itself.Damn ass lah!
Yah whatever,like it would make any difference if they really lose this 1 pathetic customer,right?
Ass.
cindy
[ 11:01 PM ]

Saturday, August 16, 2008
I HATE MY PHONE!!It's been friggin giving me problems ever since i got it less than a year ago.Bloody annoyed with Nokia too.KNS!What's a warranty for when i can't send the phone back for repair!?They bloody wanna charge me 150 bucks for it.
'Your phone might be beyond repair'
Wow,thanks lor.You have been a great help,really.
I knew it lah,i've sent that bloody phone for repair for far too many times until maybe they feel it's damn bo hua to keep repairing it since my phone is a gone case.
Idiot.
But the person who called sounded quite nice so i also couldn't bring myself to be harsh towards her.BUT DAMNIT!!
Now i have to get a new phone!HOW TO GET A NEW PHONE WHEN I'M REALLY SO BUDGET EVERY MONTH!?I don't wanna get a Nokia phone anymore.I've been saying that ever since sec 5 but the thing is,it's user friendly.I don't like too complicated phones.I hate Nokia but i like the new E71.Shit,super contradicting.
As for now,please try not to sms me.I can't bloody read msges unless it's daytime/with lights.The problem with my phone is,the LCD screen light went off.Which means?
1) When i off the lights,i can't use the phone because i can't see the screen.
2) When i sms,i have to find a spot under lights/sunlight.Which makes me look like a total idiot.
3) When i watch movies,i have to carry a small torchlight with me to read the sms,which also makes me look like an idiot.AND/OR ATTENTION SEEKING.
I DON'T LIKE I DON'T LIKE!!
SO YES,JUST CALL ME.DON'T SMS!!
cindy
[ 5:55 PM ]

Friday, August 15, 2008
KIM CARTER,IF YOU'RE READING THIS..
JOSH DUHAMEL IS DAMN HOT!!!!!
Very random,i know.
cindy
[ 10:28 PM ]

I SWEAR I REALLY LAUGHED UNTIL CRY!!!FRIGGIN FUNNY!!!!!!!!!!!!!!!!WATCH!!!
Hitler complaining about ERP.
cindy
[ 8:13 PM ]

I just realised what kind of guys i'm attracted to.
cindy
[ 2:20 PM ]

YAY!!MY EXAMS ARE FINALLY OVERRRRRRRRRR!!!WOOOOHOOO!!I just hope i'll pass and not retake..i don't have high hopes though.Yes,can you believe it?QUANTITATIVE SKILLS AKA MATHS,IS FINALLY OVERRRRRRRRRRRRRRRRRRRRRRRR!!Yah,now i'm just gonna wait for another killer module to erm,kill me.
Anyway have to thank bitch aka Karen for guiding me through some questions which i really had no clues.SHE CAN ACTUALLY REMEMBER THE ANSWER AND TELL ME THE STEPS OK!?!WAH LAOOO!AND ME,WHO ACTUALLY DID THE QUESTION,CAN FORGET HOW TO DO IT.Damn smart right?I meant me.
Anyhoos,it's over and i don't wanna think about it anymore.8 more modules for me..wow.
Went to catch 'Money No Enough 2' with Christy just now and i'd say it's actually not bad.I cried.Ok,not really cried lah..teared maybe.That stupid Christy,kept pushing the tissue to me.Wah lao,must make it so obvious meh?Idiotic.
This week i've been pretty free.Been staying at home and facing the computer like 24/7 which is not good at all because i realised my dark eye circles are getting darker and darker and my face is getting paler and paler.I looked like a walking zombie........................
I suddenly have the urge to exercise!It's high time i get my lazy ass moving.I feel like playing squash!!I feel like cycling!!I feel like playing tennis!!I feel like sweating like a pig!I need to live healthily,you know why?
I almost forgot how to spell 'healthily'.
cindy
[ 1:21 AM ]

Wednesday, August 13, 2008
I seriously hope my eyes were playing tricks on me.
My urine was

green

in colour.
cindy
[ 12:57 AM ]

Thursday, August 07, 2008
I found this on Youtube.
The part where everyone goes 'oh oh oh oh..',still gives me goosebumps!CAN YOU FEEL THE ENERGY!?hahaa!AWESOMEEEEEEEEEEEEE!!
cindy
[ 12:57 PM ]

Monday, August 04, 2008
Worked at SingFest on Saturday and Sunday.At least i get to watch Alicia Key's performance!!She's just so damn awesome!Anyway,more on that later.
Saturday was the longest/dirtiest/sweatiest/sticktiest day ever!The weather was so friggin hot,we were like roast pig under the sun.Really damn tiring!Worked from 10.30am all the way to 1.30am(no,your eyes are not playing tricks on you,10.30am-1.30am it is!!)15 hours of work and only ONE meal.POWERRRRRR!!But yesterday,the boss was very apologetic about it and kept saying sorry while explaining to us.
Anyway,got to see quite alot of Singapore's celebrity in the crowd as well.Jean Danker(SHE'S DAMN PRETTY AND FRIENDLY!!),Fiona Xie(she actually wore sunglass at night(?!)yah,tell me about it.But she's hot,very petite)actually she's quite nice.I don't know is she really that cheerful as a person or what but yeah,when we talked to her and people approached her for phototaking,she seemed really friendly.Oh!And i saw Nat Ho yesterday!!I didn't know it was him actually until he walked closer and he smiled at me.*melts*Come to think of it,most of the Singaporean celebs are actually pretty friendly,just that it's really quite hard to go gaga over them.
Oh,and Andrea Fonseka(or however you spell her name).I used to think she's really pretty and stuff but after Saturday,i totally changed my mind.Super arrogant and guess what?She smokes!And she only interview caucasians lor.Damn right-in-the-face man.But who cares..not really that great a deal to me.Just another DOND girl who got famous and yadda yadda~~
Anyway,we got to see a few international celebs while walking up to our respective stations.I saw Simple Plan on Saturday and the weird thing was,i think 2 of the members came out from the main entrance to pass the pass to a guy,Christy and myself just looked at them and went like 'orh',before opening the gate for them.And the weirder thing was,nobody screamed.They were all minding their own business.LOL!Ok,actually not that funny.It's damn sad if you're the artist and nobody cheers for you when they see you.Maybe can't really recognise lah,angmohs all looks the same just like how they see us.
As for Sunday,the crowd was crazy!!
I think there were more than 10,000 people.
Our station was the ticketing station and luckily i'm only supposed to usher them at the queue.Christy and a few other colleagues had to tear the tickets from 1.30pm all the way till about 6pm.Just imagine how bloody long was the queue?It was never-ending and we had idiotic people venting angers on us just because they stood under the damn sun for over an hour ONLY.Like hello?We stood there for HOURS ok?Till the sun sets ok!?Talking about tired,we worked all the way till 1.30 in the morning the day before and having to report to work the next day at 10.30am again,who are the ones supposed to be feeling tired?Nonsense leh these people.
I mean ok,i understand some people were pretty pissed off knowing we had to take back the stubs even though USUALLY,they can keep it for well,keepsake's purpose?But it was not under our control lor.We thought it was quite ridiculous too when we were told to do that but what to do?The organiser wants it that way so we were just doing what we were told.Simple as that.We want to be flexible too but we can't.
There were so many cases,i don't think i can list down all.
Back to my Alicia Keys.She's awesome!!:)
You know that kind of feeling when you see everyone sing along to that particular song and you can feel goosebumps all over your body?It's very overwhelming.My colleague and myself actually ran down all the way just to hear her sing the last song and damn,it was just..fantastic!!
The main entrance
The queue below.
can you imagine??
all the way down to the slope!!
the main stage where the international artist performed
then,we have the Pussycat Dolls!!!
Big screen
Alicia keys!!!
that's the best shot i could take.too far already!