Cindy.Chen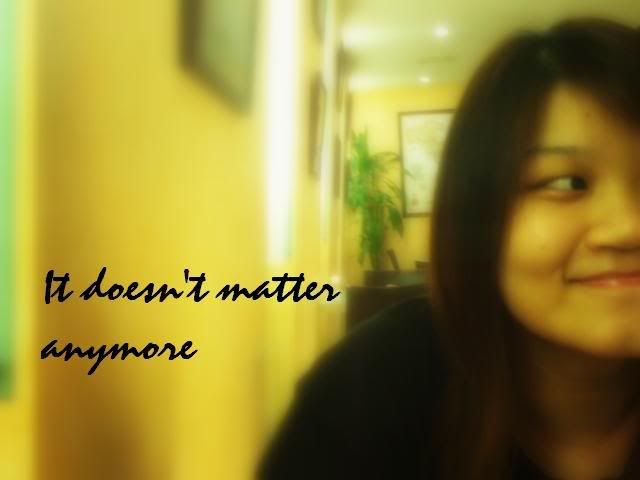 About ME


+25th Jan 1988.
+20 years old
+PSBAcademy.
+mhss.
+family.
+music.
+travel


Thursday, January 29, 2009
I skipped work today.It was unintentional!
Yesterday,there was this parent who wanted to take a look at the studio upstairs and usually,i'd use the spare key in the drawer but i don't know why,i decided to use my own keys instead.After viewing the studio,it's a practice that i'd throw all the keys back into the drawer.
So yes,being the smartass me,i conveniently threw the BUNDLE of keys into the drawer without even realising it's my own set of keys.And since my colleague was the one who locked up the school last night,all the more i didn't sense anything amissed.
Great,just great.
So yup,that was what happened.Going to work without keys.My boss was being really nice and i was really very very very guilty about it so i smsed him and he was like,
Boss:No prob la!But don't make it a habit..lol
Me:Of course not!I'm already very guilty lor.
Boss:I know..i'm trying to make you more guilty ma.
Yah,seriously.Damn guilty ok!
Anyway,so i came down to my grandma's place,bought my momma a cake since it's her birthday today and guess what?Nobody's here.
Nah,kidding.
My grandma's not feeling sick,so my momma brought her to the clinic.
Okay,i friggin hate the connection here!!It disconnects every 5 mins!!ARGHHHH!!!
cindy
[ 3:26 PM ]

Tuesday, January 27, 2009
I'm watching TRL The Finale on MTV now.
They're playing all the videos from the past decade and i'm watching Britney Spears' Hit Me Baby One More Time and it's giving me goosebumps.No,don't get me wrong.I still think it's the best song ever,i really do.It's just that,can you believe it?The first time i saw that video was 10 years ago!!And 10 years ago,i was..11?
When i was 11,i hoped to be 21.And now that i'm 21,i wish i'm 11 all over again.
Anyway,Britney was really hot!
cindy
[ 8:49 PM ]

Happy CNY all.Not so happy for me though.
This year is the suckiest and most fucked up CNY ever.
I've never swore in my blog but guess what?I just did.And it's on Chinese New Year.Great,just great.
Day 1 didn't start off good,not at all.But i don't think i wanna blog it down lest the next time i look at my archive,it'll remind me of the unhappy times.
Moving on!
Went over to my maternal grandma's side and my mood started to become better.I mean,it can't get any worse,right?So yup.Gambled with my cousins and was on a winning streak.I guess it's always like this.You lose something,you gain something.Anyway,we played for about 6 hours?HAHAAHA!The next thing i know,i was starving like one mad cow.And my cousins were like,
'oh yah hor,i also very hungry leh!'
So all of us scurried to the kitchen and helped ourselves with our favourite homecooked curry and ngoh hiang and gobbled down everything in less than 10 mins - YES!That was how hungry we were!
But it was all good.How many chances do we get for everyone to come together like this?It's not easy as each year passes.Be it family or friends.I've tried to cherish everything around me but sometimes,its not me who has a problem.Oh well!
Till den!
cindy
[ 6:06 PM ]

Sunday, January 25, 2009
So,i've officially turned 21.It doesn't feel like my birthday today actually,probably cus i've already celebrated it 2 days ago.

Still,i'd like to thank those who have wished me:):)

CNY is tomorrow and i'm dreading it.Not the collecting of ang pows part,but the..i don't know.The mood just ain't there which i have no idea why!It's just too fast i guess?

I need to start exercising soon.I have alot of people telling me i've put on alot of weight(than i already am)and,okay,i know because i can feel it too.I've been feeling so tired,restless and lazy.This cannot go on.I need to start living healthily.Which i have been telling myself since,a long long long long long time ago.And please hor,i'm not one of those stupid girls who keep saying 'i'm fat i'm fat' when they jolly well know they are not.Attention seeker i call it.I bet they love it when people say things like,

'OMG,are you crazy?!Nooo!You're not fat!You're so skinny!I wish i had your body'

So please people,don't be so stupid and say things they wanna hear.Fat people don't usually acknowledge they are fat.We don't say things like,

'OMG,i'm so fat.'

Because we already know we are.So we don't need more comments like,

'Yah,good that you know.'

Get it?

Anyway,some pics of the party from my camera.Please wait for it to load..
3 muskerteers!
the housekeeper
Sam!
Shahrul and Joanna
Part of the cake decoration!
with the left over people.hahaaah!
THE PRESENTS!!!:):)
21 snacks!!!almost all are my favourites man!!!:):)
And..THE MOST AMUSING THING!!!!!!!!!!!!!!!!!!!!!!!HHAHAHAAHAHAH!!!!
LET'S LAUGH TOGETHER!!!
HAHAHAHAHAAHAHAH!!!
HAHAAH
HHAAHHAHA
HAHAHAHAHHAAHAAH!
Okay enough.
YES,a pouch for present with receipt in the bag!HAHAHAHAHAHAH!!cool man!i decided not to show the price in case the person reads my blog.Anyway i also don't know who gave me this,so don't worry!HAHAHAHAAH!!
cindy
[ 1:03 PM ]

Saturday, January 24, 2009
It's slightly less than 5 mins before i officially turn 21.Time passes so quickly,i can't even explain what i'm feeling right now.
Anyway,so,last night was my party and it's finally over.I'm so happy that it didn't turn out to be a flop!Just so so soooooo happy and relieved at the same time!:):)
I was really so stressed before that with the bookings,the confirmations,the people and etc.It was to the extent i really felt like cancelling the whole thing.I wasn't even looking forward to it until i was there.
And the most amazing thing.......
I DIDN'T HAVE SEASICK!!!!!!!!!!!!!!!!!!!!!!!!!!!!!!!!!!!!!!!!
:):):)
I was so worried i might vomit and all but i didn't!
Anyway,i'll take this opportunity to thank the people who came(not as if they all read my blog but still,it's my thank you speech ok!)
To Karen and Andy,THANK YOU SO MUCH FOR THE CAKE!!Idiotic Andy said that my thank you speech wasn't thankful enough.So i shall do it once more.Thank you so much for the cake,i know you guys spent a bomb on it and i really appreciate it from the bottom of my heart!It was really lovely and i think everyone secretly 'WAH' in their heart.HAHAHAAHAHA!And yes,i 'WAH-ed',i love it!So yes,thank you both!:):)
To Piggy(Esther)and Sam,THANK YOU for the framework!It's beautiful,although the pictures are like repeated lah.LOL!!But yes,i love it!Thank you!:)
To Piggy(Esther),THANK YOU for the '21 items' box.I was really touched because most of the snacks are my favourites!Really sweet of you Piggy,thank you!:)
To Elena,THANK YOU for sending me to the place and the pinata although we didn't get to use it eventually but yes,thank you for just being there:)
To Derrick and Joanna,THANK YOU for the book although i haven't read it yet.Will find time to do so,thank you!:)
To Christy,Kelvin,Wiki and Wendy,THANK YOU for the mp4 player!They really got me something which is practical for me to use since my nano passed away a long time ago and i've been dreading long bus rides without any mp3!!I was thinking to get one for myself but guess i can save the money now!!YAYNESS:):)

To..let me see.To those who turned up,thank you so much!It really was an experience for all of us i guess!And it's so nice to see everyone mingle around and so united when it comes to singing birthday song.LOL!
To everyone i invited,turned up or not,thank you for being a part of my 21 years of living.Be it good or bad,i'm still thankful for the people around me:)
OH!And,to Kim Carter,THANK YOU for the lava lamp although i have to act like i don't know what is it when i already do.HAHAHAHAHAAH!!Fancy bumping into you there!Anyway,thanks!:)Oh,and the collage for the hot guys!LOL!!!

Pictures will be up soon.Still waiting for the pics from the photographer!

Happy CNY all!!!:):)
Happy 21st,Me!:)
cindy
[ 11:55 PM ]

Friday, January 16, 2009
Kim Carter,this is for you.
Michael Castro!
cindy
[ 11:54 PM ]

I guess i'm the only person in this world who OT till this hour.Yes,this unearthly hour.The clock reads 2.18am now.

No choice,the boss needs to rush some documents so yup.I kinda volunteered myself though,so it's okay.

Kinda shiok though.

Knocked off at 7pm,went home and bathed,watched American Idol and drove down to the school again.

Now i'm waiting for Christy,Kelvin,Wendy and Wiki to come and accompany me!Quite scary to be alone at this hour.Hurhurrr!:S

I wanna eat supperrrrrrrrrrrrrrrrrrrrrrrrrr!
cindy
[ 2:17 AM ]

Monday, January 12, 2009
I'm friggin in love with this song.It's just sooooo...nice!To those who watched Twilight,this is the song that was played while they were dancing at the last part.

This song deserves loads of credits for making the last part so..romantic.
Labels: Flightless Bird, Song, Twilight
cindy
[ 12:23 PM ]

Thursday, January 08, 2009
So i've been rather stressed up with the planning of my 21st.
Come to think of it now,i seriously don't know what's the big fuss about 21st birthdays.I've got this sudden urge just to cancel everything and have a good sleep.It's been a few days since i have had a good night sleep.I've read this somewhere and it goes something like,you should feel happy and excited while planning for your erm,whatever.
And what am i feeling now?Nothing but stressed.
Chicken nugget.
I'm watching The 2008 Victoria's Secret Fashion Show and holy friggin god,the girls are friggin HOT!!!!!!!!!!!!!!!!!!!!!Drop dead gorgeous please!Wooooooooooooo!!:D:D
cindy
[ 10:03 PM ]

Thursday, January 01, 2009
Missed a chance to blog on the last day of 2008.
2008 came and gone.I'd say it was a rather good year for me.Good in a way it was smooth-sailing,not much of 'obstacles' for me.The year saw me turning 20,getting a car license,passing my exams,getting my cert,finally getting a full time job and learning to appreciate the things around me more.
I have learnt not to take things for granted because i know as each year passes,there are bound to have things which i will gain as well as lose.
Now we bid goodbye to 2008,and i'm welcoming 2009 with an open heart.
I hope it will be a good year for me!:):)
-
I celebrated my last day of 2008 with Karen Tan YanRun.Met up with her at 12noon for our buffet lunch at Sakura and what can i say?Shiokness!!We were so bloated that the mention of ANY FOOD made us feel like vomitting.
We then took a bus down to Great World City and played arcade!Played basketball and basket,that shortie actually won me leh!!I won her the first round then subsequently,she kept winning.
After arcade,we went to the Re!hotel and checked out the room i'm intending to hold my 21st.It's not bad,but i'm still considering.Not sure what i'm gonna do man,damn stress.I've decided to bring the celebration 1 week before my actual day,so..yup!
Then,we walked all the way to Outram Mrt.Like i've said,she loves to make me walk.Walk aimlessly somemore!We sat at the bus stop and was thinking where to go.In the end,it was back to United Square's Starbucks!I think i fell in love with that place,very nice place to chill!
Spent a few hours in Starbucks chilling and talking and waited for the Count down.Some of the people were like cheering when the clock striked twelve so i kinda 'act shou' and cheered with them.Yah lah,'act shou' is my forte ok!HAHAHAHA!
We were thinking of where to go,either to stay in Starbucks or to go home because my hp was out of batt!First day of new year give me this crap leh!So yup,in the end..came over to my place and Andy picked her up.
So yes,i spent a total of 15.5hours with Karen Tan.She was the first person i shook hands with,walked with,talked to,laughed at and etc.
Anyways,i felt really guilty towards 2 person..my dad and Elena.
I thought my dad won't be home on New Year's Eve but i guess i was wrong.I broke the tradition of staying at home on NYE and i felt really guilty about it.No one was home except him,so can you imagine spending NYE alone?Wah lao..and the worst thing,he cooked and left a plate of fried rice on the table!!I swear i could almost cry.
Then Elena.
Lousy friend i am.I wasn't even there for her when she needed me.Now,what rights do i have to criticise friends who weren't with me when i need them most?Hai.
I know,what a way to start a New Year right?Nonetheless,i enjoyed myself yesterday!Thanks,bitch!:D:D
But i certainly hope it's gonna be a good year ahead!
We saw this while walking..
And the next min:
At Starbucks..
'It's been a long and WHINING journey...'
Oh,this pic is just to show how 'tall' she really is.

I've decided not to put up embarrassing pictures of you,Karen Tan.Please be grateful!