Cindy.Chen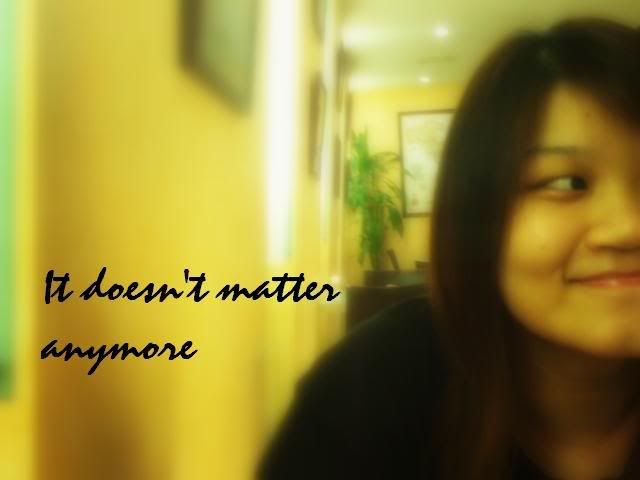 About ME


+25th Jan 1988.
+20 years old
+PSBAcademy.
+mhss.
+family.
+music.
+travel






Sunday, December 31, 2006

im tired.

all the UNTOUCHED food that were left behind the other day were devoured by me and errr..yah,only me.

and not that ive been totally rotting lah.ive been doing the house chores too.what to do?no aminah means i'll have to be the aminah.KAREN TAN,PLEASE VOLUNTEER YOURSELF TO BE MY AMINAH!

man,time flies!today is the last day of 2006.and again,when i looked back at the things ive accomplished,or not,i realised that ive been living my life in vain.the things ive not accomplished is more than the things ive accomplished,and that suck.so whats next?wallow in self-pity?nah,i wouldnt.

you know,there are so many things i want to do in life but i dont know how and where to get started.it really gets on my nerves when i know that this is not what i want to do but im still doing it.get what i mean?im not even asking for too much,am i?

what do we really know about life?

we'll always be hearing things like,'well,this is Life.'

yes,what is Life?

i realised one will probably be judged as too emotional when they start thinking about things which are beyond the surface.

and if one doesnt?

Ignorant.

im a little bit of both.i can be ignorant too,and dats becus im not keen to know what really is happening.

i know this entry may caused confusion.paiseh,just a mixture of feelings here!;)

HAPPY ADVANCE 2007 EVERYONE!!2007,here i come!!=D



cindy

[ 4:18 PM ]

Sunday, December 24, 2006
finally done with cleaning up the whole place!life without 'aminah' is really..... .... ...ok,im not acting like a spoilt brat here but seriously,i believe they will do a much better job.i can predict all the ants are gonna conquer the whole place tomorrow.lol!
anyway,yup.so i had the 'small gathering' at my place.and you know what?i seriously think im a very bad host.you know how some people can be really good at hosting such things and making everyone feel comfortable?but i can never do that.
my cousin came in the morning to help me out.we went to bugis to buy all the stuff becus we were afraid it might not be enough(but again,like my birthday,its MORE THAN enough.)but i really have to thank her for being there becus if she wasnt,i would have just kept buying.and of cus,for the decorations and food.its really nice to have a cousin whos so close to you!
the problem with me is that,im always scared that the things are not enough.get what i mean?so i tend to buy things which are
MORE THAN
enough and wasting unneccessary money.but hah,im always wasting unneccessary money anyway.im trying to change,please please.
so anyway,came home;done up the decoration and waited for the rest to come.then came a group of teenagers from a nearby church;caroled and after which,we took a group picture with them.i dont have it now cus i didnt use my camera.by the way,i know them so its not that i anyhow let strangers in ok?
after most of them left,i realised we left alot of food
UNTOUCHED
.ohmegod,i almost died.i think i should really stop behaving like a real singaporean.just normal singaporean will do.
i need a job,badly!
me and miao!=)
group pic.spot the different couples?
cindy
[ 5:48 PM ]

Friday, December 22, 2006
sometimes it does suck to know where you stand in people's eyes.whenever i make the first move,it always backfires.making it seem as though im some desperate kid trying so damn hard to get people's attention or even,a deprived loser who needs to be with thy friends for like 24/7.
im not afraid to say that out loud becus trust me,im none of that.
those who know me,well enough,will know that i dont even call people that often much less asking them out.and when i do,its probably becus i feel theres a need to do some catching-up with each other's lives.
I WANT
ALL OF YOU
TO KNOW THAT im perfectly fine with it if you dont welcome that idea.you dont need to entertain me or vice versa.but just dont make it look as though you're the superior one and i have to bow to you.becus the truth is,i dont.im living my life and i love the way im living it.im totally cool with the way i look at things.i dont feel angry but im just so sick of it.in fact,i dont get angry that often or even feel disappointed in anyone anymore.
without any expections,how can you feel the disappointment?
becus with all that anger and the different mixtures of feeling inside you,all you can see is nothing but the ugly side of people.
everyone would probably come to a stage whereby you feel being alone is actually better than being with friends.you get to think more rationally,you get to do things your way..you get to know your real-self.
im a strong believer of 'huh alone?NO!!'but guess what?i feel that ive grown.grown so much that i feel being alone isnt that great a deal afterall.you came to this world alone,you will leave this world alone too.im not even talking about twins.a twin is an individual,they will still have to wait for a few minutes for their twin to be delivered from their mother's womb.
im not trying to sound philosophical or what sort.its just some food for thoughts.
so sick and tired of it.
cindy
[ 3:43 AM ]

Monday, December 18, 2006
this was what happened today,damn paiseh but funny!LOL!!
*door-bell*
woman:HELLO!!!
me:oh hi!!
woman:how are you?long time no see!studying now or working?
me:hahahah,ive been good.erm studying part-time and looking for a job.you?
woman:i see,where's your sister?all grow up already huh?i came here for holiday.
me:oh okay,they are not in..
woman:by the way,you know who am i right?
me:errrr..no.
HAHAHAHAH!dont ask me how did i managed to continue a conversation with a stranger,i dont know!but anyway,she was my neighbour's maid.so nice of her to visit them.my evil maid will never do that and i hope she wont.
i dont understand why,and how,i can grow pimples when the weather is like so damn cooling.sickening.i hate pimples!I HATE IT!its a cursed!whenever i laugh at someone,the next day pimples will start popping up on my face.
tell me what to do next?
cindy
[ 9:45 AM ]

Saturday, December 16, 2006
lunch cum dinner in ms soo's house was not too bad.we were shocked to see so many people,mainly from her church and her relatives.but all was good=)
aiight,i shall let the pictures do the talking then.so tired!
christy didnt wanna take picture with ms soo.LOL,damn mean.
the few of us at the pool side.
Piccas from the other day!
at cine's cafe.i only liked the calamari rings.
donkeying around;
hmm,can tell ruiza has already mastered the highest level of acting cute.
and then we do budget stuff like,taking pics in a neoprint machine with our own camera.i enjoyed it though!
UNTIL........
this happened!it was our 'last moment' with the cam by the way.cus after like 1 sec,sam dropped it and had to send it for repair.WAHAHAHAHAH!!this is what i call,CLASSIC!
oh yah,acting that is.
the food at crystal jade.it really doesnt taste as nice as it looks though except maybe for the sweet and sour pork!
i finished 3/4 of the plate of sweet and sour pork.
the aftermath.
this is the 'Julian Hee Smile.'okay,more like shock.
then come the infamous 'Cindy Chen Smile.'WHAT!
the desserts!
i tell you,this is THE BEST THING ON EARTH!!SUPER NICE!!!
then came the bill..heart-piak.
YUCKSSSS!!!!!you know what?i just realised i get goosebumps all over when i see things like dat!!I DONT KNOW WHY!!!and holes,omg.AHHHH!!am i normal?ok,im having goosebumps while typing this.
THE SALON;
the place where i wasted 4 hours of my life.
this is how you cut a concave.the start,the process,the almost finish but not yet finished and the results on someone who has been waiting patiently for 4 hours.
first,you tie your hair:
then,
cut it(this is a proof)
do a center-parting at the back and..
duh?get on with it lah!lol
so this will be the final product.but if you're still not satisfy with it,you may..
heartlessly allow the other person to wait for you for another 2 hours to highlight your hair.like what this ms heah is doing.still got the cheek to smile.
by the time you finished doing your oh-4-hours hairdo,your friend would probably go crazy.
then,your poor friend will still have to force a smile to,smile.
(okay i better correct that.i NEVER force a smile.)
the end.
GBM.
cindy
[ 6:32 PM ]

sometimes i think my father can be damn kay kao.okay,so ive been using the supplementary card he gave me but we had an agreement,which is to pay the bill myself.
reasonable.since its his way of 'teaching me to be independant'.
so the other day,i woke up and found the bill on the sofa and at the bottom of the page,
'please pay me back $***.88'
wah lao!88 cents also count!
anyway,its been long since ive updated and the past days was all about going out.and im broke,broke,damn bloody broke.my computer sucks and i know ive been complaining since ever.
was supposed to meet up with elena on wednesday for some skating/cycling session since we havent been meeting up for so damn long but in the end,she was sick so we have to cancel it.so,
went vivo city with sam instead and i tell you,im gonna scrimp and save every single cent i have now.i think what ruiza said was true,or rather,IS true.the other day she told me this,
'wah cindy,you know ah..go out with you can go bankrupt one leh!can die ah.'
kao.i can go budget one what.and i mean SUPER budget,can?but anyway,back to the point.dat day,me and sam spent about $120+ in crystal jade.scream at me,SCCCCCREAM at me!i couldnt remain as calm as her when she saw the bill,i was like 'OH MY GOD!'.okay,we did ordered quite a few dishes(and yes,the dessert was HEAVENLY)but still,for 2 person is quite an amount right?
so i vowed,to myself,to be as kiam as i can from now on.
but im proud to say,i did NOT spend any money for the rest of the day.HAHAHAHAH!den i started cursing myself when we 'accidentally' stepped into the salon and ended up wasting nearly 4hrs of my life when all we ever asked was,
'eh,how much is a hair cut?'
yes,4 hours.not on me,but sam.i was really excited at first especially when we were deciding on what kind of hairstyle she wants.den we decided on the hairstyle,got on to it and ok,the cutting alone was already like 2 hours?it was before dat hairstylist went on to suggest sam to get a new hair colour too,i was thinking 'woah,finally done!'.so,i waited for another 2 hours.
i dont know how i went through it but im glad i did.hahaa,i cant believe i actually have the patience to sit there and do nothing,really.
impressive.
tomorrow will be ms soo's house and yvonne's.hope it will be fun!=)
cindy
[ 4:47 PM ]

Monday, December 11, 2006
didnt blog for days.nothing much to update actually.the mass job-hunting has been pretty futile so better not talk about it.but fret not,i should be able to survive for the next month or so becus ive suddenly received my last month's pay(i forgot i did worked for a few days before quiting).
heh heh!
so,the other day i went to tiong bahru market to makan with miao and gosh,the carrot cake was terrrrrrribbblee!so bland and the 'cai po',tsk tsk,so not up to standard.ok,so what am i?but no lah,i really cant stand not-up-to-standard carrot cake becus well,dats one of my favourite food lor.
yah~
you guys should go try the one at newton.though the uncle sucks.
after eating,we went to my grandma's house and dats when miao started abusing me.she really boxed me ok!siao woman,not only box she also grabbed a pillow and started hitting me all over.and warning!dont ever fight with skinny people.you know why?
you are fighting against nothing but their BONES!!!!
BONES v.s FLESH
i used my fist to hit her,and her knuckles hit against mine but guess who was the one screaming?i swear the next day when i woke up,my arms and legs are full of bruises.siao woman.
hahaah!aiight anyway,i think i'd better hit the sack right now!nite y'all!
the new generation of mushroom-head cum face smacker.
can you tell if she's smiling or crying?HAHAHAH!I LOVE HER TO BITS!=)
cindy
[ 4:16 PM ]

Thursday, December 07, 2006
i think im gonna miss my lecturer.he was especially funny today.alrite,i have to admit..ive been a rather
guilty
student for this module.ive only attended like maybe 75% of his lesson?heh.
so he was like saying if we have any questions we may email or give him a call and one of my classmate asked,
'you will reply one meh?'
den he was asking the class did he ever not reply to any of us and we all just kept quiet and he gave dat really embarrassed face.den one of them was like..
classmate:yah,you dont pick up calls!
lecturer:huh?when?dont have lah
classmate:have!
lecturer:oh,maybe becus sometimes im busy and i...
classmate:NO!it was before class!
lecturer:ah whatever lah!shh!li bue hiao zuo lang!(in hokkien)im gonna deduct your marks!
LOL!it was funny shit man!den he was like saying if theres any changes in the paper,hes not gonna inform her den dat classmate was like saying never mind she got back-up den she started talking to another classmate in hokkien(they are aunties by the way)den my lecturer was like..
'eh!this is not hokkien lesson lah!'
HAHAHAH!we were all laughing like some mad ass man.it was really friggin funny.den he was asking us to write down the emails and theres one email which goes like 'bearbear' something.then he was like 'who the hell is bearbear?!!?' den he started laughing like mad.funny guy!
so sheena's finally back from New Zealand and man!!SHE PUT ON WEIGHT!!!!HAHAHAHAHAHAH!!she really did,slightly.what to do,life's been good for her.
anyway,went for 2 job interviews today.one of which is FLORIST!ok yes,STOP GIVING ME THE SAME STUPID REACTION!assholes!HAHAHAH!i know,
florist = feminine
but i can be feminine too what!dont doubt me lah.hahaahah!show you this stupid conversation i had with stupid elena.
but anyway,im still thinking abt it.cus i just wanna try something new.ive tried so many stuff..sales,property agent,admin.ahhh!the person already confirmed me but i told her i have to consider cus minimum commitment of 6 months!HOW??suggestions leh.i think probably not lah.lol!cus seriously,i cant imagine too.HAHAHAHAH!stop it!
another one is customer service for motorala but i think im not gonna take it.formal wear please,like so troublesome.
so after dat met up with ruiza and went to crystal jade for lunch.the mango pudding is OMG,THUMBS UP man!!we ordered quite a few things and the manager was damn funny.becus he kept taking orders for us and he gave dat 'order-again?' face.and after every order,he would say thank you.so he probably said 5 thank you(s) to us.LMAO!!
right,so project's finally down and i think im gonna mass job-hunt tomorrow!!anyone?
cindy
[ 3:43 PM ]

Wednesday, December 06, 2006
sam just sent me the pictures from the other day.this is the actress i was talking about.
she's damn pretty can!really pretty.
see!!directly across us!!;)
anyway,since ive been pretty much up to NOTHING,i started playing The Sims.and yea,i realised i'll be a very lousy housewife next time.i dont want to elaborate becus i dont want to.
yesterday was steamboat with the usual group and i left early becus i wanted to catch the 9pm show.in the end,it was quite a disappointment.it wasnt even funny at all.i think they only show the 'funny part' in the preview which makes it look interesting to watch.today's was slightly better,but still not as good as i thought.such a letdown.=(
so back to the steamboat.i had my fills for the meatballs yesterday and i shall officially announce..im damn sick of them already.too much of everything is not good.
tomorrow's my last lesson for the module and im so glad.haha,ok..actually it doesnt make much of a difference but well,at least i dont have the drat the thoughts of having school on a saturday afternoon which is like,in the middle of nowhere.and i think im so dead.i asked my classmate how many pages is her report and she said 24.but mine,ONLY 4!!!FOUR,SI,UMPAT!tsktsk,i think i better dont rely on my report..confirm fail.
ok,i'd better run now!doing more research.ciao!
cindy
[ 3:32 PM ]

Sunday, December 03, 2006
the time now is 3.00am and im still not asleep yet.i told you my body clock has gone haywire!
anyway,guess who i saw today?!?!?!
HOHOHOHOHOHOHO!!!!!
no,not santa.
JULIAN HEE,HEE,HEE!!!OMG!!
he is like
OH-SO-FINE
man!super hot;super friendly;super cute..he's just superb lah!
at first i thought sam was joking with me when she told me it was him.we were stoning at the table and she was like..
'eh cindy,julian hee!'
i was drinking water at dat point of time and i swear i almost choked myself to death.and the best thing was,both of them(julian hee and this other actress)were sitting directing opposite us.ok its more like beside but with the glass panel in between.OMG!how lucky can we get?!and its like early in the morning ok!
he was so cute lah.cus we were like making those 'take picture' sign to them through the glass panel and he asked us to go over.so of cus,me and sam quickly walked over and took pictures with him and i tell you,my whole body was practically shaking like mad lah!i couldnt even smile!!my lips are like,i dont know how to describe but man,the photo would have been
purrrfeccct
!
=(
but im still gonna upload it!HAHAHAH!
then i got super high and i went round calling people.LOL!!kelvin reaction was super funny..
kelvin:(*in a sleepy tone*)hello?you called?
me:kelvin..i tell you something ok?I SAW JULIAN HEE!!
kelvin:(*suddenly sound damn alert*)HUH!?WHERE?!
me:he sitting directly opposite us!!AHHHHH!!and i took picture with him!!HAHAHAHA
kelvin:wah lao!really ah?BITCH~
LOL!i couldnt stop laughing lah.
i cant imagine how will i react if i see Edison.i think i might as well faint.
anyway,so after dat ruiza,sam and myself parted ways becus ruiza and i were going for classes and sam was meeting her friend.BUT..
not long after i reached Toa Payoh,ruiza called and said she doesnt have any class today.lol,omg.how can anyone be THIS blur!?and she still dare to say its not the first time anway.=.="yah,shes really proud of it.hahaa,so in the end,sam's friend couldnt make it too so both of them met up again and i met them at esplanade after my first half of the class.
den ruiza left for her church and both of us went over to the concert square at esplanade to chill.
den off i went to meet my mom and all.super long day but it feels good!=) especially after seeing Julian Hee heeee heeeeeee!!;))
hahaa,yea go ahead and laugh at my face.i couldnt stop laughing at myself too.now sam and myself has a new way to SMILE.HAHAHAHAHH!
cindy
[ 7:51 PM ]

Saturday, December 02, 2006
i was supposed to go visit my grandma today but she said shes going out so in the end,im still stuck at home.
im so bored..
so bored...
so bored....
anyway,was youtubing around and aha!i found 3 super hilarious clips by Justin Timberlake.OMG,I LOVE DAT GUY!HAHAHAH!!watch it for some good laughs!=)
cindy
[ 6:47 AM ]

Friday, December 01, 2006
its december already!damn fast!
i dont know if anyone,especially those who has been talking to me lately,even realise the way i talked.i,myself only realised it now becus someone told me about it.LOL!im damn not paiseh for dat man.
i used to annoy people by saying 'is it?' ok wait,i didnt actually intentionally want to annoy people.its just dat the word 'is it' comes out
SOOOO
fluently and i cant stop myself from saying it.and when i say 'is it',i sincerly meant it as 'is it' as a question or,maybe,amusement.but,derrick loves to exagerrate it and make it sound damn annoying.he will go like
'IZZ-ZZIT'
.you know what i mean?
so now i've again,unintentionally used the word 'and then?' to answer/ask a question.
'cindy,you know ah.....*blah blah blah*''oh,and then?'
OR
'so you going home now?''and then?'
its just the way i talk lah,you know what im saying?its so convenient to just say 2 words instead of like..
'so you going home now?''yah,or where you wanna go?'
ok wait,i could have just said 'yah'.eh,dats not the point.i think i should learn to give long answers.
anyway,went out with rui xue today.we ate so much man!first,we went to Paragon's Din Tai Feng and i swear the fried rice is
SOOOOO DAMNNN GOOOOOD !!!!
im not supposed to eat prawns but i dont care,i practically gobbled down 3/4 portion of the rice leaving only a small portion for ruiza.HAHAAHAH!poor thing ah.and the xiaolong baos.tsktsk,the juice just 'per-zi' into your mouth without you knowing.YUM!
then,we walked all the way to far east for some dessert at Gelare.sat there and went through abit on how to start on my project.after dat,we met up with tecksin at mcdonalds and ate again.
and yay,i didnt take cab home ok?cheers to that!=) in fact,im starting to love bus trips all over again.i dont know why!when i was in primary school,i used to take a bus until it reaches the interchange as i dont want to go home so early becus i know there'll be tonns of assement waiting for me.
but i cant do that now even if i want to becus..
ADULT FARE KILLS!!