Cindy.Chen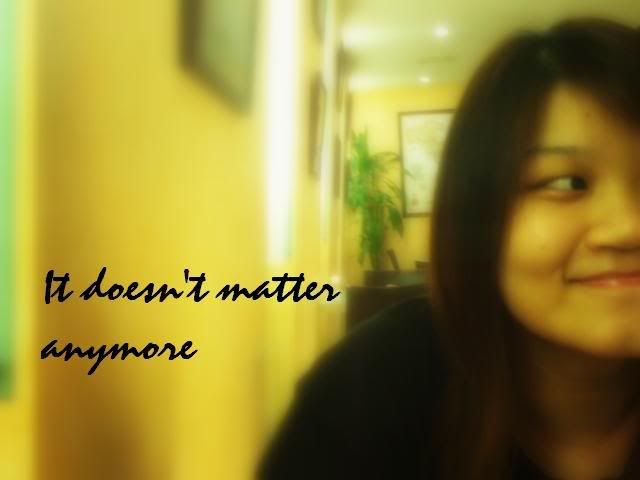 About ME


+25th Jan 1988.
+20 years old
+PSBAcademy.
+mhss.
+family.
+music.
+travel


Tuesday, December 30, 2008
So i supposedly ordered breakfast from McDonalds.But by the time it reaches,it was already lunch.And the thing about the branch that's near my place is,they ALWAYS give me the wrong order.And it's ALWAYS the same uncle who delivers.

I ordered a sausage mcmuffin meal but i got 2 fillet burgers in the end.Good bargain i say.And since it's not the first time they delivered the wrong items,i decided not to be the good person i always am - By not returning their 2 burgers.

Nanny nanny poo poo!

I know it's 'complimentary' lah,since they were the one in the wrong.Usually,we will give them back but today,i just feel like being evil.

Instead of 1 sausage mcmuffin meal,i got:


2 fillet burgers

1 sausage mcmuffin


3 hashbrowns

2 milos

and alot of serviettes.




The 2 burgers are resting at home now while i'm back at work!:(

Just by thinking whether i need to go to work the next day already used up alot of my brain cells.

How ah,i don't think i'm gonna work for long leh...i have no confidence staying in this job for long.I miss art shop:(:(and the kids.This job is simply too boring.

Let me strike lottery please!Then i can 'retire' for awhile.
cindy
[ 12:41 PM ]

Monday, December 29, 2008
I think i should open a job recruitment company or something.Everyone has been looking for me for jobs and i wish i have that many lobangs as i did before i started this job.
Rest assured people,i'll keep a lookout for you guys.And the reason i'm saying it here is because,they read my blog.And that's how they know how many friggin 'jobs' i've changed.
So Karen Tan was being super hyper yesterday,she called me and she was like,
Karen:Cindy Chen Xingli,are you sleeping,Cindy Chen Xingli?
Yah,she had to say 2 times.
It's quite hard to tame her hyperness,she will go haywire and start sprouting nonsense.So 3/4 of the things she said doesn't make any sense at all.
Anyway just now i called to make a reservation for Sakura Buffet and i got the most annoying answer ever.
Me:So,what's the difference between your branch and Orchard's?
Girl-trying-to-be-funny:Orh,this is Balestier that one is Orchard.
Bloody hell,like i don't know.
Can you believe it,2 more days and it'll be 2009!!It's so fast,it's scary!
cindy
[ 12:08 PM ]

Sunday, December 28, 2008
Yesterday was spent nua-ing at home in the afternoon.Evening saw Celine back,went to pick her up at the hotel and over to my grandma's place to see Jon Paul again!!We will never be tired of seeing him!!The more i see him,the more i adore him!!:):)

You guys really have to meet him in person lah!He really looks like the Precious Moment boy!
Errr,okay maybe not.Jon Paul's cuter!!!Biasness in the face,i know.I LIKE!!!:D:D
After grandma's place,sent my dad home and Celine,XT(younger sis) and myself went to ECP for HK cafe.Speaking of which,i think i have some affinity with this particular parking lot at ECP.LOL,i know right.Affinity with parking lot,what the hell.But seriously!Everytime when i go there,the parking lots will be full.Usually under this kind of situation,one would either go round and round or go some other places to find the parking lots.However for my case,i'd usually wait at one corner and UNKNOWINGLY,i'd always end up right infront of that parking lot.Then the next thing i know,the car owner will come and soon,the lot will be vacant.
It's like,damn heng lor!!
I've tried to find some other words to describe but i think singlish works better!
It's like,damn lucky lor!!
Hmm,no..not expressive enough.Heng sounds more lucky than lucky.
Yah,so it's like,damn heng lor!!Too bad there weren't any numbers on the floor,if not i confirm buy 4D.
So after HK Cafe,went over to Holland V for some grocerry shopping.Then to Toa Payoh just to get 3 packets of noodles because Celine wants it.After which,sent her back to the hotel and reached home at about 3.30am?
Partly cus i got lost at some place..again.I seriously think my dad should install the car navigator.
Alright,gonna go do my stuff now!Til den.
cindy
[ 12:36 PM ]

Saturday, December 27, 2008
I highly suspect my boss and lady boss reads my blog.

Kidding!

Reason being,after complaining i still had to go back to work even when there's no classes,my boss decides to let me rest today instead.And rest i should,i was having a throbbing headache last night.

I think my 'resolution' for next year will be to have proper meals.Starting with having breakfast!I know it's gonna be really hard,since i've been skipping breakfast for the past..holy,20 years of my life.And soon to be 21 years..................damn!

And then next will be to sleep early.Which is gonna be very hard too!

Exercise.
Use less computer.
Save more money.
Study harder.
Work lesser.LOL
Travel more.Ok,very contradicting.

But like i've said,i hardly do what i ought to.Resolutions are just a 'guide' or an 'aim' so as to make yourself feel motivated and such.So,one of my resolutions for next year will be to fulfil the resolutions i've made.Sounds damn complicated i know.

I think i'm gonna catch a nap soon.I can hardly open my eyes..oh,damn the flu!

Some overdued pictures:
Uh huh,enjoying her meal.AND YES,OUR DEAR QIULIAN EATS OK!?!!?!To hell with 'omg,this is so fattening!'YOU ROCK!!!
Presenting to you,our ONE and ONLY QIULIAN!!!!*CHEERS AND APLAUSE* YOU ROCK,CHINEAN!!!
cindy
[ 3:03 PM ]

Friday, December 26, 2008
I got cheated!

Remember how i happily mentioned that i was gonna have a 2 weeks break from work?Bluff!Cheat my feelings.In the end,i still need to come back and work.Bloody hell!Should have just gone to Aussie with Celine.

I don't understand come back for what.Also no class!*mumbles grumbles*

Anyway,this year's christmas was spent with Karen Tan again.And another extra
Andy Tham,in the later part of the night.

Had dinner at the market and walked over to the 'bridge' side and did more catching up.Interesting hor?This is how we spent our christmas,with all the uncles and aunties and stray cats.

After which,went back to my place and watched TLN while waiting for Andy a.k.a

THE HOTTEST MAN ALIVE(!!!!!!)

to pick her up.

And Andy,YOU'RE

SO DAMN HOT

CAN YOU GO CUT YOUR HAIR?!!?Don't give me shit like Karen doesn't mind why should I,I don't accept that!Karen,please mind.

Ok i'm done.Back to slogging hard for my own money and that includes watching Youtube:D:D
cindy
[ 10:06 AM ]

Thursday, December 25, 2008
MERRY CHRISTMAS EVERYONE!!!:D:D
So it was at my grandma's place last night with the addtional member!Christmas has never been such a joy before Jon Paul was born!Ok,not after all of us have grown up.It's just..different.But now with the new bundle of joy,there're many happy occasion to look forward to!:D:D
Jon Paul,Jon Paul!!:):)
So after dinner,sent Celine to the airport as she's got a flight to catch.Then it was home sweet home after that.
Such a cold christmas this year!And i'm loving it!:)
cindy
[ 9:53 AM ]

Sunday, December 21, 2008
Just came home from the movie and OMG,Twilight is SOOOOOOO GOOOOOOOD!!!:D:D I've been wanting to watch it so badly and though i don't really trust reviews and all,i was wrong this time!It's like,really good!So if you're thinking of watching it,please go now.And if you weren't thinking of watching it,what the hell?GO WATCH NOW.

Anyways,after the movie,there was this couple infront of us(Kelvin,Wiki and myself)and..i think that fellow probably got 'motivated' to be the 'romantic' guy in the movie,so he was like literally dancing around with his gf.And when we reached the escalator,he actually lifted her up a little(just like in the movie)and we went,

US:OH MY GOD.........
Kelvin:I wanna puke now.
Me:Me too man.
Wiki:What are they trying to do!?

It's like,if you're handsome and you do this kinda thing..it's annoying but still acceptable.But if you're ugly and you do this kinda thing,obviously trying to be a 'wannabe',is just super annoying!

And it's not like we have any options left.All the other exits were closed,which left us with no choice but to witness the 'grossified' version of Twilight right infront of us.They can just go suck..our blood.

Oh,better not.I don't wanna be like them.No thanks!
I mean,yes,i understand there's always this adrenaline after watching a certain type of movies and trying to be like the characters in the show but wah lao,be realistic lah!

So my dad's out for cruise and i've been using the car for the past 2 days.He top up the cashcard before he left and now,20 bucks is gone!It's just 2 days and 20 bucks is gone,from the cashcard alone.I don't think i'm ever gonna own my own vehicle man!Great consumption,no good for my pocket!!

Celine will be back tomorrow and will be leaving for Brisbane on Christmas Eve.Initially i wanted to join her but decided not to..errr..because,that's why.:):)

And..i'll be free for the next 2 weeks!!No work,no school!!Yayness!!!

Let the bookings begin..!;)
cindy
[ 12:27 AM ]

Friday, December 19, 2008
OMG,I LOVE YOU KAIJIA!!!!!!!!!!!!!!!!!!!!!!!!!!!!!!

SHE FOUND MY SHAMPOO!!!!!!!!!!!!!!!!!!!!!!!!!!!!!I'M DAMN HAPPY OK!!!!!?!?!?!!?!?!?!?!?!

HEEEEEEEEEEEEEEEEEEEEEEEEEEEEEEEEEEEEEEEEEEEEEEEEE!!!!!
cindy
[ 3:09 PM ]

Photos from the other day!
Jon Paul,Jon Paul!!!:D:D SO CUTEEEEEEEEE,can't stand it!
KJ's masterpiece!:

cindy
[ 1:08 AM ]

Because i was being tagged by KJ
THREE SCREEN NAMES YOU HAVE HAD:
1. bUfFy13
2.bUfFy14
3.[-Buffy-]
THREE PHYSICAL THINGS YOU LIKE ABOUT YOURSELF:
1. I
2. Love
3. Everything about myself!
THREE PHYSICAL THINGS YOU DON'T LIKE ABOUT YOURSELF:
1. I
2. Love
3. Everything about myself even though i'm not perfect.
THREE PARTS OF YOUR HERITAGE:
1. Hokkien
2. Singaporean-Chinese
3. I DONT KNOW!
THREE THINGS THAT SCARE YOU:
1. Clowns
2. Heights
3. Middle of the ocean
THREE OF YOUR EVERYDAY ESSENTIALS:
1. MSN
2. Facebook
3. Handphone
THREE THINGS YOU ARE WEARING NOW:
1. Big walk t-shirt
2. RVPS PE shorts
3. Undergarments,duh?LOL.
THREE OF YOUR FAVORITE BANDS OR MUSICAL ARTISTS:
1. No
2. Favourites
3. Man..
THREE OF YOUR FAVORITE SONGS (RIGHT NOW):
1. Sorry by Buckcherry
2. Best Of Me by Daniel Powter
3. Gotta Be Somebody by Nickleback
THREE THINGS YOU WANT IN A RELATIONSHIP:
1.Communications
2.Trust
3.Ironically,freedom.
THREE PHYSICAL THINGS ABOUT THE PREFERRED SEX THAT APPEAL TO YOU:
1. SHOULDERS!!!LOL!!!I KNOW THIS IS DAMN WEIRD BUT YES,SHOULDERS!!!!:D:D
2. Smile
3. Eyes
THREE OF YOUR FAVORITE HOBBIES:
1. Chilling
2. Sleeping
3. Simply doing nothing
THREE THINGS YOU WANT TO DO REALLY BADLY RIGHT NOW:
1. HOLIDAY!!!!
2. Sleep
3. Korean food with KAREN TAN YANRUN!!
THREE CAREERS YOU'RE CONSIDERING/YOU'VE CONSIDERED:
1.Travel agent.LOL,don't laugh!
2.Entreprenuer
3.Related to media
THREE PLACES YOU WANT TO GO ON VACATION:
1. HOLLYWOOD,like seriously.
2. Paris
3. Egypt
THREE THINGS YOU WANT TO DO BEFORE YOU DIE:
1.To travel to different countries!
2. Sky Dive
3. Do something crazy.
THREE WAYS THAT YOU ARE STEREOTYPICALLY A GIRL:
1. I can be SUPER WHINY!(something i didn't know until Christy couldn't stand me.HAHAHAHA)
2. I can't parallel park
3. Anything that involves the FACE,i'm concerned.Even if it's just a pimple.
THREE WAYS THAT YOU ARE NOT STEREOTYPICALLY A GIRL:
1. Gigantic feet and hands.
2. I can sound damn man when i have sorethroat,like really MAN.
3. Messy room
THREE PEOPLE THAT YOU WOULD LIKE TO SEE TAKE THIS QUIZ NOW:
1.Karen Tan(cus i know she'll think it's stupid.I DON'T CARE,YOU BETTER DO IT!)
2.
3.
cindy
[ 12:12 AM ]

Wednesday, December 17, 2008
Karen Tan made me walked from United Square to Plaza Singapura!!Can you believe it!?
So we decided to meet up after she-thought-i-got-school-and-i-thought-she-was-busy.Actually she was right,i was supposed to go to school today but as usual,i gave it a miss!:D:D
She came down to United Square to meet me and from there,we walked all the way to Newton for dinner.Had popiah and chicken rice and oh yah Karen Tan!!!I DIDN'T EAT THE SWEET POTATO SOUP LEH!!!!!!Now then i remember!:'(
After dinner,we walked all the way to Plaza Singapura.
As you can see,that woman is determined for me to lose weight.No use lah,i wasn't even perspiring!Luckily it was friggin windy.If not,i'm gonna grumble till she gives up!
So we finally decided to settle down at our 'romantic place' and chill.
It's OURS ah,Aunty Karen!Don't you dare bring Andy there!!HAHAHAHAHHAHAAH!!Too bad,Andy.If you happen to read this,go find your own romantic place.
It's really very nice to catch up with that biatch cus we will never run out of topics even though we may not see each other for months!It's like,we'll just keep talking and talking and gossiping and laughing and talking and gossiping and..you know what i mean.And the thing that amuses me is that,she may looked brainy but the truth is,she is not.So not.
Karen:Huh??Lift need electricityalot of electricity one meh??
Holy.I almost got a heart attack because of her reply.
Anyhoos,i digress.Guess what?
That biatch is NOT gonna be in Singapore for MY 21ST BIRTHDAY.I repeat -NOT gonna be in Singapore for MY 21ST BIRTHDAY.
It's okay lah Karen,i understand.You enjoy yourself!Eat more kimchi(s)!Go watch more 'Oppa,Omma,Sarang heyo' shows.
So the night basically ended with her running after the bus and me,slowly walking to the bus stop while still deciding to take a cab or not.I TOOK A BUS IN THE END OK!!So proud of myself!:):)
No pictures for today..okay,maybe just one from the other day.
cindy
[ 11:51 PM ]

I was 'caught' by my boss while surfing Facebook.

Boss:WAH,looking at men ah you!

LOL!!!!!!!!!!!!!!!

The way he said it is so damn funny lah,can't stand it!
cindy
[ 4:10 PM ]

Tuesday, December 16, 2008
I am very depressed now and i'm not joking.

I'm feeling so angst/disappointed/angry/helpless/lost/frustrated AND WORDS CAN'T POSSIBLY DESCRIBE HOW I FEEL SINCE MY VOCAB IS QUITE LIMITED TOO.

Karen and myself went from one shop to another to find my shampoo yesterday but to no bloody avail.So,i decided to call them up and,horror of horrors!Guess what?!



THEY DISCONTINUED THE BRAND!!!!



Why the f*** did they do that for!?!?!!!Hadn't I been loyal to them!?I've been such a dutiful consumer,why can't they see it!?!I feel so betrayed!!I don't feel like washing my hair anymore!
cindy
[ 1:43 PM ]

Friday, December 12, 2008
The other day saw Jumay a.k.a Qiu Lian a.k.a Chinean(pronounced as Chee-na-ian)down to the music school. I thought of having dinner together but in the end,that kuku told me she was meeting her parents for dinner.Pardon me,there's nothing wrong with that ok!It's just that i'm amazed by her come-down-for-nothing trip.

Oh yes,not for nothing.To see me!!:):)Anyway it's been so long since i last saw her and it's great to see her as crappy as before!HAHAHAAHA!The ultimate crappy chinaizer.

So she waited for me till i knocked off at about 6ish and we took a train down to Lavender where she meet her parents while i met up with Wiki.

Nothing much to update lately,no pictures..no nothing.So boleng.I have been going out though!

Last thursday was out with Miss Piggy for Kbox.It was a last min plan and boy am i not tired of repeating it,LAST MINUTE PLAN ROCKS!!!:)

Met up with Christy,Wiki,Kelvin and Wendy on Tuesday.It's been quite long since the few of us hung out so,decided to meet up for dinner and after dinner,drove down to ECP to chill.

Went home at about 2plus and by the time i got home,i was so friggin exhausted,i dragged myself to the bathroom to wash up.Couldn't be bothered to wait for my hair to dry;hit the sack almost immediately once i entered my room and the next thing i know,it was 9am when i was supposed to start work at 9.30!I literally jumped out of the bed when i looked at the clock!

I've always thought the term - Jump out of bed,was over exaggerated.Well guess what?I proved myself wrong.

Anyways,gonna meet up with that Chinean and Yvonne tonight,well,hopefully!

Till then.
cindy
[ 11:02 AM ]

Wednesday, December 10, 2008
I was counting down to 2pm,waiting for my cheque to go through.And by 2.03pm,i was $365.00 poorer.

I SPENT $365.00 IN THREE MINUTES CAN YOU BELIEVE IT?!
Save the applause.
cindy
[ 2:07 PM ]

Saturday, December 06, 2008
I did a simple 'test' and now,i know who are the ones who judge. It doesn't even matter if i was telling the truth or not.

At times i'd do this sort of things just to see how people react.You may think i'm psychotic,but i'm not.Okay,maybe a little.HAHAHAHAHA!But let's face it,everyone has that 'hidden-sadist,hidden-racist,hidden-psychotic,hidden whatever that's hidden' side of them.
And the reason why they are 'hidden' is because,people judge.Everyone judges.They perceives you to be the person they think you are and vice versa.But when it turns out otherwise,they judge.
Sometimes,they react the way i expect them to but there are also times i'm taken aback/surprised by their reactions.

I guess sometimes the one whom you think you know best are in fact the one you know least.

I should stop this routine soon.It just made me feel more insecure each time they reveal their true self.

I hate lying but,why do i have to lie to know the real you when i've always thought i know you best?

This is saddening,and scary.
cindy
[ 10:24 PM ]

So i've been feeling very moody the past few days and i guessed it right.PMS.
Poor Me Suffering.
I don't know why but i was especially moody this month.It came to a point i felt like crying for no reason!The feeling sucks!Not emo ok,i don't consider it as emoish.It's just,moodless.
But like always,chocolate helps!I went to the supermarket and bought like 1 tub of Milo ice-cream,Snickers ice-cream,1 box of chocolate biscuit and stock up on alot of chocolates!Not being drama mama but i don't know is it just me or does every girl feels the same.I really think chocolate and ice cream helps when you're feeling really down.
Haiya but then again,i think it's just me.Those things are probably TABOO to some girls.*Shrugs*
My lady boss is gonna treat me to breakfast buffet tomorrow at Shangri-la!:):)
The past 2 days were really demoralising for me and while at work,both the boss and lady boss knew i was quite stressed and they were so encouraging.
The lady boss just sent a really sweet msg to me and sometimes it's all this simple gestures that made one's day!
Wah lao,they are really damn nice lah!It's to the extent i feel i could work for them forever.
Haha,okay maybe not.But you know,like,at least for long.
See,i suddenly moodswing again.Hai,i go sleep now.Bye!
cindy
[ 9:43 PM ]

Tuesday, December 02, 2008
Accounts is over,finally.Like i've said,i'm not gonna talk about it.
Anyway,gotta thank bitch for helping me!!She's like one of my most ON friend lor!I called her and immediately she agreed to help me!:):)Ok lah,i shan't call you bitch anymore.
Me:Thanks bitch!you're the best!
Karen:Wah lao,help you still kanna call bitch..
LOL!
Thanks Karen Tan Yan Run.And please stop thinking you can't help much becus you helped alot already!;)
So we met at Bukit Merah's Mcdonalds,studied awhile,gossiped awhile and she had to leave for dinner with her parents.My cousin joined me as well.I wanted to stay overnight at McDonalds and head straight to school for exam the next day but thought it was alil impractical,since i'll be dead tired and all.So,decided to head home,with my cousin.
I told Karen my house got the 'sleeping aura' and she was like,
Karen:No,you won't sleep because you know you got exams tomorrow.'
AHA!The next thing i know after i sat on my sofa,i was snoozing already.My cousin was so shocked she was like,
'Eh!?you don't need to study?!'
'Okok,wake me up at 2am.'
'You sure you can wake up!?
'Yes'
2am came,
'Wake up!!'
'Wah damn tired leh..'
'Then how?'
-silence-
'Oi!'
'Ok,wake me up at 4am'
Really,once you sleep it's very hard for you to get up.But i got up eventually,at 4am.Spent my morning trying to memorise the formulas and all then my dad sent us to school.
Kudos to my cousin,seriously.She waited for me for 3 hours without any complaints!Given that she didn't have a decent sleep the night before and having to wake me up every other time when i'm dozing off.
After my paper,we went to GWC to watch Madagascar.It was alright,not as good as i expected though.
Back home to take the car,went over my grandma's place and then sent my cousin home and home sweet home for me after that.
Such a boring entry.
Well,you can't really blame me since it's only 9.30 in the morning and my brain only works after 1pm.