Cindy.Chen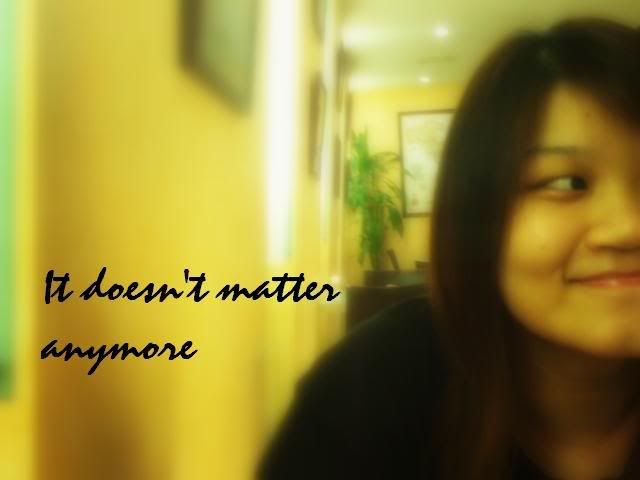 About ME


+25th Jan 1988.
+20 years old
+PSBAcademy.
+mhss.
+family.
+music.
+travel


Tuesday, July 19, 2011
T
oday is a day i'd probably remember for the rest of my life.
I've always believed that everything happens for a reason.Whether it's good or bad,there is a reason.Well,there must be.I wouldn't call myself an optimist,because i'm not.But whenever i tell myself that cliche sentence,it really did help in making my life easier.
Today(19 July 2011)is probably the most random and meaningful day ever.
I was supposed to meet up with Ju at Chomp Chomp for dinner but she decided to change the venue to Maxwell Food Centre.Given the usual me,i'd probably just skip dinner and meet up with her another day but instead,i agreed.Esther on the other hand,randomly whatsapp me asking if i would like to sing karaoke and i almost immediately agreed too.Problem is,i have to meet Ju for dinner first.So,i asked Esther to join us.
I was late due to the jam and Esther arrived early.No idea why she decided to cross over to the other side of the road while waiting for me,but she did.And thank goodness she did!
So she was pacing up and down somewhere near the church and then,she saw an uncle lying on a flight of stairs in a pool of blood.I reached and quickly rushed to the scene and she was visibly shaken to what had happened.
I have never..NEVER witnessed such scenes before.And i too,were slightly shaken.
It was a POOL OF BLOOD!Then,one of the policeman took hold of the elderly man and at one point,the uncle was grasping for air and he stopped breathing and his fingers and toes were stiffen.I nearly cried when i saw that and the few of us who witnessed it quickly shouted 'Uncle wake up!Uncle!',just hoping he would regain his consciousness.I've never felt so helpless before.
Just then,the ambulance came.Stupid ambulance made a few headless turns which wasted so much precious time!I think the uncle did regained his consciousness when he was being carried away and we are really praying hard for him!:(
Esther's been taking it hard on herself but i think she has already done what she can.There must be a reason why she was there when,had she not whatsapp me,we wouldn't have met up there and she wouldn't have witnessed it and that uncle would probably be left unnoticed.
Yes I agree,a lot times when bad things happen to us,we tend to FML this FML that.Instead of grumbling,why not try to be more optimistic about it and believe that things happen for a reason -A reason which we will find out eventually.
Stay blessed and happy,people!