Cindy.Chen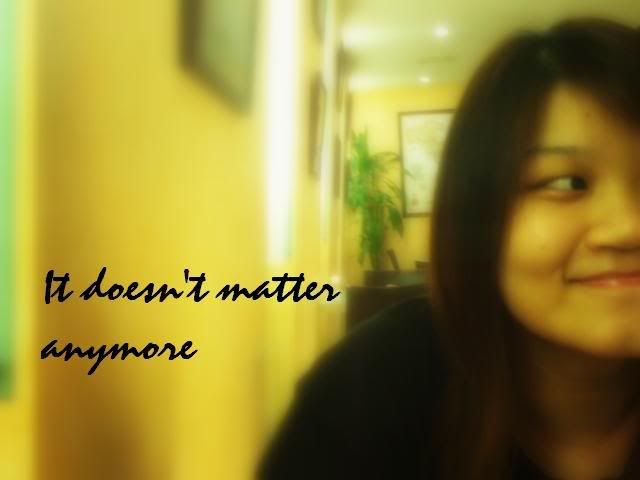 About ME


+25th Jan 1988.
+20 years old
+PSBAcademy.
+mhss.
+family.
+music.
+travel


Friday, December 31, 2010
Like i've promised..
2010 has been pretty smooth-sailing i guess?Sure there are bumps here and there but yea,nothing too drastic.
The year started off with me celebrating my 22nd birthday.And in about 25 more days,i'll be turning 23.

DAMN THOSE NUMBERS!!!!

Geez,i really don't know is it just me or does everyone feels the same that time really pass by damn fast!It's amazing how each passing year just seemed more clearer and vivid to me..
I didn't achieve much in 2010..just like in any other years.
Same job.
Same friends.
Same qualification.
Nothing interesting!Why ah..why my life like so boring but yet i love it.
Things only got interesting at year end:
1) Travelled alone for the first time.Okay lah not really..but i did went Abu Dhabi and spent a night there alone.And flew to Chicago alone.
2) Sat First Class suite for the first time.A-M-A-Z-I-N-G!
3) Started my bridging modules for my degree
4) Dad finally bought a new car after 8 years!New car will be arriving in late jan/early feb!
5) New house gonna be ready soon..means gonna move soon which i really,really dread the thoughts of it.I really love where i'm living now!Sigh..
6) More random and impromptu meet-ups with friends.
Yea,basically that's about it.
And to wrap up the year,I think my laptop has finally decided to die on me on NEW YEAR'S EVE.

It was still working well before i went out yesterday but when i came back,everything's changed.Sad!I can still on it but it blanks itself after startup.Irritating!
And the best thing was,i have a spare laptop from my dad but i can't find the charger for it!GRRRR!!And the internet just kept disconnecting.Super

*pek chek

to the max!
What a way to end the year right?Sigh!

Nevertheless,i still count my blessings everyday:)
2010,you have been not especially nice to me but good enough.
Off you go because i'm welcoming 2011 with even wider arms.Hmpf!
HAPPY 2011!!!:D:D
*Pek Chek = Irritated/Fed up
cindy
[ 1:02 PM ]

Tuesday, December 28, 2010
Belated Merry Christmas!
As usual,Christmas eve was spent at paternal grandma's place.Jon Paul is such a joy,really!I was eating halfway and he went to the kitchen and got me a coke!He only gave it to me.NOBODY NOBODY BUT ME!SO SWEEEEEEEEEEEEET!I'm not really a fan of carbonated drinks but for him,i'd gladly down 5 bottles of it.Such a darling lah he.:)
HOW NOT TO LOVE HIM YOU TELL ME?!!?!?!?
Only managed to take a few pics because i was busy eating.
After dinner was movie with Derrick and Joanna!Love being a lightbulb.
On Christmas day itself,we had alil mini party with my cousins.It was nice..since it's the FIRST christmas we spent with everyone.Usually we have our own plans on Christmas so yup!Not too bad for a first!:D
I had the most tiring job that day..being 'host'/photographer/sweeper/entertainer

After which was an impromptu meet-up with my BFFFFFs.Nice catching up with my BFFFFFs!
BFFFFFs:Andy(BFFF),Derrick,Ruiza..missing Karen Tan.
Geez,i can't believe in 3 days time we're gonna bid goodbye to 2010!FREAKIN' FAST MAN THE TIME!!Can slow down not?So it's true once you hit 21,time flies like nobody's business.DAMNNNNNNN!!!

I'll just leave the 'what-i-have-achieved-in-2010' list on the last day of 2010.Since that's my ritual but quite frankly,i think i have achieved nothing this year.It's okay,i still have 3 more days!HAHAHAAAHAH!


cindy
[ 2:45 PM ]

Thursday, December 02, 2010
Kinda like a must-have-pic when you're onboard! :p
Back in Singapore!Humid Singapore!!:(:(
Oh well,kinda having mixed feelings.Good to be home for sure but that also means back to reality!!:(
So anyway there was this Korean star which arrived yesterday too right and they set up this 'special path' supposedly just for him.When i came out,i walked directly through it and only realised when i was halfway out..quite embarrassing but there was no turning back.HAHAHAAH!Elena my bbbfff(HAHAAHA,we figured that bfff sounds really bimbotic) fetched me from the airport and we went off for supper cus i was kinda starving.
I slept at around 2am and woke up at 1.30pm,a total of 11.5 hours!Freakin' awesome!?My gosh,didn't know i was so tired.Probably cus i didn't get to sleep onboard.
Ahhhh,school's starting tomorrow and i'm dreading the thought of it already.Booohooooooo!