Cindy.Chen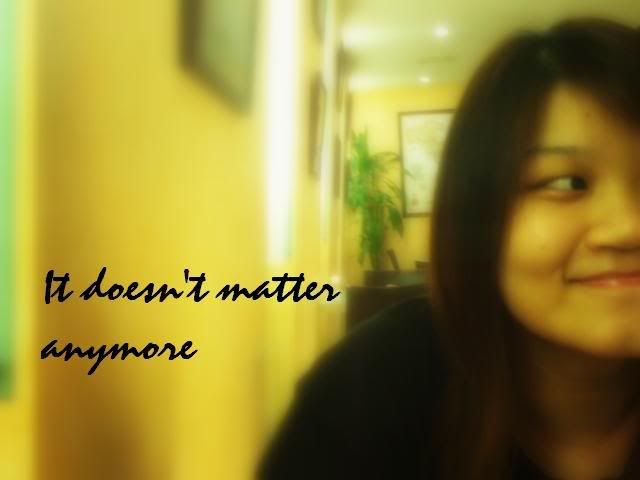 About ME


+25th Jan 1988.
+20 years old
+PSBAcademy.
+mhss.
+family.
+music.
+travel


Tuesday, October 28, 2008
So it was badminton and bowling with my cousin yesterday.Amazingly,my arms are not aching!!In fact,my waist is feeling pretty darn achy.

Was down at Tessensohn CSC.Never really used their facilities before 'cept for bowling and i think it's not bad.I guess we'll be there very often.:)

After playing,we walked,WALKED all the way from Race Course Road to Lavender for steamboat.Very impressive given that we were totally drained out from badminton!We played for 2 hours straight leh..it's really very good for someone who doesn't exercise that regularly to even start playing okay!

Then after steamboat,it was back to my place to get the car and down to Jurong.

While on the way back,we were desperately seeking out for toilets and i tell you,don't ever go to the toilets at Sim Lim Square.DAMN GROSS!!!All the tiny cockroaches came charging at us the moment we stepped into the cubicle.SUPER GROSS!!So we quickly ran out and the thing is,the place is so quiet it makes it more creepy.

LOL!!!I just put my nick as 'jialat,damn addicted to unchained melody' and,

Miss Soo:oooh,my love~
(one sec later)
Kaijia:oooooh,my darling~

SO QIAO!!!GO BUY 4D LEH!!HAHAHAHAHAHA!!

And yes,i'm addicted to Unchained Melody.Why leh?Cannot ah?I like!!
cindy
[ 12:59 PM ]

Monday, October 27, 2008
I finished watching Ghost yesterday night.Not bad!!:D:D I know it's a darn old film and probably all those parodies made the whole film seemed cliche.But i think back in 1990,everyone must be crying their lungs out while watching the show.
'oooooooh~my love,my darling..'
And then it was Mama Mia!!NICE!:)The song is stuck in my head now..

'mama mia,here i go again.my my,how can i resist you..'

So yesterday while i was at work,again the Lady Boss was been her usual self -Random.We went to the piano room and she started playing all the Korean Drama theme songs and some of the Classic old songs.Damn nice!!!She's like my new idol now lah!And she's gonna teach me for freeeeeeeeeeeeeeeee!!!!!She asked me to pick a few songs which i wanna learn and she'll teach me.WAH LAOOO!!DAMN HAPPY CAN!!!HAHAHAHAHAHAH!:D:D

It was Timbre on Saturday night with the other 2 bitches!:))Had a really good time with their company and good band!!Good fellas!Pictures will be up tonight i guess.
I'm off for badminton now!!Yayness!
cindy
[ 1:19 PM ]

Thursday, October 23, 2008
HOLY!!!
I GOT A 'C' FOR MY QUANTATIVE SKILLS!!!I PASSED MY QUANTITATIVE SKILLS EXAM!!!!!!!!!!!!!!!!!!!!!!!!!!!!!!!!!!!

HAHAHAHAHAHHAAAHAHA!!!DAMN HAPPY LAH!!!!!!!
I shouldn't have missed my English Quiz!Could have scored higher!But it's okay,i'm happy enough!:D:D:D:D:D
Yay me!!!
cindy
[ 2:16 PM ]

So,i went to fetch my mom and sis at the airport last night.The flight got delayed for 3 hours and by the time they landed,it was already 2plus in the morning.I was so friggin tired,i actually fell asleep while driving.KIDDING!!!!HAHAAHAHA!But yea,i was really so darn tired i don't know how to describe the feeling.
My ah ma was so excited she actually bathed before i even asked her if she wanna go to the airport with me.And the first thing she asked when she got into the car,
'you know the way?'
LOL!!!!!!
Anyway,i didn't know the Ya Kun at T2 is 24 hours leh!!So cool!!Now i know if i have late night cravings for Ya Kun,i can go to the airport.LOL!!Eh,it happens alot of times already ok!So happy!!
Oie Celine!You've been feeding mom with good food i can see.She looks super radiant from her trip back.
I'm so stressed!!!I HATE ECONS!!I HATE PROJECTS!!!!I HATE STUDYING!!!:(:(
cindy
[ 1:21 PM ]

Tuesday, October 21, 2008
Working,again.
Falling sick,again.

Working life sucks.Not working also sucks.How like that?This job is pretty darn boring 'cept that maybe i get to see countable cute guys during weekends.Okay,not cute as in my type of cute but,do i have choice?!It's mostly teenagers or small kiddos here,damn sad.

And then i came to a conclusion while chatting with Elena on MSN just now.

Cocky parents produces ugly children.Mean but true.Maybe not true but that's what i realised.They usually have kids wearing specs,with that typical guai kia look and are usually in top notch school.Like,so what?Nerd.

I've never been envious of people studying in top notch schools though.Yes,very attractive on the CVs but social interaction?ZERO.

They either mix with people their 'kind' or get left behind.Hello??Social skills,anyone??Stop living in your own world,cocky people.

'neways,had dinner at Chomp Chomp with Christy on Sunday and bumped into Jeffrey Wijaya and his gf,fellow exmhssian,STUDYING at mcdonalds.

LOL!Jeffrey Wijaya studying leh.Damn act.HAHAHAA!Ok,kidding.

So while i was eating my tau huey,i received a sms from the Lady Boss.

L.B:halo..haiya,you add me on facebook lah.lazy to find you and its easier also,my name's the only one on the list.haha!

I almost choked on my tau huey ok!How can anyone be so random?!So,

Me:ok sure,i'll add you.
Me:oh btw,you're damn random.i almost choked on my food when i saw that msg.
L.B:ooh,sorry lah.now free already what,can finally relax.

Yah.Quite cool ah?So now if im not happy with my work,i'll just post a shoutout.LOL!!!

After which,went to meet Wiki for awhile..hope everything goes well after that lil drama.

My complexion sucks.Hate it,hate it!!
cindy
[ 1:20 PM ]

Friday, October 17, 2008
Just came back from ECP HK Cafe with Elena aka Mi mi yan aka Sotong aka Clumpsy Woman aka Damn Noisy Woman In The Car.

Decided to meet up after don't know how many donkey failed attempts.She drove down to my place and i drove us down to ECP as i was starving.Also,to let her have a feel of my very fantastic driving skills.HAHAHAHAHA,kidding.

I don't know is it because i was damn hungry or that the food is really nice,i can't stop thinking about the milk tea!!:D:D

That woman is mad!

So we were in the car preparing to leave right?Then we were talking halfway when she suddenly screamed,

'COCKROACH!'
'WHERE!?!?!'
'THERE!!!!'
'WHERE?!!!?!!'
'THERE!!!!QUICK QUICK!!!QUICK!!!!'
'WHAT!?!?!!WHERE IS IT!!?!'
'THERE!!!OUTSIDE!!QUICK!!'

DAMN IDIOTIC RIGHT!?!We were practically screaming at each other in the car while figuring out where was the damn cockroach when it was actually OUTSIDE.

Did i mention she's damn noisy!?!?Ok yah,SHE IS!!

So we went 'food hunting' afterwhich and bought like tau huey and some pancake thing and she was so happy she was like,

'YAH YAH YAH!IT'S THAT ONE IT'S THAT ONE!!!'

Then so suay,i was waiting for her beside all the parallel parkings and just so nice all 3 cars wanted to come out!!The car infront wanted to move out,so i reversed back and the next thing i know,the car beside me wanted to get out as well.So i reversed back again and the car behind wanted to get out too.I was like,okay..what the hell!

While on the way back,i made a turn and the tau huey toppled but luckily it wasn't spilled but i was almost deaf,if you know what i mean.

Anyway,i had a great time though it was only for a short while!I love laughing at that sotong!!It's okay,she has gotten used to it already.MUAHAHAHAHAHAH!

Alrighty,work tomorrow!Ciao!!:D
cindy
[ 11:36 PM ]

Tuesday, October 14, 2008
Okay..i don't know is it me or does my niece somehow looked like the younger me.
.
.
.
.
.
.
.
.
.
.
.
.
.
.
.
.
.
.
.
.
.
.
.
.
.
.
.
.
.
.
.
.
.
.
.
Both equally cute i know!!!:D:D
Look like or not?Or maybe because we looked at the same direction?LOL!

cindy
[ 10:30 PM ]

Sunday, October 12, 2008
Had a really long chat with my lady boss on Sunday.We were talking about alot of things..and,can you imagine your lady boss going crazy over idols with you?!!?!She's damn funny lah!!

L.B:If i can choose who to bump into on the streets,i'd really want to meet Lee Byung (????*some korean actor).

And the next thing i know,we went to google his pic and she asked me to print out his picture so that she can paste in her studio.



SHE

asked me to print out leh!!!CAN YOU IMAGINE THAT!?!?!?!?!?!!!!!LOL!!!!!!!!!!!!I WAS LAUGHING LIKE SOME MADASS lah!!Then,

L.B:Wah lao,you know i was like hoping i might bump into him on the streets when i was in Korea lor!But never..hai.

HAHAHAHHAAHHAHAHA!!She's the coolest and nicest Lady Boss ever!:D:D

She even bought me Laksa for lunch and we talked while i was eating.LOL!!Totally not skiving at all.Heeee!!

Anyway,my mom and younger sis is in Abu Dhabi now to visit my elder sis.They'll be staying there for 2 weeks!Shiok to the max!So now the house is only left with me and my dad.Romantic ah????HAHAHAA!
(act cool mom.she was trying out different sunglasses..looked like Bee lor!)
Wednesday was dinner with Miss Piggy and Sam.Met at Lucky Plaza and did quite alot of catching up!Then off to NYDC for our dessert and Cineleisure for neoprints!Damn long since we took and we were like noobs man!Ran out of poses,don't know where to look at..blahblahblah etc.

Sunday had dinner with Sam.She came over to my workplace and we had subway for dinner.Speaking of which,this is the incident which i have to mention!

The other day while i was at subway,i was waiting in line with Miss Piggy on the phone.So my turn came and..

Sandwich Artist(LOL,i know right!):What veggies?
Me:Everything except for Onions,Pickles and Olives.

(Sandwich Artist gives NOTHING but Onions,Pickles and Olives)

Bloody hell.Never mind,i thought.Probably she didn't catch what i was trying to say.

So,yesterday was the same Sandwich Artist again.

Sandwich Artist:What veggies?
Me:I DON'T WANT Onions,Pickles and Olives.

And when i unwrapped my sandwich,i see ONIONS AND OLIVES!!!BLOODY HELL!!!!I already said I DON'T WANT leh!!Can't even understand what is I DON'T WANT meh!!?!!?!KNS!!!

Anyway after dinner,Sam dropped me off at my place and we drove down to Piggy's house for,i don't know why either.Just had the sudden urge to drive,heh!

Okay,erm..good night!:D
cindy
[ 5:41 PM ]

Wednesday, October 08, 2008
Morning universe!:)

I'm getting used to waking up early that i'm no longer as grumpy as before.And to know that ie usually have nothing much to do at work makes it even better.No,i'm kidding.Yesterday was a tad more busy than the previous days and i love it!The time just zoomed by without me knowing.

So far so good.
Good bosses?Check.
Friendly people?Check.
Nice environment?Check.

:)

Had late lunch with Christy yesterday,only for about half an hour.Then after work,met up with my cousin and her bf.Haiya,i'm so used to being a 'lightbulb',i no longer feel paiseh already.So anyway,initially we wanted to eat at Newton but i don't know how and why we ended up eating steamboat at Geylang.Not recommended though.Probably cus i've eaten better steamboat.

The song Torn,by Natalie Imbruglia is friggin stuck in my head!!!
cindy
[ 10:05 AM ]

Monday, October 06, 2008
I friggin can't stand girls calling themselves Princess.

WAKE UP AND SMELL THE DAMN COFFEE LAH,PRINCESS!!

Seriously man!I mean okay fine,every girl has this 'Princess' thing in them and the term 'Princess' sounds very 'Princessy' i know,but isn't it abit KNS to call yourself a Princess when really,you're just a commoner?

Fine lah fine lah,continue living in your Princessdom then.


cindy
[ 4:48 PM ]

While others dread Mondays,

I LOVE MONDAYS!!!

FINALLY MY TURN TO REST,MUAHAHAHAH!!:D:D

Woke up at 11am and got myself ready by 12 and headed out for lunch with my dad and younger sis.I've been starving since yesterday!!I was comtemplating to order macs or drive out to ECP for the drive thru but i'm really very sick of fastfood already.So,i slept,hungrily.By the way,guess what?!MY PARALLEL PARKING IMPROVED!!!!!!!!!!!!!!!!!!OMG,i was so happy i was practically beaming to myself in the car.You don't know how scared i am when it comes to parallel parking ok!When my dad asked me to take over the wheels earlier on,i was damn worried because i know that stretch of road are all parallel parking.But WOOOHOOOOO!!DAMN PROUD OF MYSELF MAN!!!!:D:D

Work has been okay,nothing much to do since most of them are either having exams/holidays..the school's been rather VERY quiet.I hope this week will be better though!Frankly speaking,i prefer working at places with crowds.Time passes really quickly without you knowing.

Like for the enrichment centre,there's hardly time for you to sit down and relax.Well actually,there is.But i'd always go into the room and play with the kids instead.

The art shop too.Weekends are crazy packed!Cashier will be buzzing nonstop and the next thing you know,it's time to close the shop.

So hopefully this week will be better!:)

Yesterday while i was talking to Celine on MSN,she showed me her DP(display pic)and went like,

Celine:Nice or not the pic?
Me:OMG!!I ALSO HAVE!!!
Celine:ar?

LOL!So she probably thinks i'm very suaku and expected me to say something like,

*in her dreams*
Me:OMG!!!SO COOOL!!WHERE YOU DO IT?TELL ME LEH!!!

Too baddddddddd!!But i was pretty shocked she was so up to date though.HAHAHAHAAH!!Kidding!

This is so fun!!!You can try them too,at
www.photofunia.com
!
Aww,i love you too,Beckham!!:D:D
I LOVE THIS!Somehow looks like real painting..hahaa!
LOL!So sweet ah the guy..
Spot me.Chey..not fun one.
PARIS HILTON IS THE BEST!!!!!!!!!!!LOLOLOL!!!!
I see you looking at me looking at you,botak guy!
OIE!!BE SERIOUS!!
BYE EVERYONE!!
cindy
[ 2:51 PM ]

Saturday, October 04, 2008
So i'm up,on a Saturday morning,sitting around doing nothing.Oh yes,blogging.
I'm not at home..i'm at work!!
I've been taking cab down to work the past few days reason being,i seriously can't wake up in the morning.Every morning when i looked into the mirror,i have to talk to myself.
'Ok Cindy,today will be the last time you're gonna take cab.NO MORE from tomorrow onwards.'
Right,Cindy,Right.
Did i mention i've been doing practically NOTHING at work?Except maybe MSN,munching on something every half an hour and erm,talking on the phone.How slack can my job be?!?They told me today classes will resume,but not a single soul is here.
Probably next week will be busier,and i hope so too since the boss will be back from Melbourne.Lady Boss is never around..so left me.I've got tonns of questions to ask but how to ask when there's hardly anyone around!?So sad!
Believe it or not,every month there are at least a week holiday for the school.A WEEK,EVERY MONTH.Shiok lah,seriously.So every month you will see me doing nothing for a week.
I typed so long but only 10 mins have past.Great!
BBL.........................
cindy
[ 9:50 AM ]

Thursday, October 02, 2008
Crapppppp..i don't feel like working out of a sudden.How!?!
I think i've been slacking for far too long,now the thoughts of having to work like everyday kinda turns me off already.Yah,already.OMG,this is not good!!
The thing is,the working hours.Seriously!
And i just realised given that i have school on Wed and Fri yet the working hours on Thursday is like the longest!!How like that?!
Don't wanna go to work..
Don't wanna go to work....
Don't wanna go to work...........................
cindy
[ 12:43 AM ]

Wednesday, October 01, 2008
Wakey wakey!!Morning all!It's 8.56am now!!Look who's the early bird!:)
Ok,i probably shouldn't sound so chirpy because the reason i woke up so early is to do my laundry.Come to think of it,it kinda sucks to have no maid.;p
So i went down to my new workplace yesterday and got my schedule sorted out with the boss and hmm,well,hmm..i think the timings are gonna take a toll on me in time to come.I wonder how long this job is gonna last me,really.I already made a promise to myself,so i hope i'll just stick to it.
Quite no life ah the timings.But not like as if i'm a very happening person in the first place.
And i actually thought i was supposed to start work today..>.<"
So yea,see how everything goes!
Aiight,Gossip Girl next!:))))