Cindy.Chen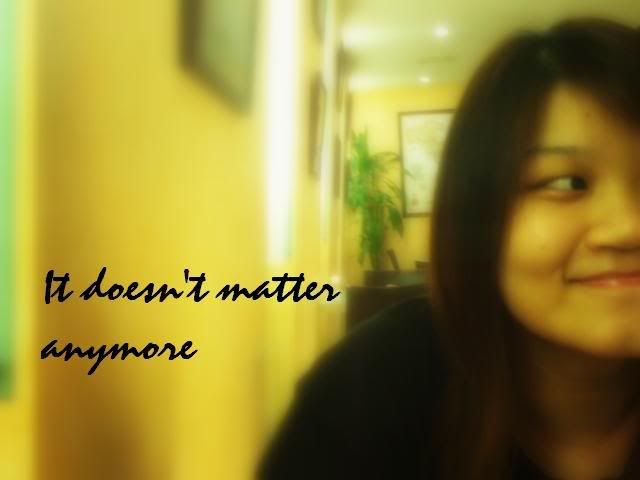 About ME


+25th Jan 1988.
+20 years old
+PSBAcademy.
+mhss.
+family.
+music.
+travel


Saturday, December 31, 2005
i cant believe in 2 days time,it will be year 2006.its just too fast!when i recap on what i did for 2005,it seems to me i did nuthin much except for well,preparing for the O levels.and i cant believe everything is over now.the late nights,the anxiousness i felt when i stepped into the examination hall,the 'good lucks' we exchanged to one another for every paper,the muggins.tell me im a nutcase.im actually missing all of that!=(
2005 seems to be a not so fulfulling yet accomplished year for me.lol,contradicting eh?but well,thats how i feel.completed O levels is somewhat an accomplishment for me though i dare not think of the results,heh!
and every year at this time,i will be dreading the thoughts of going back to school.but how i wish to go back to school this time round becus working simply sucks.hahaa,yes after which i will complain that school sucks.but it feels so different now.
- no more last min of rushing for assignments before school reopens.
- dont have to worry i wont fit into my uniform.LOL!i grew every year..ok,still growing.
- dont have to wake up early in the morning and take bus 66 and on the way,meet so many people..all looking so dead.
- no more new white shoes
- and bags
- and books
- and to start a new year again..of cus with tests and exams and stress awaiting me..
- and lastly,to see my friends.=(
though i always say mhss sucks.but deep down my heart,i truly feel it rocks..BIG time!!i befriended friends and from friends,proceeded on to good friends and some even best friends.and maybe even CHAMPION best friends.
and to be honest,i have more fond memories in mhss compared to that of bad.though i also always complain that the teachers are lousy,the food is boring,the enrolment is pathetic,and during lower sec days,i would cursed the school to close down but only after i graduate[and to think that it actually came true]..im sorry mhss.i didnt know i have a cursed mouth.
and like karen,i just wanna say that..im proud to be a MONKSHILLIAN.heartfelt words please.
cindy
[ 12:44 PM ]

the world is small.or rather,singapore IS small.
a few days back,i was reminiscing the good'ol primary school days i had in RV and the malacca trip.we had pillow fights,go around pressing other people's bell and ghost stories.it was damn fun!!
so i suddenly thought of my crush and guess what?i saw him at my workplace yesterday.yes i do have crushes too.in fact,i was named the

Queen of Crushes

in primary school.LOL!but that was in primary school..and please,i was damn loyal.he was the only crush i crushed from pri3 to sec2.[ok,crushed doesnt sound nice,hahaa!but yeah,you get what i mean?]becus the few of us will have some class gathering which in-turn turned out to be ultra awkward as everyone will be busy playing with their handphones!damnit.next time when having gatherings,please state no.1 rule..

NO HANDPHONES ALLOW

.
so aniwaes,after sec2..the whole lot of us lost contact except for me and that blur sotong,elena.then sec 3 ending of the year,thanks to friendster..i was able to locate most of them and started adding each other on MSN.but,i still couldnt find my crush.until one fine day,i was browsing friendster and tadaah!but i did not add him.LOL!
so i saw him walking in to the shop and my heart was like pounding damn fast.so i quickly hid.but i thought it was quite dumb,becus ive been longing to see him after so many years.so,i stood at the entrance..the entrance and the exit is the same way.meaning to say,if he were to go,he would pass by me.so i stood there and looked at him.

TO ACTUALLY THINK THAT

he would recognise me and maybe smile and say HI to me or maybe even give that i-think-i-know-you kind of face,to my horror of horrors..he did not.he didnt do any of that.he didnt recognise me.he just took a glance at me[like that kind of becus you looked at me thats y im looking at you kind of thing?]and walk pass me!!OMG.i nearly died.LOL!no but really,i was speechless.see,the higher i hope.. .. .. ..
i should have pop out in the middle of nowhere and act friendly by saying 'HI whoever!remember me?!'
i should have... .... ..... ......
ok,im dreaming.
cindy
[ 4:06 AM ]

Thursday, December 29, 2005
ok so i didnt go to work today.had a severe diarreoa early in the morning can you believe it?! couldnt bear the pain any longer that i woke up earlier than usual.9am.YES,THAT IS DAMN EARLY! visited the toilet for 3 times and the 3 times were 'fulfilling'(if you get what i mean and if you dont,means..LAOSAI.ok?)until my legs were wobbly.so i told my dad and he was like..
dad:faster go see doc!
me:huh?why nowadays u keep asking me to see doc ah?(referring to the other time when i was having flu+sore throat)
dad:why?
me:becus last time whenever i wanna see doc you say dont need,dont waste money..how come now keep asking me to see doc??
dad:harya,like that then u can claim from your company mah!plus can rest at home leh..bu hao meh?(not good meh?)
kudos to my dad!he can actually think THAT far.haha!so yes,i went to the doc and guess what?the doc was LATE!i waited for him for about..20 mins?in the meanwhile,i called karen becus i was too bored.and she was like'huh?i thought is doc wait for patient one?by the time he come all the patients die liao'.yah,i so totally agree.so after he arrived,i went in for 3 mins and thats all.25 bucks is his.easy money.
so after which,i continued talking to karen and dunno what did we talked about..oh,macdonalds.and so,she steadily agreed to come over to my house despite having 3 exams next week.lol!so we ordered macdonals and before i even start eating,i ran to the toilet again.really,it was the ultimate.until theres really NOTHING TO COME OUT.pardon me for being disgustingly gross,but yes please understand what misery i was and AM going through.
then,i started to put the cucumber pads on karen to well,remove the dark circles and it was ultra funny i swear!i took plenty of pics of her! HAHAHA! JJ's sister,really!then we watched 2 episodes of the rainie yang's show.DAMN NICE!!im so gonna buy the DVD!=DD
after which(i know theres a lot of after which(s) but i dont know what to replace after which other than after which!)we went to the market to eat again.and i love my place!can you imagine..theres a POOL PLACE nearby my house!?! OMG,my place has got EVERYTHING LAH!! HANS restaraunt,POOL,market,PIZZAHUT,NTUC,7-11..you name it,we have it! so after dinner,we went to play abit of pool and then went home.
derrick,so next time supper no more at your place ok?my place better!hahaha!
cindy
[ 2:28 PM ]

Wednesday, December 28, 2005
i friggin laughed my ass off!! SHE LOOKED DAMN FUNNY!!

cindy
[ 11:04 PM ]

LOL!!

cindy
[ 11:04 PM ]

talk about self-obsession.tell me about it!

cindy
[ 11:02 PM ]

this pic is taken at cine's Kbox btw! and LOOK! DONT THEY JUST LOOK SO ALIKE!?!?! MING XING LIAN!! 99.99999999/100!

cindy
[ 10:58 PM ]

then i think its better we go back to normal.=)

cindy
[ 10:57 PM ]

den we started taking abnormal pics again..its just a habit.

cindy
[ 10:56 PM ]

and again.but LOOK AT KAREN!!!!!!!!!! FANTASTIC! I NEVER KNEW SHE COULD PERFORM SUCH TRICK WITH HER EYES!!!

cindy
[ 10:56 PM ]

hehehee!

cindy
[ 10:55 PM ]

i think we're cuter! sorrie,only me.

cindy
[ 10:54 PM ]

karen said hes cute.what?just because he can do monkey face?

cindy
[ 10:54 PM ]

Sunday, December 25, 2005
first and foremost..

MERRY CHRISTMAS

to all!!
im so angry.i was late for work today..for just a mere 5 mins and guess what?they deduct 5 bucks from my pay.i was like..WHART THE HELL!? they never told me about it.crap i tell you.my mind is made up.end of january and thats it.
so this year's christmas eve is bizarre.ive never been so dirrty/smelly/sticky and soapy during christmas eve in my past 16 years as i'd be in the comfort of my grandma's house with LOGCAKES and SHEPHERD'S PIE and TURKEY and many more things awaiting me.=/
karen went to my workplace today..and oh,i forgot to mention that sam and derrick went to my workplace yesterday too.and the uncle was like..'wah,you like got alot of friends huh?'hahaa!so,she went to my workplace and after i knocked off,we went to have some light dinner because i already had KFC before that,so i was pretty full.
after which,we decided to head down to orchard..but guess what?we took the wrong bus.instead of taking towards orchard,we took the bus down to Tanjong Katong.LOL!but we managed to reach orchard before the clock strikes twelve.and before that,when we were on the bus..i told karen that ive got this feeling we'll meet derrick and andy all.and she was like,'no..i dont think so.its damn crowded.' but when we reached somerset,we bumped into Don(not derrick and andy though..but STILL!)and karen was like 'omg!' hahaa! see,dont mess with me.
then we walked along orchard and the people started counting down.and goodness,they spare no mercy to gurls ok.so the both of us both 6 cans and starting spraying at everyone.and there was this group of guys..they were like pretending,they tapped on karen's shoulder and said..
them:miss,you dropped something..
and then they started spraying.and those passerbys joined in.hahaa,but it was quite funny.so we walked and walked.and gurls please be very cautious.when you see a group of indian men,stay far far away.their hands are damn itchy.you get my drift.although not all of them,but most.so after which,we walked towards Robinson and there was another group of guys started spraying at us again.karen damn dumb,because she always aimed at the wrong person..they always come in big groups.so how to retaliate?den after that,along the way..we met this 2 guys who initially sprayed at karen but later on,as we walked on futher..we asked more people to join in to spray at other people.lol!it was damn fun!we walked all the way to P.S and the people there were all so clean and when we looked at ourselves,so unglam yes!=/
so we continued walking to parklane and there was really quiet.not very happening.den both of us went to the toilet and tried to clean ourselves but to no avail.damn soapy.after which,we both shared a cab home as it was quite difficult to get a cab and its dangerous.
yup,so that was about it.very unforgetable i must say..fun and crazy except for the squezzing in the crowd and being sprayed directly in the eyes part..really.lol!rightos~nite everyone!
MERRY CHRISTMAS!!
cindy
[ 7:10 PM ]

Saturday, December 24, 2005
it sucks to meet shitty/digusting/arrogant/fragass(i made dat up)customers!especially when its a FAMILY.fragass family!
so,the father and son tried many many pants and dump everything to a side expecting the poor salesgurl(ME)to hang all of them up one by one again.(ok yes,dats my job..i shall oblige)i did.den,the father and son asked for a new piece of black pants..i went in,but found none.so i reported to them.thinking that they are so friggin understanding,i stood at a corner hoping to give them more and better service.and then,the son asked me how does the navy colour pants looked like..so,i showed him.and that dumb father(sorrie,i know im mean.but i dont care)he finally chose one pants thats to his liking but without telling me.so he just took out the hanger(with the pants)from the pants rack and

EXPECT ME TO KNOW HE WANTS THAT PANTS.HELLO?I WAS EXPLANING TO HIS SON FOR GOD'S SAKE!

and he was like staring at me and said..
that asshole:wah,ze li de fu wu hen za(wah,the service here is very bad)
me:what?
that asshole:i said i want this right?
me:no you didnt what..you said u wanted the black one.
that asshole:but u said no more right?so i want this one lah.the service here is damn bad..i already said and you still look so gong(blur)
me: F U!
*ok,i did not say that..i felt like though!*
ive never swore to anyone before.but he could have been the first! so i went back to the storeroom,already FUMING mad.yes,i could feel my blood vessels gonna burst anytime sooner.but i remained calm.i admit,i did somehow cursed him in the storeroom..and when i got out,i showed them attitude.sorry man,im not a spoilt brat or whatsoever..i just cant stand people like them.and people like them dont deserve living.im evil,im mean..what makes them?bunch of shitass..the 'customers are always right' policy is a total B.S!!so what he wore a

GOLD WATCH

and a

GOLD RING

?it could have been a fake.a rich person will never flash GOLDs infront of people.like you see some ah ma(s),they always wear gold what right?but where do they live? HDBs,mostly.and rich people are well-mannered..unlike them,dats for sure.ok,dats beside the point.what im trying to say is that..so what even if they ARE rich?does that mean they can wrongly accuse someone who tried to give them good service but in turned,being blamed and criticised?and plus a personal attack of being called a 'gong'? NO.HELL NO! a family of assholes,really! if i ever bump into that guy on the streets again,hes so gonna eat my shit.oh no,its too good for him.and yes,i can clearly remember his face because why? i stared at him throughout..until he walked out of the shop.and i hope,and i pray that someday..his children would get the same treatment from another bunch of assholes should they be in the service line.
and the best thing was that..3 of my other colleagues(including my supervisor)also got it from them.the wife and the daughter,the wife alone and that darn father with his son.see!these kind of people doesnt deserve to be living aint it?!!?fragass!
so on a lighter note,went to watch KINGKONG with karen yesterday..or rather the day before yesterday(since it already strikes 12).it is fantabulous i swear!! i cried two times.im not a basketcase for goodness's sake,but i dont know why.it was way emotional.and to me,any movie/shows that can make me tear is a MUST SEE! =)) go watch it people..the money is so damn worth it! and naomi watts looks alot like nicole kidman..stunning!
so after the show,we went to sing Kbox.haha!im damn ON i know..because the next day ive got to work.but oh wells,though my voice sucks..i stll managed to cover up alot of songs to make my 15 bucks worthwhile! heh! and after which,we cabbed home indiviually.yup!nice day though!=)
rightos,so whats my plan for tomorrow?might be going out with karen,sam and esther to count down for christmas.
MERRY CHRISTMAS EVE EVERYONE!!
i still cant believe im working..=(
cindy
[ 4:38 PM ]

Friday, December 23, 2005
like ive said,this job seriously made me missed out on alot..A LOT of things.i applied for a 3 day leave yesterday for january and this morning,my supervisor msged me and said i can only have 2 days.i dont care,im getting a 3 day leave.aniwaes,the 3rd day is a NO PAY leave..so,it doesnt matter.if they dont grant me,i shall grant myself.=) what for make myself so miserable?BLAH~
see,when im all starting to like this job..shits like this happens.what can i do?
i still cant get over the fact that im working on christmas day itself.its SUPPOSED to be a joyous occasion aint it?but why leave me there to suffer?*bang walls*
i want logcakes!
i want logcakes!!
and Shepherd's pie please!!!
cindy
[ 4:55 AM ]

Tuesday, December 20, 2005
sometimes i just hate working..seriously.working made me missed many many things!
my christmas would be spend in my workplace catching mosquitoes or just staring at each other..everyone already left for holidays!who would still wanna buy winter clothings?no christmas = no presents = no money.my NEW YEAR'S EVE and NEW YEAR day itself would also be spent at my workplace.new year as in..ushering 2006.my 3rd day of lunar chinese new year will also be spent at my workplace..but that would be my last day/PAY DAY plus ANGPOWS! so YAY!i cant wait for that day to come! =)) but despite that,i gotta spend so many festive seasons at my workplace..ok,only 2 but still!and..i missed SO MANY TEEVEE SHOWS!!!!='(
like for example,my cousin just told me yesterday channel 8 got show edison's movie.see!argh!sometimes i just wished i could be a couch potato like i was..and just idle around at home.i wish i wish..its ok,for the pay..i shall endure!$kaching$
congrats to christy a.k.a CMM(chest muscle master),shes made it to sec5!=D really happy for her!she lied to me at first,saying she'll be going private and i was like..huh?lol.now,im worried for myself.ok,its still long cindy..still looooooong.rightos~
hais,i miss school..i really do.though i would not fancy the thoughts of lessons after lessons,i still do very much want to go back to school.to see my friends especially.life after secondary school would not be the same again,yes i know.friends would befriend other friends,perhaps closer friends might drift apart..not so close friends might even become strangers.the thought of it actually made me cold..it made me realise how fragile friendships may be.however,im proud to say im able to clique with MOST of my pals..although they love to anti/bully/make fun of me.i seriously do feel im very,very noble to extent of being a source of entertainment to them.HAHAHA,kidding!
aniwaes,i realised all my recent entries are uber long.what to do?im only able to blog like say..once in a week?and i also realised i hadnt been posting pictures for my entries lately.sorrie lah,no pictures how to post?its ok..
JANUARY WILL COME.=))
cindy
[ 12:15 PM ]

Monday, December 19, 2005
i forgot to mention there was a new gurl at work yesterday.and it was quite hilarious actually.but i shall blog about it the next time round.but,she quit.which means?she wasted 10 and a half hours of her life yesterday without getting paid.so bohua! =X
aniwaes,oh yah!and yesterday..elena was damn funny.i practically laughed my ass off man!we were like walking along the citylink and we walked passed the shop name 37 DEGREES.and she was like..

elena:eee,eh..dont go to 45 DEGREES to shop.the things sucks!
me:huh?45 degrees?what thing?
elena:HUH!?you mean you dont know!?! THERE! -points to the shop-
me:you want me to slap you?
elena:what?!

and she looked at the shop NAME again that is when she realised her mistake and i was like really laughing out damn loudly lah! she was like,'eh i also dont know why i said 45 degrees leh'. hahaa! oh wells,i shopped at 90 degrees though.ok,not funny.
so guess who visited me during work today?hahaa,sam and her parents.i was in the store room checking stock and when i came out,she was like 'BOO!' and i was like =.=".too unexpected!hahaa,and i admit im damn slow.her dad cracked a joke..

sam's dad:do you sell summer wear?
me:huh?no?what you mean summer wear?

there,sam and her mom were laughing already and i was like huh?GET THE JOKE?!i only realised it after they left.LOL!!so comes lunch breaky!celine(my supervisor)asked me to have my lunch and i was like OK.so,i walked to the resting room and saw that guy who loves suan-ing me and i quickly walked away.so i asked my another colleague to eat first and she was like..

LY:why?
me:cus eddy is inside.
LY:huh!?i dont want!
me:HAHA!why leh!
LY:yesterday i already suffered..

so celine was like..'EITHER ONE'.so in the end,i was like 'ok lah,i go'.so i went in..and decided to use 'sore throat' as an excuse to NOT talk to him.but hais,hes damn talkative.so he was like asking if my elder sis has got bf or not and i said yes.and,hes damn evil.he was like..

him:never mind,wait till they break liao you tell me ok?

i was like wth!?-_-" and then started talking about idols and first person he talked about..CHEN GUANXI(EDISON!!!!!!) and i was like 'OMG!' hit the jackpot.although i already lost my voice,but i still managed to shout lah.hahaa! and he was like 'wah,your taste all not big hor?all those shuai ges'. like,duh rite?! LOL!!
den suddenly,he asked if im from a all girls' school or mixed school.and you will never believe what he said.becus,in my 17 years of living..nobody,and i mean absolute NO ONE,not a single soul,alien,living/non living things has ever said that to me.
i told him i was from mixed school and obviously i asked why.and he was like..

him:luckily you not from girls' school lah.if not,i think given your character,you sure will become les one.

i was like..WHARRRRTTT THE HELLLL!!!!!! OMG!! ME,LES?NO FREAKING WAY!!and i was like WHY!becus i seriously dont understand what does he mean by GIVEN MY CHARACTER.what about MY CHARACTER?TAG PLEASE. and he said 'dont know leh,i just feel so.' nonsense!where got such thing! goodness,im 101% straight ok! im damn damn straight although i got to agree Jessica Alba and Eva Longoria are the tops among my top list of HOT BABES,but hell no am i lesbian.I AM NOT.

I LOVE MYSELF TOO MUCH TO BECOME ONE

.ok,not making any sense here..but the part of me becoming les doesnt make any sense either!-ROAR-
see,thats why i dont like to eat with him.
cindy
[ 4:44 PM ]

Sunday, December 18, 2005
yes,its 1.18 am now.and i JUST got home!nope,not work overtime..im not that hardworking.HAH!but because me and elena went shopping!! =) Suntec was having this Midnight Madness..and the sales are CRAZY!but it was friggin crowded.see,Singaporeans ARE kiasu..including me of cus!but hey,im PROUD leh.

didnt get alot of things though.wasnt in the exact mood to shop..why?try picturing yourself standing for 10 and a half hours and after which,you still have to walk around.how tiring it is?but i got my stuff..so,im happy.and elena got hers too..so,shes happy! plus,she has got a further 30% discount..becus her fren was working there.all in all,we are happy people.LOL!

so after walking for quite long and i couldnt tahan any longer,we settle down at BK and talk about..stuff.you know,gurls talk.LOL!but i wasnt in the right condition to TALK lah actually.

terrible sore throat is killing me

! and my colleagues kept laughing at me.especially one of them.because usually,when he talks to me..i would be like,'huh'? 9 out of 10 questions i would reply a 'huh' infront before answering him.and he got quite irritated that he started using THAT to suan me.and now..since im talking like a 'zao xia' person,he kept huh-ing me.wth?!evil.really damn evil.and my supervisor was like 'how come work until like that?' and he kept laughing.yes lah,i know i sound damn funny.cant help it right?my throat sucks what,what can i do?hahaa but no,i love my voice.=))

so after BK,we decided to walk awhile more before going home becus yes,we need to work tmr.and once we stepped out of BK,we saw Ivy Lee with her daughter.she's not really that pretty without make up actually.but her figure is phewyo~! MARYCHIA! so after which,elena's mom called and asked where is she so she could pick up her becus they were going for supper.and initially,elena asked her parents to drop me off at kallang..but in the end,they send me home instead.and her bro was the one driving.one year older than us,first driving test and he got it.goodness!and although they sort of see me grow up..because during primary school days,me and elena would go each other's house to 'play',but still damn paiseh lah.because these few years we hadnt been really very very close like we used to.but they are all nice! =) her dad even asked if i wanted to join them for supper.hahaa! her mom said shes gonna visit me at my workplace tmr.oh god!hahaa.
so yup,i guess thats abt it.argh!stupid throat.i cant wait till monday and thursday! MY OFF DAYS!!!! =D but crap,after thursday..it would be dragged till 30th!! its ok,i shall look forward to my pay day then.HAHAHAHAHA!! im off~!
cindy
[ 5:28 PM ]

Friday, December 16, 2005
right,so decided to blog while waiting for my hair to dry up.did i mention i am such a bread-lover?OH YES I AM.i just gorged myself with 5 different types of bread.LOL!! hello?im hungry lah.i only ate lunch..so please pity me.

so work is still the same.though it has become MORE BORING.yesterday i met one interesting customer.as in,not funny kind of interesting but dumb.OOPS!=X
she was asking me the size of thermal clothing for her daughter.and you guys might not know..thermal clothings are meant to be either tight fitting or just nice.so i looked at the gurl and i said XXL(its children size,and NO..NOT PORN SITE!) but she insists i let her have XXXL.so fine,i showed her the sample and she said ok,show her the XXL.so again,i showed her.she obediently took the XXL but not convinced it was her daughter's size.(and btw,her daughter wasnt really please with her mom becus she kept telling her mom she is not that fat to the extent of wearing triple XL clothing)so she called up her whoever and the whoever came over to 'help' check it out.and the whoever is trying to act oh-so-smart and kept telling her 'harya,XXL too small lah..' blah blah~ so i was kind of pissed already.and they kept asking if they can try or not..(thermal clothing are not supposed to be tried on.dont ask me why)so i said no..umpteen times.in the end,my colleague attended to her and maybe,perhaps,could be because my colleague looked more experienced than me,the 2 aunties finally cleared their doubts.so the mom came over to me and said..'hai shi ni bi jiao chong ming' [translation in short is IM SMART.LOL!] and she

TOUCHED MY THIGHS WHILE SAYING THAT TO ME.OMG,MY THIGHS

(which derrick said is BIGGER THAN HIS..fine lor~LOL!)BUT GOODESS,I FELT SO MOLESTED!! =x maybe im just too hard to resist.oh wells!

and today..the sweetie-pie that asked me if anyone ever told me i am cute came to our shop again.hahaa!shes so damn cute! =D den,my supervisor suddenly asked me if im confident about O levels result and i told him yes i am.but actually,im not.really,i will just have to wait and see.and he asked what courses i want to go and all and i realise ive still no idea.as in,i know..but im not very sure about it.hmm..shall wait for the day then!=p
cindy
[ 3:18 PM ]

Wednesday, December 14, 2005
woke up at 11.30 today.not very shiok though..because my throat is somehow killing me! my dad is damn evil..was talking to derrick while i coughed out some phleme and yes,i showed it to my dad.LOL!because you know why? my phleme has got BLOOD.BLOOD.OHMEGOD.BLOOD. and when i showed it to my dad,guess what he said?i mean,CALMLY said.

dad:orh..yao si liao lor(gonna die already lor)

CHOY!!!!!!!!! thanks leh.im so hurt-ed.and so,i continued talking to derrick..hoping to at least get some comforting words from him(which is kinda impossible lah!but i HOPED mah!)in the end,guess what he said?no,he LAUGHED OUT LOUD first before even saying anything.

derrick:wah,i like your dad!best friend man.

thanks again.please,i think if i were to die..i'd be GREATLY MISSED can?like,YAH!hahaa!talk about dying..i would love to die before 75 years old..70 would be good!=)hoho,you guys must be thinking im crazy aiight?im NOT.theres just too many factors to measure it all,and we wont know what the future beholds.you get my drift,right? hee!
im so bored right now.but i know i shouldnt be complaining..its only once in a week i get to feel this way man!rare chance.hahaa!and to add on,im kinda addicted to chinese songs now.LOL!the reason is simply because..they always play YES 933 at my workplace and basically,the songs are always repeated after a few hours.and i realised the lyrics are somewhat more meaningful than english songs.
aiight,im off!
cindy
[ 8:57 AM ]

Tuesday, December 13, 2005
so..my computer's back again!!! wheee!~! and..tmr's my off day again!hahaa.but i'd have to work on both CHRISTMAS EVE and CHRISTMAS DAY itself.oh man,ive never missed celebrating christmas in my 17 years of living..well,16.guess this year gotta make it an exceptional case.hais,no presents..no money! =((

yesterday night,me and my dad were like ultra hungry because guess what we had for dinner? 2 BUNS! lol! so i came home,bathed and decided to hunt for some food until my dad came along..

dad:eh,i very hungry leh..i cook maggi mee we both share?
me:huh?dont want..i eating milo with biscuit.
dad:oh ok lor,but filling meh?

-trying to search for more food-

me:ok nvm,i cook maggi mee den.
dad:share lah!
me:dont wan lah..its different(my dad's a vegetarian by the way)
dad:ok lor,how come u still hungry?what u eat for dinner?
me:nuthin lor..pao(bun)
dad:I ALSO!
me:really?! i ate 2 only.
dad:I ALSO!!

haha,ok thats out of point.but what im trying to say is that..when i woke up this morning,i had sore throat.like,wth?! maggi mee only will have sore throat.despite that,im a very responsible person..i still went to work.hahaa..okai,dats because my dad sent me.and why did my dad out of a sudden so nice to send me to work?because of the computer man.HAHAHA.so i must thank him instead.so reached there and started work.it was all as usual until there was this small gurl,together with her parents of cus,came into the shop and well,shop.she was friggin adorable i swear!! and the way she talks..kudos to her.
my colleagues were like playing with her and i was standing at the other corner looking at her.so she came over to me and guess what she said? NO,YOU GUYS CAN NEVER GUESS IT.NEVER. because i,myself was stunned by what she said.

the gurl: you mei you ren shuo ni hern ke ai? (did anyone ever told you that you are very adorable?)

LOL!! my colleague was just beside her and she burst out laughing so damn loudly.and i was so friggin paiseh i just said..

me:huh?mei you.(dont have)

HAHAHA!omg.she made my day.LOL!! EH,IM NOT BHB OK! its proven!! =)) haha,but she was so friggin cute(well of cus NOT because she praised me..but she looked really sweet.sweetie-pie!) so after she left,my colleagues were like disturbing me..kept repeating the sentence and made me so paiseh.damn funny!
but after all the laughing,i started to feel alil weak.and my colleagues told me i looked really pale and kept urging me to go get some rest and all.it sucked to feel weak.aniwaes,joshua called me just now and told me he will be going for NS tmr..a soon-to-be policeman.hahaa,man..dats like damn fast.
right,so i think i'd better be going now.so tired,feel so dead.night all!
cindy
[ 3:47 PM ]

Saturday, December 10, 2005
HELLO ALL!!! =)

so its been pretty long since i update you guys about my lastest news huh?LOL!sorrie man..life's been pretty hectic for me.work was ok.but the first day and 2nd day was CRAP! so i guess this entry would be a LOOOOONG one.take your time to read it because i wont have the time to update until maybe next week?LOL!!

first day:
i felt like quitting on the first day already.imagine,my first day was on a SATURDAY..and december is the time whereby practically everyone is travelling to colder country like say..korea?japan?USA? and goodness,that day was so damn crowded i could hardly catch my breath.and me?without any product knowledge got banged with questions which i couldnt answer.the phrase of that day for me..'erm,im not sure.maybe i can help you check?' i felt so dumb,seriously.BUT,the people there are a really nice lot.haha,did i mention that theres this gurl name Cindy and another one Celine? LOL! yup,damn coincidential! so no choice,they have to call me by my CHINESE name.derrick LOVES calling it.damnit! so anyhows,i was afraid that they might scold me or whatsoever,but instead,they consoled me and told me it was okay because they understand how it feels and it was hard for me because i didnt go for any training and my first day was already a SATURDAY and they felt apologetic.so they kept asking me 'are you ok,you mei you beh xia dao' meaning was i stunned by the crowd and all and i said no.but actually i was lah.LOL!
the first day,time passes so damn bloody slow.so at night,i got to meet esther and andrew because they went to find me to erm..sorta celebrate my first day?hahaa! i appreciated it because you know,working in a new environment and facing strangers the whole day felt kind of weird.so at least at the end of the day,i got to see familiar faces and thats nice! =) so we went to eat and headed home afterward..dreading the thoughts of going to work the next day.

the second day:
i felt lost man.my whole body was aching like crap..especially my legs.standing for 10 hrs is SO NOT FUN!! the day went by pretty ok though i still couldnt really adapt to the working environment.you know,waking up EVERYDAY at 9.30,taking bus,reaching there and starting work immediately,finish work at 9.30,bus home,bathe,sleep and the next day same old routine.

third day(5 december 2005):
noticed i wrote the date too? yes,this day is worth to be remembered.my third day and dramatic things happened.we were doing our own things as usual until about 5.30 that thing happened.i was standing right at the end hanging the pants and packing in those extras to put it back to the storeroom when i heard a stuper LOUD erm..sound?and the next second,the shop blackout and gigantic 'waterfall' started pouring down.i turned my head and i saw everyone running and i follow suit.funny thing was,though i was the nearest to the accident,i didnt get wet..not a single drip of water.whilst those at the cashier were wet! so we ran out of the shop and was still recovering from the shock.one of my colleague even cried.but the touching part was that colleague who cried was like asking everyone where is celine(my another colleague) and my another colleague remember seeing celine walking into the storeroom before that thing happened.so they quickly went in to search for her and when celine came out,she was like asking where is jean(the colleague who was crying).both asking each other's whereabouts..this is really friendship eh? so after which,the whole of Suntec was flooded.ok,i exagerrated again.not whole lah.just our level.so we had to walk to the bridge.then we were like talking what happened and all and some of them actually thought it was a terrorist attack or earthquake.no,its not funny at all..because it was damn uber loud.but i only thought it was thunder.the fact was,the water pipe burst and that 'waterfall' are dirty water! luckily we didnt have customers at that time..only a few.and the funny thing was,one of my colleague was actually serving this family at the counter and he was holding that person's VisaMaster Card.and the other colleague was like helping him to put the stuff inside the plastic bag and when the thing happened,cindy(my another colleague) was like shouting and hitting that colleague to ask him to run.but he just stood there until he felt the water,he started to run as well..and yes,holding on to the MasterCard.and he was like showing off saying even if he die,he will die with glory because even at his last moment,he was still holding on to the MasterCard.haha!ohmegod,it was uber funny i swear!so after about half an hour,we went back to the shop and rest there.the place was in a mess! so my colleagues was like asking me if i have witness something bigger than that and i was like..

me:huh?no lah.why eh?
my colleague:because i realised from the starting of the incident to now,you only have one expression.(and he acted out)

LOL! then after we got back to work,he asked again.

colleague:eh,seriously..you experienced something bigger than this ah?
me:huh?no leh..where got?
colleague:OH!isit you are one of the survivor from tsunami?!

SIAO!! lol,just because i was calm.HAHAHA! oh well,what to do? im a calm person what,cant blame me.LOL! so after the third day,i finally adapt to the environment.hahaa! because the feeling is somewhat different.and i can say..i kind of like working now.=) because i get to meet like different kind of people.hehee! but still..
MONEY IS HARD TO EARN.DONT ANYHOW SPEND MONEY OK PEOPLE?!
hahaa,but seriously..now i cant stand people who spend money like nobody's business.actually thats ok with me..provided the money is your own hard-earned money but oh well,you get my drift.

and today is my off day! YAY! but am gonna go to sam's church thingy because she will be performing.so yup!right..SUPER LONG ENTRY! enjoy reading! =) till den
~
cindy
[ 6:00 AM ]

Saturday, December 03, 2005
now i strongly believe this phrase..'Tomorrow will be a better day'. LOL!! indeed IT IS..for me at least!! =)) im uber happy!
so,after having the world anti-ing me yesterday,it decided to treat me alil better today.LOL! ive got a job! yayhoOo!~! yes,i was on the verge of giving up waiting patiently for the call that i decided to go for a job-hunting again.BUT..hehee!earlier in the afternoon,derrick and andy called and i was like kind of complaining to them ive got no job..den

TAADAAH!!

yes,though im happy..but on the other hand,sam didnt get the job.we went for the application together..and thats why i feel rather bad about it.the reason i got chosen was most probably because i stay nearer to the working place and whatmore,they need people urgently.hopefully she can find a job at Suntec too so that we can still meet say..during lunch?
shyte,now im afraid i wont be up to task.HOW!?shyte,im damn excited yet nervous.HOW!? haha,i called up so many people upon knowing ive got a job..i msged ruiza and she was like "so next year you have to go to Australia" and i was like..OF COURSE MAN!! hahaa!


karen,remember..i will forget you eternally.LOL!! just kidding =) i'll treat you all ok?










ONE

AH PEK ICE-CREAM! -->andy,i said ONE hor. TELL ME IM NICE! =D
cindy
[ 10:18 AM ]

Friday, December 02, 2005
ever felt like the world is against you?oh yes,i simply know how it feels..because thats what im feeling right now!
no,i cant use my own computer because the stupid com just wouldnt connect to the net.
no,i cant use the MSN for longer than 20 mins because the stupid server will somehow automatically sign me out.
no,i cant listen to music no more because this com(yes,this com..the one im using to type this entry now)does not have speakers.
no,i cant log in to friendster because it is so friggin lag which i have no idea why because usually in the night,it is so much easier to access.

and no,thats not all.

i re-arranged my room in the afternoon and guess what? yayhoo~its a twin package!since i cant use the net,the phone decided to sum it up for me.make it a..more challenging way to help me get through this stupid holiday.
and yah,karen reminded me.not only my house phone..my HANDPHONE too.like,wowness?! ive never been so lucky in my life.the hp is a total goner and i highly suspect what andy said might be true..my hp has virus.my stupid screen has got this stupid white colour thingy STUCK at the screen.which means?my hp now has got this stupid white colour thing covering the first half of the screen,and the lower portion..lets not talk about it. how very wonderful.

can someone do me a favour and help me buy 4D? i'll bet on..5174.
cindy
[ 3:23 PM ]

Thursday, December 01, 2005
ok yes,so my com sucked.or should i say..sucks?because it still suck! im using my dad's another com which is quite pathetic because it does not have speakers(which means i cant listen to songs),it does not have MSN(which means i cant chat online) and i have to restrict myself to go to some other sites which i want to..like my own blog because obviously,i do not want my dad to be reading what i wrote and whatsnot.and

NO DERRICK AND ANDY,NOT XXL!!!

i just know exactly what you guys are thinking!idiotic,they always suspect me on going to those porn sites..which i obviously dont!just that once,and im labelled for

LIFE

.and that once was

UNINTENTIONALLY

.=( im innocent lah.
so,back to my com.ive no idea why the server is down in my com and not the rest.and now,when i switched on my com..the only thing i could do is to listen to songs.and the songs are all being repeated.oh,help me!
shyte,i dont know if i should just keep looking for jobs or patiently wait for the calls which i seriously have no idea if they want me or not.cant they just confirm with me right on the spot?! ok,im being alil grumpy here..why?because of my com!

I WANT MY COMPUTER BACK!!

this keyboard sucks.the screen too..and oh,the positioning of the com.and i dont like the screen saver. =.=
on a lighter note,jumay msged me just now and told me shes back.hahaa,and she wanted to give me a surprise visit yesterday.jumay,how can u surprise me when i know u were coming back yesterday?haha!aniwaes yup,i'll try to meet her..but that's provided if im not working.rightos,so im gonna look for something to do and will update later!