Cindy.Chen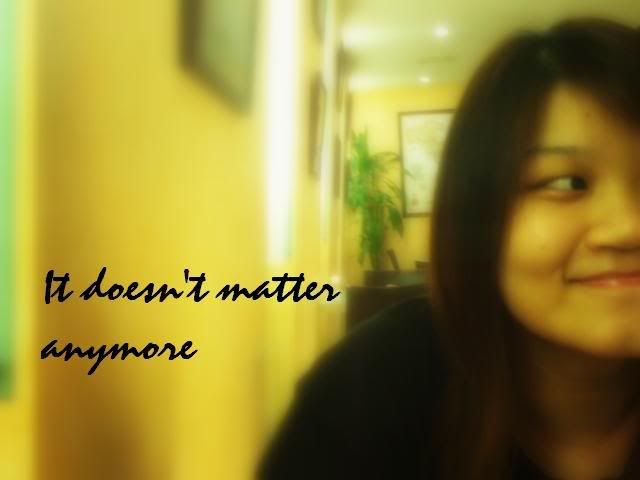 About ME


+25th Jan 1988.
+20 years old
+PSBAcademy.
+mhss.
+family.
+music.
+travel


Wednesday, July 30, 2008
While everyone's counting down for Olympics,i'm so not looking forward to that day!
Quantitative Skills Exam - 080808
Very nice.
cindy
[ 10:13 PM ]

Monday, July 28, 2008
Yesterday was nothing but work.

9am-4pm - Centre
5pm-9pm - Artshop

= 9am-9pm = working.

BEAT THAT!

Anyway,it was goood!I brought my camera along as a few of my kids are having their last lesson.It's surprising how kids love to take picture so much!I actually used the finish-then-can-take-picture tactic to make them do their work!And what's even better was,they finished within an hour which usually,they'll drag to the very last minute till the parents pick them up.HAHAAHA!

Pictures time!
My new favourite boy -Jesper!But yesterday was his last lesson as he's going back to HK.

Me:Jesper,i'm gonna miss you,you know?


Jesper:I will miss you too.


Me:Huh really?!Awwww!

-after 5 mins,i 'quarrelled' with him-



Jesper:I will miss Teacher Esh,not you!


Me:Wah fine!I'm not gonna miss you too.Humpf!

-after not talking to him for 10 mins,and when he was about to go back-



Jesper:Can you miss me tomorrow?


HAHAA!damn cute right!?CAN you miss me tomorrow.HAHAAHA!
with Jesper's mom.HAHAAHA!



Me:Mommy!Jesper bully me!




Jesper:I NEVER!!!!




Me:YOU DID!!!




Jesper's mom:Hor!Why you bully jiejie!




Jesper:I NEVER!!!*runs to mom*

= sai nai



HAHAHAA!I like the mom!Very nice lady:)
with Jesper and Eunice.
then we have the korkor and meimei team.he's very a very nice korkor!
korkor -Wesley
meimei - Chloe
Super lookalike right!?
in the toilet.LOL!
then we have the tiny boop!Janel!
the twins!
Gordon!Angmoh looking kid but he's pure chinese!
Gordon
Jadon.If you think he looks familiar,you're right.He's Janel's bro.
The twins!Ashley(my right),Andrea(my left).I'm quite pro in differentiating them already!HAHAHA!
Prisha!Love her eyes!!
Teresa(back)and Jinyi.
i'm serious + i'm very serious look
Shao kang!He's last day too.
WHY YOU TAKE MY PICTURE!
Lastly,my favourite girl - Shannon YUMMMMMMMMMM SENG!and she'll laugh.

Then over to the artshop.Sales was pretty good!And i can't believe i starved myself from 9am all the way till about 8+!Luckily Amanda(colleague)is super sweet,she went down and bought food for me.Wah,she's like my saviour man.I was so hungry i could barely speak.

So anyway,Christy,Sam and her friend came over to the shop after they finished work at this Teenage Icon thing at Heeren and WOOOOOOO!Her friend's car is damn chioxzx too!
that's the best pic i can find online.
Sam and her friend..Ling Wei,i think that's how you spell it.
So we were quite hungry and decided to go Popeyes at Singapore Flyer.Sam's friend is damn funny!It was her first time eating Popeyes and the tv was showing the cartoon and she was like,
Sam's friend:So cool!They are showing the Popeyes cartoon!
Me:Huh?You mean you didn't know?
Sam's friend:You mean it's because of the cartoon then they have this?
Me:Yah....?I think so?
After eating,she needed the car back so we took a bus back home.
Anyway......
Guess who..

SAM CHUA ON A BUS?!!Seriously,i've never seen her on a bus before.It's a first!She was like,
Sam:Then what?You gonna post it on facebook?Or blog about it?
Me:Yah.HAHAHAHAHAHAH!
Sam:HUH!:(
So there you go,Sam!:D
Okay,i can't believe i've wasted 1 and a half hour on this entry.
cindy
[ 10:57 AM ]

Wednesday, July 23, 2008
Went to visit Miss Goi in the morning with Miss Piggy and Sam yesterday.The baby is so cute!!I like it when she frowns.Not that i'm a sadist but the expression is really damn cute!!She's like a mini Miss Goi!Imagine Miss Goi already quite mini..then baby xuan is like mini-mini.Ok never mind.
So after visiting,went over to Miss Piggy's house as she needed to change her clothes/put on makeup/kept asking if the sport shoes matches her clothes.Left her house after 45 mins.LOL!Even her mom can't stand her.HAHAAHAHA!
We decided to go KTV since it's been quite awhile the both of us went together.Initially we wanted to go to the Chinatown branch(which i said i'll never go again in my past entry)since it was nearer but in the end,we missed the stop and decided to go to Parklane's instead.
It just shows how long we've been away from that place.It was under renovation and the kbox there had already closed down since don't know when.
I mean,it was actually a sign we're not fated to sing already but as usual,we're very persistent.So we went down to the branch at Bugis,TopOne ktv.Our first time there and well,it was quite okay actually.We thought Christy was gonna join us so we confirmed as 3 pax.Then right after we stepped into the room,i got a sms from her saying she can't join us etc.
Then how!?
Instead of singing,we sat in the room calling up people.Really didn't have the mood to sing anymore.So basically we went there just to watch MTVs.Then Piggy had to leave for her driving which means?I was left alone for about an hour before our saviour arrives!
before she left for her driving.
SAVIOUR!!
Her first reaction when she stepped into the room,
'huh,why you so ke lian?'
HAHAAHA!Yah,damn ke lian ok?Imagine singing ALONE.
But it seemed she didn't have the mood to sing too.We ended up talking instead!So we met up with Miss Piggy after her driving for dinner,then walked over to Harbourfront and chilled at Starbucks.Esther left early because her dad came to fetch her so Karen and myself continued talking till about 10ish before Andy aka THE SHAO YE came to fetch us back.
OMG,the car is damn chioxzx lah!WOOOHOO!Thanks to Karen i FINALLY get to have a feel of it because that Andy's 'SOON' is never quite too soon.Idiot.
Ok,i realised i can't really write long entries you know why?My vocab seems very limited.Right,gonna rush to work now!CIAO!!
cindy
[ 10:46 AM ]

Sunday, July 20, 2008
Just when i was about to declare i'm officially broke,there,on the table,lies a sealed envelope with my name on it.I opened and YAY!!!A CHEQUE!!WOOOHOOOO!!So now,i'm officially not that broke!
:):)
Sucks to have no money in the bank.And what's worse,when your (as quoted by friends of mine) never-ending angpow money runs out,you will really get the taste of being broke.It's pretty damn pathetic!Last month was the worst!EVERRRRR!The thing is,i've never really being broke-broke.In any case,i'd still have my angpow money in the safe.It's not that it's NEVER-ENDING,it's just that i kept it for really really really really really extremely emergency cases.So yes,after last month's financial crisis,now the so-called 'never ending angpow money' has finally finished.I used up almost all of it!:(I still managed to save a packet or 2 but then again,i think it's not gonna last me for very long.
But i know for sure,after last month's crisis,i'll make sure i won't allow myself to have to go through that ever again.
Anyway,just came back from MJ session at Christy's place not long ago.I was actually on a losing streak but don't know why in the end,i won all back.So yea,i quickly stopped playing and Kelvin took over.
School break is finally in.2 weeks of school break and i make sure i'm gonna 'chiong' for my Quantitative Skills!Not gonna waste my money and retake the exam.Hopefully i don't slacken myself this 2 weeks.Cindy,just endure..2 weeks only and you'll be FREEEEEEEEE!!!From Maths,that is.
cindy
[ 12:54 AM ]

Wednesday, July 16, 2008
Watched Hancock with the group yesterday.It was okay,not as good as i thought but well,it was alright.
We wanted to watch at The Cathay but by the time we reached,it was already past the movie time.So in the end,went to take Christy's parents car at Orchard Towers and drove down to Cineleisure to meet Kelvin.
The show was at 12.05am,which means we had about 2 more hours before the show starts.So,we went to play Nintendo Wii and man,it was fun!Abit stupid lah but very funny.Feel like getting one for myself..great workout too.LOL!
Anyway the day before yesterday,went to watch Get Smart with Wiki.Great,i've been catching up with the latest movies.At least i don't feel as suaku.I only watch movies which catches my attention.Not some random movies.The problem is,i don't like to watch movies because i feel it's a waste of time.Yah,told you i'm weird.
So,the next movie i think i'm gonna watch would be..The Love Guru!!I know it's gonna be dumb but i'm only watching it because of J.A and J.T!Go figure.
I'm still comtemplating if i should go to school tonight..boring.
cindy
[ 4:35 PM ]

Monday, July 14, 2008
Today's the Chest Muscle Master's birthday.Happy Birthday Christy Lee!

Yesterday went to Wiki's place to pick up the Mahjong table we bought for Christy and dropped them off at Christy's place before coming back to my place to get the Mahjong cake.Yes,the theme is pretty obvious - Mahjong.
Met up with the rest(Wiki,Kelvin,Sam,Wendy and Raymond)at Christy's house downstairs.Kelvin was late,so instead of the usual on-the-dot-midnight surprise,we delayed till about 1ish.
Went up her house to set up everything,
and waited for her to come out of the house because before that,Kelvin called her and asked her to meet him.
Every year,there's bound to be a spoiler.And this year's spoiler is PK!!

I bet nobody can break Aaron's record a year ago.
Aaron:Eh Cindy,how to go your house ah?
Anyway,today i'll be quite free!It's been so long since i sat on the sofa!Almost 2 weeks.Okay,before i end off..Karen,
cindy
[ 11:11 AM ]

Thursday, July 10, 2008
Ok,i don't know am i sick or not.Normally when i'm sick,i'll lose my appetite..even my favourite food can't do any magic.But now,i still have appetite and i still eat junk food..and even craving for more food.But i'm having block nose.So how ah?
Anyway,it's all thanks to the stupid weather and stupid work!
They asked me to go down to this fair at Bishan and all i have to do is basically just stand there.Like,what the hell please?Friggin waste of my time!The first day was hell.I practically stood there like a statue,with the aircon blowing directly at me.I was so bored i had to resort to calling people whom i rarely even eat with to lunch with me.Example?
Pk and his gf.
LOL!!But it was good,maybe my skin's thick enough i don't feel any awkwardness at all.And FYI,i've only met PK's gf once.Twice,if you include that lunch.She's nice anyway,so yea..easy to get along!:)
Then at night,Ruiza and Henry went to Bishan and we had Sakae Sushi for dinner.After dinner,they went off to watch movie and me,home sweet home!
Second day was better.And that's because i only worked till 5.
Ate lunch alone,didn't feel like disturbing people.Ate alone for the 2nd time,and yes,Yoshinoya again.I think Yoshinoya is the best!It's open for lonely peeps.HAHAAHAHA!!You know why?I thought i was gonna look so pitiful eating alone but HAHA!!There were so many people eating alone lah!
So yes,after work was school.I scored 40/50 for the quiz which i only took about 15 mins!!POWER!!Yes yes yes,i'm damn haolian.I don't have that many chance to be so haolian about my results ok!?MUAHAHAHAHHAH!
Right,Ruiza's going back to Melbourne today.Damn,that girl flies more than i drive!I'm hoping to save up so money before flying to aussie probably in the later part of the year to visit her!I've been saying this for the longest time so it's better i start doing something about it!
Ok,sorry no pictures lately.I've not been using my camera for some time now but i will,soon!
cindy
[ 5:32 PM ]

Tuesday, July 08, 2008
So Celine is back with the camels again.Drove her to the airport just now and damn,i'm really very worried about my health.
I was okay the whole day until i reached the airport,the dizzy spell started to act on me again.I know that sign,it's not good.The last time i had that splitting headache,all i could remember was i fainted.I was praying so damn hard not to faint there because since i've got that 'fainting' experience before,i kinda know what to expect.Quickly asked my sisters to find a place to sit and for a moment after i ate,i was okay but after about 15 mins later,the headache came back again.I swear my vision was blurred lah!I was damn scared to drive back actually.
'Then why still awake at such hour?',you asked.
I slept!I slept at about 9.30pm only to find myself waking up at 12.45am thinking it was probably 6am already.The time passes so slow when you sleep early!Anyway,when i closed my eyes,it's like as though my brain was revolving like the earth around the sun.No,really.The moment i closed my eyes,i feel faint.Then i tried to stand up and close my eyes but guess what?I lost my balance.I really don't know what happened to me leh.Very scary..
I think i shall go for a full thorough checkup one of these days.Not very fun to keep experiencing this kind of,i don't even know how to call it.
Anyway before the whole hoohah,we went down to the maid's agency to select the maid.Found one,not bad i'd say.Oh well,they're usually 'good' when we first see them.Not sure if my dad wants or not.
Forever like that one.
He said he's okay to hire another one,he'll be like..'it's up to you all,the maid's for you not me'blahblahblah etc,then when we finally get down to settle everything,he finds all sorts of excuse and shows an angry face.MEN.
Maybe we get our super weird moodswings+fickle-mindedness from him.It's in the blood!
And you know what's the best thing?
I've got work tomorrow.
See,i can change topic without you realising.
IN THE BLOOD TOO!!
cindy
[ 12:59 AM ]

Friday, July 04, 2008
hello hello!:)
Sorry for the lack of updates.Been busy!I've been working for 5 consecutive days last week and i'm totally zonked out!Finally get to let my hair down yesterday with Celine and Miao.We went to watch Sex and The City(yah,after it's been released for about a month)and bought the Gold Class tickets!!Wah i tell you,i think from now on i shall watch movies only in Gold Class theatre!It's so damn comfy!!!
Anyway,i love the show!I've never really been a GREAT fan of SATC but damn,i love it!:)
So after movie,drove Miao back home and while on the way home,i got lost.Had to make so many U-turns before i finally figured out how to go back.Bimbo Celine was happily sleeping away.I mean,even if she's awake,she wouldn't be of much help anyway.HAHAHAHAHAHA!!
2 more weeks before my holiday and i can't wait!Not really holiday actually,more like study break.I'm gonna piah my Annuities!!It's killing me man!
There's actually quite a lot to update but now my mind's blank!HAHAHAAH!Okie dokie,i'm gonna go now.Laters!