Cindy.Chen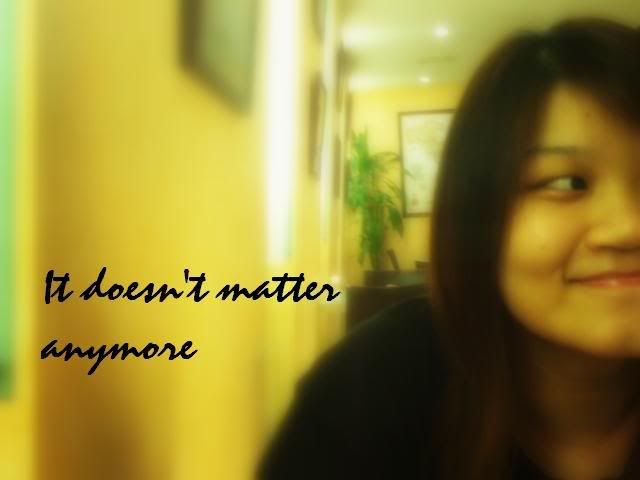 About ME


+25th Jan 1988.
+20 years old
+PSBAcademy.
+mhss.
+family.
+music.
+travel


Thursday, April 30, 2009
Morning sinus kinda suck.I've sneezed a total of 17 times for the past hour!-____-"
Okay,make that 18.
Man!I feel sooo sleepy now.
The weather is slowly taking a toll on me.Some days it's hot,some days it's cool,like today.Wah lao,hot and cold man.No wonder everyone's falling sick thesedays!
Anyway,last night met up with Christy,Miss Piggy,Sam,Kiong and Wiki for Kbox!Was supposed to be down at Chijmes for the American Idol Screening but since most of them didn't wanna go,we had a change of plan instead.
It was fun!I mean,it's always good to be hanging out with good'ol friends right?
Christy and gang are thinking of going to Phuket end of May and i really wanna go!But i have to see if it clashes with my class test or not..if not,i'm so ONZ for this trip!:):)
My mind's kinda blank right now because i'm preparing for another sneeze.Okay,i'm gonna go now!Get ready for work!:(
cindy
[ 11:24 AM ]

Sunday, April 26, 2009
This year's Star Awards is so damn boring.Kinda sian to see all the lao jiao gone and what's left are the newbies.And the Little Nyonya gang.
Purposely postponed the annual ceremony just so Little Nyonya can win so many awards is like wtf.However,i'm so not surprised that Jeanette Aw didn't win the much anticipated female lead award.Just don't have that feeling she will win it but i was surprised Joanne Peh won.I'm just so glad the craze for TLN is over.Or at least i hope!I admit i kinda like that show INITIALLY but after all the attention the show has been receiving,it really annoys me a hell lot.
When can we have good actors and actresses like Xie Shao Guang and Huang Biren again?Now all the shows are like,dumb.All the idol kinda show..really can't act for nuts.
I really like Chew Chor Meng though!He was the only person i cried for when he received the award.He definitely deserves it because in that show,he really acted damn well and i really did cry because of him.He has always been one of my favourite local artist cus come on man,he's really quite cute okay!
Suddenly i feel like i'm a critic for Star Awards 2009.
I'm just disappointed that it's such a bore to watch this year!And,they neglected Kym Ng lor.
cindy
[ 11:43 PM ]

Friday, April 24, 2009
Such a lazy friday afternoon!
I felt like doing some cleaning spree today and so,i did.Swept and mopped the floor,clean the fridge and kitchen and toilet and change my bedsheet and after all that,i just simply lazed around.Feel so gooooood although i'm like doing nothing.Just sitting on my sofa watching MTV.
SOMETIMES i do feel that having no maid is a good thing.You can just do your own thing and not worry if the maid is skiving or not.LoL!And the best thing is,you get to train yourself to do housechores.And i really mean TRAIN.For one,i've never really like washing dishes.I don't like my hands to feel wrinkled.Okay,that sounds damn bimbo and spoilt but you know,i just don't like lah.I know nobody likes but okay,never mind,shut up.But that's just SOMETIMES on days like today,when i feel hardworking enough to clean up the place.And it's also good lah,exercise what!
Anyway.the weather is so friggin hot!It'd be perfect if my living room has aircon but well,ceiling fan is just fine.

I really like the feeling of nua-ing at home.Sounds damn no life but i really like it!Like you can just leave the tv/radio on,listen to some music and just..nua~That's like the shiokest thing ever!I mean not everyday lah!Once in a blue moon then you can feel the shiokness.

I need some rain man!But definitely not like the other day's 'thunderstorm'.That's scary!

Okay,i think i'm starting to type crap..how ah?If i don't blog,i don't know what to do.I just feel like typing.Or not.Maybe i should just catch an afternoon nap!
cindy
[ 4:33 PM ]

I can't wait for Universal Studios Singapore to open!!So exciting!!!:D:D
Was thinking to get a job there but i guess it's gonna be real hard because there are so many people applying!But that aside,i can't wait!!!!!!It's gonna be awesome!
Anyway,last night was kboxing with Miss Piggy.It was quite impromptu though!So she came across Justin Gaston while i was singing Lovestory by Taylor Swift and from then on,she has been gushing over him.
After kbox,met Kel for awhile and went back home.
I'm feeling so good now that i work on alternate days!I think it should stay this way.LoL!Alright,gonna grab some bites and then time to clean up my room!
cindy
[ 10:54 AM ]

Wednesday, April 22, 2009
Just finished watching American Idol.
You know,i haven't really been an American-American Idol fan.More like American Idol Season 2 and 8 fan.This season's really full of talents!I was so blown away by Adam Lambert's performance!I thought he'd do something more..wild?But wow,really great rendition anyway!
Okay,i don't know what just happened.Is there gonna be a thunderstorm because the wind is freaking me out!!HOLY SHIT!!It's like damn scary man i swear!!!As though the winds are knocking on your windows..think i'm gonna sleep with the light on tonight!I very hum ji one okay.
So anyway,was out with Sam in the afternoon.Met her at Toa Payoh for some dim sum delights!After which,went to watch 17 again and MAN!There were only 3 persons when we went into the cinema!Can you believe it!?And that Sam was being really quite bimbo.She was actually looking for our allocated seats!!I was like,do you think anyone is gonna come up to you and tell you you're sitting at the wrong seats??!!??Seriously.I should hang out with people like her more often,makes me look smarter.LoL!
Ate dinner at the foodcourt which serves my favourite Indo food(quoted by Miss Piggy) but wah lao,they actually ran out of black sauce.Such a spoiler!Didn't really finish the chicken because it just doesn't taste right.
Basically we just hanged around at TPY central and really,it's such a cool place man!It has everything!
That pretty much sums up my day,pictures are with Sam.
Working tomorrow and i'm feeling great because from now onwards,i have 3 off days!!Life is wonderful!:D:D
cindy
[ 11:18 PM ]

Monday, April 20, 2009
I envy people who can express themselves so well in words.By that,i don't mean using bombastic words.I feel it's very unnecessary to keep using big words just to show that your command of the language is above average.
In fact,people who can use simple words to express themselves and make people feel and understand what they are putting across are really the ones who are above average.Way above.
I've been reading this particular person's blog and what the person has been writing are her inner thoughts.It's not really what we call,Emo,but more like yah,inner thoughts.She can easily portray her day in like what,2 sentences and you know how good or bad her day was.It's really quite impressive.I like to read things like that.It opens up my thinking too.
'Attractiveness on the outside could only last that long.
Real attractiveness comes from within,and it's everlasting.'
That,I realised.And i'm not a lesbian.
cindy
[ 1:05 PM ]

Just uploaded the videos from Jon Paul's birthday to my laptop.He's just too adorable to resist!!:):) Not sure why some of the videos went blank at the last part.Weird!
I said Happy Birthday to him and he just gave me a blank look..hahaa!


Don't ask me why i kept saying Happy Birthday Jon Paul.It was his birthday what!
cindy
[ 12:26 AM ]

Saturday, April 18, 2009
Hey,what's up!It's been awhile..
Exams are finally over for me!!!At least for now.4 more modules and i'm so done with PSB.:D:D Marketing was okay,i guess it's the only paper i'm pretty confident i will pass.
'Neways!Not gonna talk about exams anymore.Such a bore!
16th April:
My dear Jonnie Paullie's first birthday!He was pretty moody at first.I guess turning one kinda suck for him?HAHAAHA!Was racking my brain on what to get for him but in the end,i think the angbao my dad and sis gave him is enough..way more than enough!A XXXX sum,what say you?Turning one and got a 4 digit sum of angbao and ME?Turning twenty-one and got none.Fancy getting jealous over my dear JP.No way lah!He definitely deserves it!:):)He's been such a joy to the family!Love him to bits!
So we got him a big balloon with a bear in it and we were saying he's definitely gonna burst the balloon just to get the bear out.But the balloon's really nice leh,wah lao.
Now,the JON PAUL way to score a sip of honeydew sago!

1)First,you must smile.Even if the person is not looking at you,you must SMILE.Best if can see your puffed up cheeks from behind.

2)Next,pose for the camera!

3)Then,look super engross into the food.Doesn't matter if it's honeydew sago or not.Just have to look engross.Remember,ENGROSS.

4)Finally,YES!SCORE!!!!
JON PAUL'S FIRST BIRTHDAY!!:):)
The first round of desserts.Forgot to take the 2nd and 3rd round.LOL!!!
Me:Oie,why you cover your face!
Cousin:No,must act like those paparazzi shots!
Anyway on that day itself,both sis and myself went to Toa Payoh to settle some stuff and down to Marina Square to collect my NEW BABY!!!!

I'm totally loving it lah!All thanks to my older sis!She said she wanted to surprise me with that phone for my birthday present but,surprise or not,i'm still very very happy and contented!:):)Love you Jie!It really burnt a big hole in her pocket and i felt really guilty actually.But well,since i'm not a frequent phone changer(ahem!think.7250i),it should worth the value.
Then Celine went to cut her hair and i went for a massage!My shoulders have been aching really badly..couldn't sleep at all the night before!So had the massage and it feels slightly better now.
After that was down to UIC Building for Jon Paul's birthday.It was good!Finally everyone was present.Because the last time we took the family picture,Celine was not in town.Food was okay but dessert was,wooooooo!
Celine,XT(younger sis),my cousin and myself = 19 bowls.
HAHAAAHAHHAHAH!!
I ate like 7 bowls of mango pudding alone and my cousin ordered quite a few bowls of honeydew sago for himself too.
Cousin:Eh li,want somemore not?
Me:You want?
Cousin:You want?
Me:On lah!
Cousin:Wah,on lah!How many?3?
Me:ON lah!You also lah!
Cousin:On lah!
LOL!!And then the last order came and the waitress was like,
Waitress:Okay,now last order already.Anymore orders?
Everyone said no..
(the table had 8 people but,she only looked at me..)
Waitress:You sure?No more desserts?Last order already leh.
Me:Har?Don't want already.
And my cousin and the GF started laughing.Seriously man?Quite embarrassing lah.I think they only noticed i'm the one eating.Bloody hell.
So after dinner,finally get to drive the car again.I was really abit worried because i really kinda lost touch.Dropped my dad back home,went Toa Payoh and get some grocerries and down to my mom's place.
Went back to work yesterday and it was boring as usual.No lessons till about evening time.Had lunch with Celine and she was saying she will never work there cus it's too boring.Oh well,it's not gonna be for long anyway.Just need this kind of job so that i can study at the same time too.
Then Sam went over to my workplace after her work and we waited for Natalia to finish teaching and went for dinner together.
HAHAHAHA!I thought this was pretty funny!
Nata and Sam
Sam and her toe cramps.Seriously.I don't know how she gets cramp out of a sudden..too excited maybe?
After dinner,she came over to my place and i got the car and drove her home before picking up Cel,XT,my mom and ah ma.Initially we wanted to go Mustafa to shop around but it was so friggin crowded and the queue for the carpark weren't even moving at all.So we ended up at Geylang looking at pokpok kay and Changi Village for trannies.
Please hor,my ah ma damn ONZ one k!
Me:Ah ma!Li ai ki tou lo?
Ah Ma:Chu zai li leh..(up to you)(i'm friggin familiar with that sentence because my ah ma always say that!)
Me:Orh,then wa lang ki Geylang ai mai?Then ka ki Changi kua ah kua
Ah Ma:Ai ki tio ki lor!
HAHAHAHAHAH!!WOOOOOOO!My ah ma is the most ONZ ah ma ever!:D:D
Once we reached Geylang,
Me:Ah ma!Dan ji kei li luo ki meng yi kei char bo gui lui ai mai?
Ah ma:Mai lah,dan ji kei tio par!(Don't want lah,later kanna whack)
HAHAHAHAHAA!!Okay,i know my hokkien sucks but agar is like that lah.
Damn funny lah my ah ma!LOL!!!
So we drove almost for about 3 hours,until my mom snored and ah ma kept falling asleep.Dropped them off and we went over to Holland V for another grocerry shopping again.Came back home and i was totally zonked out!
So today Celine went back and we'll be seeing her end of june again.I can't wait for end of year to arrive!I wanna go travel.............................................................................!!
Woooo!Longest post ever!
Night y'all!:):)
cindy
[ 8:07 PM ]

Tuesday, April 14, 2009
Studying at home is not good at all.
Ever since Mcdelivery started,the lazy bug in me has been getting worser by the day.I'd be too lazy to go down and buy a takeaway because,that's why.And Mcdonalds will automatically come into my mind.Sure it's a good thing for them,but definitely not for me!
Let's not talk about NOT eating healthily.It's burning a hole in my pocket too.:(
WHY,you ask.Because i've been ordering it for the past week or so!I've been eating those junks for as often as i can remember and it's sick.I swore i'm not gonna touch fast-food again for the next couple of months!I need real food man.
I can't wait to start Muay Thai!!Since i've switched to working part time starting this month,i guess i'm gonna have more time for myself!:):)
Last paper tomorrow and boy am i not excited!!!!Gonna have family dinner on Thursday for Jon Paul's birthday!Yipppppppppppppppp!Been quite awhile since i last saw that dear darling boy!Guess i'm gonna buy his present after my paper tomorrow!;)Can't wait!
Okie dokie,gonna hit the books now!Not literally.
cindy
[ 3:28 PM ]

Monday, April 13, 2009
I seriously
hate

hate

HATE
Econs and Accts!As long as there's calculation,i'm done for.
It's such a miracle i managed to pass my math module!!
Anyway,Econs is really w.h.a.t.t.h.e.h.e.l.l!We have to draw graphs for ALL THE QUESTIONS,can you believe it?!ALL!!!!!My god.I don't even need the ruler to draw the axis anymore.Haha,i love my own jokes.Shut up!
Okay,so i'm prepared to RETAKE ACCTS AND ECONS AGAIN.Dead and gone.Wednesday is HRM,my last paper and i'm pinning so much hope on it,not.I just wanna pass it!I really wanna clear all the modules then i can bloody concentrate on stupid accounts and econs again.
Why did i even choose to take business course!?!Damnit!It's like i'm courting my own death man.My classmate is withdrawing soon because she can't take the stress.I tell you,this course really can drive us up the walls!It can get really stressful but i always choose to be more relaxed because i know if i'm stressed,nobody would wanna come near me.Just like how the other time,the Boss,Lady Boss and Nata was telling me they thought they offended me or something.I mean i'm pretty sure my friends won't want to see my stressed look too.It's really super kiam pah.
I just can't wait for Wednesday to come!!Then i will be freeeeeeeeeeeeeeeeeeeeeee...for now!
cindy
[ 5:33 PM ]

Sunday, April 12, 2009
I've been feeling really lerthagic and sleepy lately.Must be the weather!It's been raining for the past few days and it's not helping me at all!How to study when the weather is so gooooooooood to sleep in!?
Last night i told myself to burn some midnight oil but guess what?I actually fell asleep!I know at the back of my mind i had to wake up to continue studying but i just couldn't!Every other hour,i will suddenly open my eyes and look at the time and i'll be like,
'okay now 1 ah,wake up at 2.'
And when 2 comes,
'okay now 2 ah,wake up at 3..ok,maybe 3.30.must really wake up'
when 3 comes,
'i can't.okok,4..4!'
and it continues until the clock hits 9.30am.
How man like that!?My exam is tomorrow leh.Not even a sense of urgency,my god.
3 more days before this misery is over!And Celine's arrival and JP's birthday!!!Can't wait,can't wait!!Why do i feel alil motivated now?HAH!
cindy
[ 10:42 AM ]

Thursday, April 09, 2009
I'm back at work today.Supposed to be 'on leave' still,but Nata can't come in the morning so have to cover for her.

Anyway,so we had our annual gathering last night and i'd say it turned out to be
quite
a flop.The number of people who turned up was so much lesser than expected.I did enjoyed myself but i'm not sure about the rest.The place Esther brought us was good.The band was good and well,overall it was okay.Was surprised to see Abishek after like what,2-3 years?!And guess what?He got sent out by the bouncer just cus he had a few sips of the champagne which was for the ladies!Biggest joke of the night.We ordered like so many drinks and he got kicked out cus of that few sips?Seriously.

We left about 11ish and the remaining sober people(Derrick,Andy,Kim,PK,Faizal,Jeff & GF and myself) headed out for tauhuey.I didn't know they haven't had their dinner and they ate like hungry ghost when the youtiao was served.It's like one moment it's there and the next,it's gone!

So before that i ordered my tauhuey,

Me:Wo yao leng de dou hua(I want cold beancurd)
The person who served us: HAH.(Think.The snobbish kind of HUH.)

And then Andy and myself burst out laughing.

Andy:Eh Cindy,she sounded like it's a matter of fact kinda thing.HAH!

LIKE SERIOUSLY MAN!?HAH?!I was left speechless for a moment.

But okay lah,since the tauhuey is really quite good,i shall forgive her for hah-ing me.And then that Derrick is becoming more violent each day!Keep hitting me leh,wah lao!
So after which,we all headed home.Shared a cab with Kim and PK and damn that taxi uncle!He drove like ong friggin big round man!Like really big round okay!!It's like for example,from Paragon to Taka.Instead of U-Turning at the junction or something,he goes all the way to CTE and down to Orchard.You know what i mean?Okay never mind.It's just friggin big round.

I'm gonna go to the airport later to send lady boss off.Work is sooooooooooooooo boring!
cindy
[ 12:03 PM ]

Sunday, April 05, 2009
SERIOUSLY!It's either i've got a jinxed mouth or Karen Tan!!!!!!!!!!!!I just saw a friggin HUGE lizard's tail in the toilet!!!!!!!!!!!!!!!!!!!!!!!!!!!HOLY SHIT!

Buy 4D also not so zhun lor!
cindy
[ 3:32 PM ]

I think i can only talk to Karen Tan for hours on the phone man!There were 2 days when we talked all the way till like 4 in the morning when i had to wake up at 8am for work.We can really talk about anything..from exams to steamboat to hokkien lesson to cockroaches to pregnant cockroaches to lizards.

So we were talking about which is more disgusting?Cockroach or Lizard.After arguing for like almost 1/2 hour,we came to a conclusion that actually,both are equally gross.And the next thing i know,we were scaring each other.

Me:The cockroaches are waiting for you in the room lor.
Karen:No lor,i off the lights already.
Me:Even better!You can't see them!They are everywhere,at every corner of your room.
Karen:You shut up lor.Scarli later when you look at your ceiling,the lizard is looking at you and drop it's tail.

Bloody shit.


Anyway,i really can't wait for our exams to be over!Then wa lang ai seh ki jia steamboat, worryless.:D:D

Oh yes,i've took off from the 7th-15th of april!Really gonna piah my studies and hopefully,pass them all!Really can't afford to fail another subject,it can really drive me nuts!Next wednesday will be the class gathering.Luckily it's after my maketing exam!Thursday will be sending my lady boss off and the rest of the days will be studying for my next 2 papers and waiting for Celine and Jojo's arrival!And 16th will be JON PAUL'S BIRTHDAY!!!He's turning one!OMG,ONE.

Celine:So how old is Jon Paul gonna be?
Me:One.
Celine:What?!ONE?!But he's been around for so long!!

Which i thought was pretty funny.LOL!!Errr,okay..bimbo jokes lah.
cindy
[ 2:52 PM ]

Friday, April 03, 2009
I'm going to sit for my accounts paper in less than 2 hours time.
No feelings at all.
Die just die lah,don't care already.Accounts can really kill.After this paper,it's all about memorising for the next 3 papers already.So,good luck to me man!
Ok,gonna do my last lap of revision.Ciao for now!
cindy
[ 10:47 AM ]

Thursday, April 02, 2009
I think it's only a matter of time i'm gonna move out and stay on my own.It's quite tormenting to stay in a place where there's so little communication in the house and living with a dad who wants everything his way.Very demanding,very unreasonable..just very miserable staying here.Like there's not gonna be much difference if i were to stay alone anyway.
Trust me,i'm not being childish or anything.I'm not someone who acts rashly only to regret my actions.This is an important decision and i'm definitely gonna need to do some planning before i make any huge move.
Didn't had any choice when i was younger,when i can't really support myself.I'm not saying i can fully support myself now but at least,i'm able to earn my own bucks and get on without taking money from my dad.In the past,he could only threaten me with my allowance whenever i misbehave.What else can parents do seriously?Their only way to 'get back' at us is simply using the very direct and practical way - Cut out any financial means that we are reliant on.
Well too bad for you people who are still taking your folk's money.You just gotta bear with it.I mean,i'm pretty sure not everyone's parents are as mean as mine.
Like recently,and yes,recently,i don't know what has gotten into my dad.Ever since the starting of 2009,it's been like a cursed or something!His temper has been getting from bad to worse and now,worser.
I just can't stand being 'financially threatened' .What?The most give him back the credit cards lor?I seriously won't die without credit cards.In fact,i gave him back the 2 cards which he gave me and i felt so much better now that the temptation of wanting to swipe the card for the sake of swiping it is gone!Kind of like a load off my back.And he will start saying things like,
'So you think you work now means very big deal lah?What can you do with your salary?'
And all that shit.Yah,it's a big deal to me man!All i have to do now is to clear all my debts from him and i'll be freeeeeeeeeeeeeeeeeeeeee!Then i don't have to listen to his piercing words.

He also asked me to stop using his car.Fine.Not that i'll die without driving either!Worse come to worse,if i ever were to drive again,my driving skills will be as lousy as i just started and probably,for me getting into an accident will be x 10000000000 times higher only what.
Can't really find anyone to talk about this kind of thing.Their answer will be damn standard.Very sian.
Hai,ok..time to hit the books again.