Cindy.Chen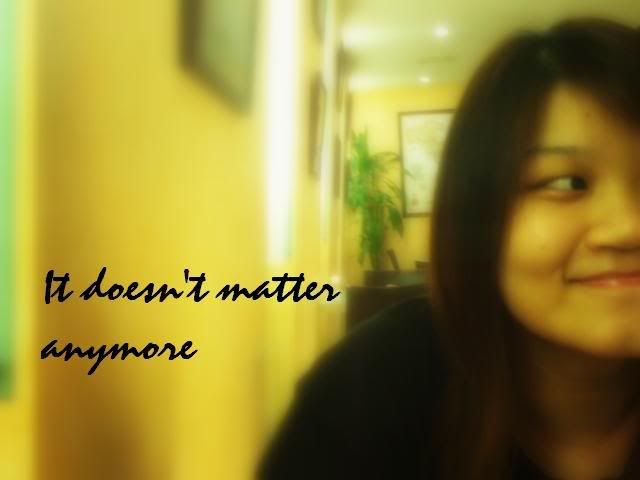 About ME


+25th Jan 1988.
+20 years old
+PSBAcademy.
+mhss.
+family.
+music.
+travel






Tuesday, November 29, 2005

OHMEGOD!!! KENNY G IS COMING TO SINGAPORE!!!!!!!!!!!!!!!!!!!!!!!!!!!!!!!!!

GOODNESS! its almost like a dream come true!!i was sleeping when i somehow heard on the radio that Kenny G is gonna come to singapore..i thought i was dreaming.when i woke up,ive completely forgotten about the 'dream' until i flipped through the newspaper and saw the page with a HUGE KENNY G picture and I CANT BELIEVE MY EYES!! KENNY G IS FRIGGIN GONNA COME TO SINGAPORE TO PERFORM!!!!!!! OMG OMG OMG!! =))))))))) and the best thing is,its 5 days before my birthday and i think im so GONNA GO!!! anyone wanna join me!!!??! HEHE!!

right,that aside.so,today was a pretty long day for me.called sam in the afternoon and asked if she was interested to go for a job interview and she steadily agreed.so,she took a bus down to my place and from there,we took a bus down to Bras Basah for the job.it is an Art shop selling..well,arts stuff.haha.and the guy in the shop was quite funny and friendly.he was like practically multi-tasking lah.ran here,there..EVERYWHERE.so we chatted alil bit before proceeding to the room for interview.it went pretty smoothly i guess.the lady boss seemed to be a nice person.no im not stucking up here.
so after which,we scanned through the newspaper again to look for other job..jus in case that shop doesnt want us.so we called up different jobs repectively.i called up a shop at Holland V.the shop was FOS..and sam got pretty excited for nothing cus that lady boss was somewhat with an attitude. and the pay is pretty damn pathetic.4 bucks an hour,10am to 9.30pm..like,kiss my ass?so much for taking a cab down.hah!
after that,we went to suntec..again,took a cab because the interview ends at 6.and the fare cost me 10 friggin bucks lah.=.=" but its ok,at least the people in WinterTime is so much better.yup,we're not assured a place though.gotta wait for calls between this week.
so after the interview,we decided to walk around suntec.so we ate at crystal jade.yes,kill me.ive been spending money more than i saved.i ought to be shot right in the brain.ok,i shall go budget from now on.
after dinner,we went over to the Fountain Of Wealth..hoping we might turn wealthy after 3 merry-go-rounds.LOL.ok,not funny.but please,sam is worse ok.she was like 'faster check our wallet now!' and she was acting all so excited.-_-" haha,but it was a very nice atmosphere..imagine if Kenny G was to be there.aww!~!
and then,we went to carrefour to walk around.and there was this salesman whos like selling piano was like playing the piano lah.LOL,ok..not making any sense here.but yah,he played beautifully.he made me stay there for about half an hour.HAHAHA! then we went over to the house phone section and we were like practically testing every phone we saw.LOL! i didnt mention before but i will get excited when i see house phones.i dont know why.its like,it comes in some many different patterns.hahaa..=p
after walking around,we decided to head home.and that gurl,i have to send her to the bus stop which is convenient for both of us.i could have stop at the bus stop which i usually stop at and leave her alone but no..i cant do that,cus im a saint.LOL! see,when you see me talking like that,you'll know that im tired...



cindy

[ 2:27 PM ]

Monday, November 28, 2005
the following videos are simply AWESOME!!

->
Debbie Downer
->
Harry Potter

->
Saturday Night LIVE


the similarities among these videos..Lindsay Lohan.LOL! i love her man! =) ohmegod,all the videos are so friggin funny i was practically laughing my ass off!especially the Debbie Downer.
Debbie Downer is somewhat a sadist woman who loves spoiling people's day with her never-ending cursed mouth.she relates practically EVERYTHING to the recent disease,accidents or anything thats not pleasing to the ears.like say for example,beef.she would say something like the mad cow disease and she would rather not take the risk on eating and blah blah..OMG!its damn funny!!and towards the ending part,the cast could not bear any longer they started bursting out in laughter!hahaa!really,please go watch it..its only a few mins!
and the Saturday Night LIVE.that gurl who acted as Avril Lavigne is so friggin FUNNY!! OMG! haha!i love YouTube!!=D the Harry Potter's not too bad either with Lohan acting as Hermione. and the guy who acted as Roy and a woman who acted as Harry were like practically staring at her humogous boobs.LOL! ultra funny!!
ahh!right,i shall go search for more videos! laters!!
cindy
[ 5:41 PM ]

wheee! woke up at 11.30am today.LOL! and its a good sign..im becoming normal again.*laughs* waking up at 10 just aint my habit because soon after,i'd feel damn lerthagic. after which,i continued packing my room(which i did half-way from yesterday) most of the books are donated to salvation army,in the recycling bag and some of the useful books to christy.
clearing up all my stuff are not as easy as i always thought it would be.some of the books which i came across are quite sentimental for me.like for example,believe it or not..i still keep my sec1 and sec2 textbooks.LOL!! and when i looked at my handwritting,its looks really funny.and some of my upper sec textbooks,helena a.k.a luohan,used to draw goldfishes around and put the arrow pointing at the direction which i was sitting and many many things.=(
but oh wells,everything has to come to an end i guess.my room is quite empty now and i dont really feel comfortable..haha,im weird i know.but just imagine,my room's been surrounded with books..textbooks mostly,ever since..ever!and now?half of the things are gone.

after packing my room,i went to my dad's room to slot in my testimoninal into my file.he has a file for each of us to put our 'achievements'.yah lah,mine's very thin ok? NEVER DO COMPARISION as quoted by karen.LOL! so i came across this birth scan of my elder sister.it stated there 'head' and 'heart' in two seperate columns but it looks exactly the same! so i asked my dad which is which and then i covered up the words. and he told me,
CONFIDENTLY

..


my dad:norh,this one is the heart..then this one is the head.
me:really meh?why u sound so confident?
dad:of cus lah,wo shi ni papa leh.
me:okok..

and so,i was pretty convinced until i lifted up my hand and guess what? WRONG!! and the best thing was,the whole picture was UPSIDE DOWN.LOL!! OHMEGOD! i laughed my ass off man.and my dad was so damn embarrassed he kept laughing and insist i bluffed him.how to bluff? its in the face kinda thing lah.LOL!
and you know what?
i miss cycling..='(
cindy
[ 6:08 AM ]

Saturday, November 26, 2005
so i did went out today.heh!was supposed to go SP's open house today with sam,esther and derrick..but derrick msged me in the morning and told me he has got a headache so we decided not to go SP.but i met the other two anyways.they had been dying to meet me lah.LOL!just kidding =p but i also felt bad for not going out with them whenever they ask me out so yup.=)
after we met,we walked to taka to have our lunch.was deciding between yoshinoya and pepper lunch..but in the end,we chose pepper lunch and guess who we bumped into?elena lim.LOL!and so,sam and elena finally get to see each other after ive been telling sam how elena resemble like her elder sister.haha!

so after lunching,we walked over to heeren to get some stuff and took neoprints.after heeren,esther went to meredien to do her manicure and sam and myself with to orange julius to get some drinks.and we were so desperate for jobs that we even asked the auntie if theres any more vancacies.so the auntie sorta told us how 'complicated' the job is and can tell that she doesnt want us to work there.and then,beside us was this guy who overheard our conversation and he told us to work at the New Zealand Ice-cream thingy at Far East.and told us how much per hour and stuff.LOL.but in the end,we decided not to..so we left.

went over to meredien to look for esther but we couldnt find her.so me and sam walked around and went to the salon to see how much does it cost to dye the hair.and it was pretty affordable(cheaper than esther's manicure..can u believe it!?)so..i dyed it.haha!the process was crap.my scalp i have no idea why,was damn itchy lah!! so the aunties were laughing at me and one of them kindly handed me the back of a pointed comb to allow me to scratch my sensitive scalp.it was so embarrassing and sam was like 'wah lao,i first time see people like that leh.' >.<" so after which,esther gotta go for her friend's birthday party which left the two of us.sam needed to get her stuff and we walked to Tangs and on the way,we bumped into elena again.haha!ok,shes not that important..LOL!
so we reached Tangs and we bumped into Kym Ng.shes damn pretty!after sam got her stuff,we decided to go to Far East to shop.and on the way to Far East,we were stopped by the Steven guy..the person who always stand at the corner right infront of the Mei Zhen Xiang,and offers to trim your eyebrow like he's some professional?yah him.
we were inside Tangs when we saw him and i told sam 'eh,we must quickly 'siam' before he stop us'.so sam was like 'okok'.so i opened the door and quickly walked infront but,he still managed to stop us.and he talks DAMN FAST!!so it goes something like this..
[he showed us the newspaper which he cut out to show/prove us that he is a pro..because well,he trimmed a few celebs'eyebrows?yah]
that pro:just give me 10 mins of your time because i seriously want to help you guys to trim your eyebrows.give me a chance to help you guys,especially you(pointing at me)
me:huh?me?dont need.i like my eyebrows.
that pro:no,really.your eyebrow is very messy so i need to help you to trim it.just give me 10 mins of your time,please.must 'Zi Chi Wo' orh!(support me).
(and believe it or not,he actually kind of act cute when he said Zi Chi Wo.=.=")
that pro:and you(referring to sam),i think you also need to trim a little bit.
sam:for what?i trimmed just the other day lah.
LOL!yah,and so he was rejected yet again.i guess we are not the only one who rejected him.=p so we went to Far East and shopped.was friggin tired that we decided to settle down at Long John's for a drink.after which,we went back home.haha it was quite a fun day though.and yes,i spent a lot of money today.im so dead.i need a job,really!!
cindy
[ 2:57 PM ]

Friday, November 25, 2005
OHMEGOD!! im friggin bored!!! seconds seem to be passing like hour,minutes seem to be passing like years..I AM BORED!! since yesterday,ive been doing absolute nothing.just idling around,wasting my life away.dont even ask me to go out because i hate to think of where to go,i hate to spend money,i hate to go out without an aim,i hate go out when i know town or anywhere else is so bloody crowded with teenagers who had just completed the O levels.=p
before Os,we had to stress over the exam itself.after Os,we had to think of how to live our life more fulfillingly and what to do next.work or just idle around and be a couch potato which i think i'd soon become.even if one wants to be a couch potato,you'd still have to go buy some tibits to be one but the problem is,i dont even feel like stepping out of the house.LOL.ok,im not making any sense here dont mind me.
im so bored to the extent that ive tried to play every online game i come across and to the last resort of playing Gunbound which andy and derrick are quite addicted to it now and which i think is superbly boring too.but oh wells,do i have a choice?yes,that is if any kind soul would do some really good deed by introducing me more games or enlighten me on how to spend my days meaningfully.
what a great timing for ruiza to go back to indo..just when i have ALL THE TIME IN THE WORLD TO KEEP HER COMPANY(or vice versa).
cindy
[ 8:37 AM ]

Thursday, November 24, 2005
for the last time..in school uniform that is. Sec 5C. =) and see that idiotic guy behind me? he kept pushing me.

cindy
[ 11:58 PM ]

me and helle a.k.a LUOHAN! and no,we didnt dye our hair.

cindy
[ 11:56 PM ]

abishek claimed that i played cheat because i stood nearer to the camera that is why i looked taller.>.< I AM TALL WHAT! lol!

cindy
[ 10:09 PM ]

whos the man?? LOL!

cindy
[ 10:08 PM ]

wiki cum THE MAN cum BBBTC and me.im so honoured,really.HAHAHAH!

cindy
[ 10:08 PM ]

HAHAHA! this is uber funny! look at Ms Soo!! LOL! initially we thought she would be pissed at it..but she only said 'eww gross'.LOL! =)

cindy
[ 10:07 PM ]

our master piece for Ms Goi..not that clear though,but its nice =)

cindy
[ 10:06 PM ]

yah,so can somebody just do me a favour and kill me?i ought to be shot dead! i had to write in this entry no matter what so as to remind myself how dumb and forgetful i can get.

I'VE ACTUALLY FORGOTTEN TO BRING MY CAMERA FOR THE GRADUATION CEREMONY!

*bish* oh yes,thanks i definitely need that.
i was in my dad's car while on the way to derrick's house when i checked my bag and realised i didnt bring my camera and i was like 'SHIT!' so my dad asked me what happened and he offered to bring it to me later on.but after the ceremony,i felt rather bad if i were to ask my dad to bring it to me..its like,because of a camera he got to come all the way down to just pass it to me.so,i quickly called him and told him it was ok.

goodness gracious.of all things you know?CAMERA.the most important thing of the day!and what ached me most was because i deleted LOADS of photo just to make space for the once in a lifetime event and yes,it was all for nothing.seriously,i can go on forever..but lets just stop this for now.I CANT TURN BACK TIME WHAT! ='(
however,i did still took some pictures from other people's camera lah.but still..it doesnt feel the same.



right,forget about it.its OVER.so yup,im done with O levels..im done with secondary school life.seriously,i feel alil empty somewhere deep down in my heart.although yes,i longed for this day to come but well..its as though im living life aimlessly right now.maybe i shouldnt be saying this because it is only the beginning.hahaa! Graduation Ceremony was ok except for,well the fact that ive forgotten to bring the damn camera,it was pretty good.i didnt see anyone teared though.not as saddening as i thought it would be.but i guess its a good thing,no?
the ceremony started off with the principal speech,a last one.followed by different class's chairperson.and of course for my class,esther was the one who stole the limelight from the rest as hers was the most emo.haha!but yea,it was a very nice,simple and touching one indeed.so after her speech,she presented the 2 frames(which the whole class stayed back yesterday after our last paper to help put in alil effort into completing it)to Ms Goi and Ms Soo.

then,we proceeded on to the food.and the photo sessions began.i'll try to post up some photos..but that is if i ever get to even see them. so after almost everyone left the hall,esther,sam,Ms Goi and myself went to the staff room to supposingly..erm,ive no idea why.but in the end,we went to the long-jump pit area and planted in the 'Magic Plant' which Ms Goi and Mr Liu got for us before our O levels.so we took a few more pictures using Ms Goi's cam and we left for Far East. after O levels,the time seem to be passing so slowly.
cindy
[ 9:37 AM ]

Monday, November 21, 2005
harlo ha! hahaa,hows the new layout?i was too bored and plus,im getting kinda sick with the old skin,so yup! hehee! oh!today,i read the Sunday newspaper and i came across this page which caught my attention as it says 'cheesy songs are taking over the airwaves' so i read on.and they mentioned about the Dragonstea Din Tei song by O-zone which i remembered it featured on chicken little the movie! hahaa! and of cus,sam heah loves dat song so damn much.hahaa!so i read on futher and came across this name
'Gary Brolsma'
.they were talking how the song became really famous after this guy did a lip-synching on it and of cus,his instant fame.so,i went on to the net and search for his name.so i clicked on one of web and watched the video and voila! i was laughing my ass off!! LOL!! he can do it really,really well!! initially,i didnt realli like dat song..but after i watched the clip,OOOOOH I LOVE IT!!! =)) aniwaes i think its an old clip becus it was in 2004? wahaha but who cares as long as its entertaining!! please do urself a favour and go watch it. haha!
derrick sent me the pics and ohmegod,i realised we're damn cute.LOL!! okai,actually karen was the one who said it first.but its the truth so i dont blame her.*laughs* but when i looked at the pics,it was a totally different feeling.its like..im realli getting older.(ok,i knoe ive been saying this but really!!)and i cant believe i practically watched them grow up! LOL!! ruiza,from a innocent and sweet gurl to a more mature and feminine lady.karen,from an ah lian to though still an ah lian but more high-class.LOL!! ok lah,a more sensible gurl.derrick from a childish boy(ok,i knoe im gonna be so dead BUT WAIT) to a more mature young man although he hasnt grow much in the height department.OOPS! and andy,from a skinny quiet boy to skinny full of crap guy cum philander(okok,i knoe im gonna be so dead for this too BUT WAIT!!) but still afterall a very nice guy. ohmegod,i think after reading this they're so gonna love me to bits man.LOL!! i know they will,definitely!cherish me people!!
HAHAHAHA!! okok this is crap..im bored! aiight,gonna hit the books now! LATERS!!!
cindy
[ 8:21 AM ]

Sunday, November 20, 2005
feel so damn refreshed after bathing! =D right,so what did we do today? met ruiza and karen first and went off to Far East to get our ears pierced.karen pierced the top corner of her right ear and yes,she definitely look more lian-ish now.certified ah lian.LOL!jus kidding!
after which,we walked around Far East and decided to go BK while waiting for the guys.shahrul joined us too.yes,karen said she's gonna blog down what i did in BK.i shall be honest and blog it down before her.
I DRANK THE WHOLE OF A KING SIZE LEMON TEA BY MYSELF
.
hahaha!okai,not dat exagerrating actually.they shared with me..just dat i drank a larger portion.what?cant blame me rite..i whole day didnt drink water leh.>.<>SINGAPORE IS SO DAMN SMALL!

=p and as usual,karen suggested for somewhere to DINE in.so after which,we went to Marina Square and walked around before settling down at Changing Appetite(i think!).today's dinner was so

CHEESY!!

yup,we're so gonna put on some serious pound there.hahaa! before dinner,derrick and i were discussing on how to surprise ruiza..so we decided to buy her a cake.so after dinner,me and karen excused ourselves to go to the ladies but the truth is,we were buying the cake.and,i think it was a wrong choice of cake.LOL! got this oreo cheesecake and it was damn friggin rich.so we carried the cake and sang her a birthday song.heh! and so,we were like realli struggling to finish the cake..and it was realli small piece,but we find it damn hard to savour it..why?cus we were so damn full! but anyhows,it was a nice dinner! =) and yes,ruiza was on house again.hahaa!
after dinner,we didnt knoe where to go..so decided to go back orchard.to think ruiza and karen

actually suggested to

WALK

back to orchard.like,OHMEGOD?! so we took a bus back to orchard,walked around ciney leisure,heeren and paragon.we were sitting at the staircase of paragon cus again,didnt knoe where to go.told you singapore has limited places to go! after just erm..sitting at the staircase for about 15 mins,we decided to walk around and see if theres any place to just chill out.wanted to go Lido's mccafe but since we already climbed up the escalator becus it was not working and mccafe was below,we thought of catching a movie.but all the shows are like midnight shows and shahrul wanted to watch The exorcism of Emily Rose BUT me and andy wanted to watch Tom Yum Goon.and the other three are like,so dead?muahaha~so in the end,we just sat there and ruiza,karen and me kept taking pics.LOL! after dat,shahrul wanted to go home and watch soccer and derrick looked as though he was gonna fall asleep anytime,we decided to go home.karen went off to meet her frens at ciney..chiongster man she.hahaa! and i accompanied ruiza home and from her house,took a cab home.yup!and dat was my day for you.hehee!
so,wads my plan for tmr?am just gonna stay at home and do some revision for the last paper! after tuesday,im gonna be so damn free lah! karen,how!?! *evil laughs* tsk,how am i gonna spend my 5 mths holiday? HAHAHA!



cindy

[ 4:26 PM ]

before we all head home.not dat clear though.

cindy
[ 1:28 PM ]

oh and and!! did i mention im just too hard to resist? just look at karen.oh my..told you guys shes bee carrying a torch for me.awww!

cindy
[ 1:28 PM ]

dat is why...we took hell lotsa photos!! HAHAHAH!!

cindy
[ 1:26 PM ]

man,its been a long loooooooooooooong time since we took a pic.:)))

cindy
[ 1:24 PM ]

the group pic

cindy
[ 1:23 PM ]

so sweet right? LOL! karen,ruiza and me..

cindy
[ 1:22 PM ]

shahrul,derrick,ruiza and andy.

cindy
[ 1:21 PM ]

the birthday gurl! =)

cindy
[ 1:21 PM ]

the drinks.look at the jug,its super-sized.hahaha!

cindy
[ 1:20 PM ]

the food! =D

cindy
[ 1:17 PM ]

i told you so.

cindy
[ 1:14 PM ]

oh yes,shahrul LOVES posing for the camera.hahaha!

cindy
[ 1:13 PM ]

right..so i think im realli suffering from serious insomnia.tossing and turning in bed till the wee hours,got disturbed from the sleep with the slighest noise and waking up at 10 in the morning seemed to be a ritual for the past few days.
gonna meet up the few of them in the afternoon and im not sure where are we going.lol!its always last min kinda thing.so yup..i came across this email and i find it rather interesting..there you go..
Olny srmat poelpe can raed tihs.cdnuolt blveiee taht I cluod aulaclty uesdnatnrd waht I was rdanieg. The phaonmneal pweor of the hmuan mnid, aoccdrnig to a rscheearch at Cmabrigde Uinervtisy, it deosn't mttaer in waht oredr the ltteers in a wrod are, the olny iprmoatnt tihng is taht;the frist and lsat ltteer be in the rghit pclae. The rset can be a taotl mses and you can sitll raed it wouthit a porbelm. Tihs is bcuseae the huamn mnid deos not raed ervey lteter by istlef, but the wrod as a wlohe. Amzanig huh? yaeh and I awlyas tghuhot slpeling was ipmorantt!
cindy
[ 3:10 AM ]

Saturday, November 19, 2005
ruiza miss call me at 5.30am.so,i woke up and called her back.after we hanged up the phone,i tossed and turned on the bed trying to get back to sleep..but,i failed..miserably!i only managed to sleep at 7.30am.haha.after sleeping for a few pathetic hours,i woke up..feeling kinda excited.
so we decided on the time and venue and i finally met her.but could tell dat she was too tired.so in the end,she decided to change the meeting up to tmr..which left the two of us.so we ate at delifrance and kept yawning.haha!after which,we walked to paragon and decided to head home. wow,miracle i knoe! hahaa..when i reached home,my dad and grandma was like..'WAHHH!! SO EARLY!? why?no money ah?' and yes,their reaction was EXTREMELY exagerrating. oh wells! hahaa..i was surprised at myself too.
aniwaes,i came home..bathed and cuddle onto my lovely,lovely pillow! my bed was extremely comfortable lah! plus,it was raining! such a bonus! =D yupp..right.anyhows..
HAPPY BIRTHDAY SAM!! =))
sorrie didnt join you guys today..but im glad dat u did enjoy urself anyhows! hahaa! yes dont worrie,i owe u a treat.and no,u dont only have one pathetic friend aiight? *cheers!!
cindy
[ 2:26 PM ]

Friday, November 18, 2005
so,today was fnn paper.it wasnt as difficult as i thought it would be becus well,a few of the questions which ms soo predicted came out.however,my essay is so gonna suffer! i cant write for nuts..seriously! arghh!but anyhows,ONE MORE PAPER TO GOOOOOOO!!!!!!! time for celebration! =DDDD
esther,sam chua,wendy,wiki and me went to Far East after the paper..which ended at 4pm.late,i knoe.so went to Long John's to grab some bites.after which..sam,wiki and wendy sort of went separate ways with us becus esther needed to develop some photos.we went over to the photo shop,and bumped into chunhui and her gf.after they left,the lady at the shop was like asking us..
lady:they are ur frens?
esther/me:yah..
lady:they are bf/gf?
us:yah..
lady:oh,i thought they are siblings cus they looked alike.
us:haha,yah abit..
lady:the guy(chunhui)very handsome huh?
us:yah..
lady:really very handsome leh.like dat in school sure alot of gurls go 'gaga' over him lah?but somehow he look abit like gurl leh.
us:erh..yah..
LOL!
*note:the lady doesnt knoe chunhui is a gurl..so,when she said the guy..referring to chunhui,me and esther jus looked at each other and kept quiet about it.
after developing the photos,we decided to head home.so we called and met up the three of them and left.its so annoying when you're walking halfway and someone just stops you in the middle of nowhere to ask you to spare them a few precious minutes of yours and start telling you they are not doing a survey or whatsoever,just some fund-raising programmes or maybe charity.i mean seriously,if its for something very meaningful..im all for it.but sometimes we dont even knoe if its a bluff or not.
in fact,i actually do pity the guy we met today who approached us to donate money.he was like asking us to donate and blah blah and esther,who steadily donated $2 for a pen to another gurl just one street before the guy,was like..
esther:erm,today alot of people doing all these things huh?
guy:yah,so dont like dat lah..its my first day,so do me a favour?
esther:but we no money leh.i just donated to another person.
and the guy doesnt seem to believe her and kept saying what 'both of you donate 2.50 each lor' and esther got pretty fed-up with him.his 2 other frens came over and joined in the persuation.but after which,one of his frens was so ungentlemanly and just turned his back on us.what?just becus we dont want to donate to some organisation we're not familiar with?ridiculous.but the guy who approached us was not too bad becus after being 'lectured'by esther..who kept saying
"
but

if we dont wanna donate,you cant force us what"
he apologised to us.but esther was still so damn pissed with it dat she kept mummbering to herself.hahahaa.but she was actually very scared becus she told me she saw the gang sitting there and one of them actually stared at her.haha! yup,dont ever mess with esther.she can get pretty scary at times.LOL!
yay!ruiza's coming back tmr!! just cant wait! =) right..i think im gonna hit the sack right about now!so..laters!! just in case if i didnt blog for tmr..
HAPPY BIRTHDAY SAM HEAH!!!!!
and
HAPPY BIRTHDAY JANNAH and twin!
(i dunno how to spell her name) =))
cindy
[ 3:06 PM ]

Thursday, November 17, 2005
HARLO! IM BACK IN ACTION!!! *teehee
right..so i hadnt been updating much.aniwaes,2 more papers to go and im completely over with O levels! yaaahhooooo~! =D had geography today and am glad dat most of the things ive studied came out.but i do seriously hope dat my geography would not be drag down by social studies.if not...okai,i also dunno wad im gonna do.lol!
something to cheer me up.ive realised..im NOT THE ONLY ONE SUFFERING FROM PIMPLES OUTBREAK!!!! WOOOHOOOOOOO!!!! im damn happy!im a sadist i knoe,but who cares!?im LOVIN`it! bleeeehhhh! =p jk my good'ol pal.
so after the paper,i walked around harbourfront AIMLESSLY.well,i did have an aim..which is to buy some stuff.but..upon reaching,i dunno wad im looking for.lol!so i called elena and she,being the usual sotong,didnt pick up my call until the 3rd time.and she was like..'huh?u got call meh?no miss call leh.' so,i went to meet her and she checked her phone again..and den,she was like 'oh,now den got.' like..wow?her phone is damn laggy.please throw it away elena..
aniwaes,got my stuff and went back home.see!the reason i dont wanna blog is becus i dont have anything to blog!! ='( pathetic life,i knoe.hurhurr..but oh wells!its gonna be over soon.soon soon.hehee! OH! and how can i forget to mention dat..RUIZA IS COMING BACK ON FRIDAY!!! YAY!! FRIDAY OHMEGOD FRIDAY!! WOOOOOOOOOO!!!!! yes,so what if exam is not over yet? dont care! hahaha! just kidding! but YEAH!! after for god knoes how long,im able to see her again! no,dont try to stop me from being hyper cus i CANTTTTT I CANTTT!! my friday is hers.LOL!!!!!
cindy
[ 7:04 AM ]

Sunday, November 13, 2005
ohmegod,im a legend.hahaa!its proven i can live without air-con alrite?i was in my room..with windows CLOSED and chatting on msn for half an hour before i realised i didnt switched on my air-con.LOL! and i wasnt even perspiring lah..not even hot at all.just stuffy maybe?haha.woo!congrats cindy,u can live without air-con!!! =D thanks,im proud.
pimples outbreaks are back! =( goodness,see..all the stress and heaty food just make it worse.and my dad,he just have to buy MORE tibits to satisfy himself infront of me.that really,really helps alot.>.<"
aniwaes,i read karen's blog and i seriously think dat she realli lives in 'sua dien'(which andy used to describe BOTH of us.hello?its proven dat only KAREN lives there ok..im out!im modern-lised)muahaha~she only realised the existence of Pepper Lunch NOW.yes,NOW! OHMEGOD.lol,and i dont really think the food is dat fab.i went once with sam and esther and it was okay..just dat yes,their creativity amused me.hahaa!karen,please..go out more often.i know you have been doing dat,but like..not much of a help eh?why!? LOL! jus kidding! =) *cheers*
okai,so..i practically slept my day away.woke up at 12,brushed my teeth,com,lunched and went back to sleep at 3.woke up at 5.30 and im feeling sleepy again.call me a pig,i dont care..but the sleeping doesnt have to minimise my dark rings leh? i shall sleep more den.hahaa!what im afraid now is dat,as quoted by Mr Tham,my everyday life routine will be sleeping..how nice?ive done dat in the first week of holiday for my N levels and i simply LOVED IT!hahaa! aiight,gonna sleep soon.hahaa! so yupp..laters!
cindy
[ 2:34 PM ]

Saturday, November 12, 2005
jus came back from my cousin's wedding dinner.had to make 2 choices in the afternoon.whether to go to sam's dinner or my cousin's.but yea,i broke my promise in the end.dont even ask if im guilty or not cus I AM.i knoe im not dat significant anyway..but its the principle.i detest pple who breaks promises,therefore i always try to avoid breaking them.[please note:always TRY].and i knoe wedding is once in a lifetime thing..dat is why i chose to go in the end.
before i start toking abt the wedding dinner,let me just say dat..ive screwed up my maths paper.like,completely!! urghhhhh! dont ask me why.i jus screwed it up damnit!
back to the wedding dinner.did i regret going?at the beginning..hell no.but half way through the dinner,well..sort of.got to witness how high my aunties can get and it was rather embarrassing becus the waiter dat served us was my primary school schoolmate.but it also made me realised how fragile my aunts can be.she sang/sobbed.was quite drama i would say but oh wells.like what my cousins said..once in a blue moon,its ok.rightos~
on a lighter note..the wedding was set on such a nice date lah.11-11-2005.the beginning of the ceromony was way touching.they featured a video slideshow..'KENJO[both their name combined],based on a true love story..'the groom animated everything by himself for my cousin.damn sweet,damn loving.10 years of relationship is not dat easy eh!and i realli took my hat off them.they showed their secondary school pics..their first kiss,first christmas,first overseas trip,first many many things.and they played SHANIA TWAIN'S SONG!! OMG.hahaa.it was damn nice,really.from 16 years old to 26..how sweeeet?
the dinner was a okay.couldnt really concentrate on eating cus my aunty who is sitting next to me kept on talking and thanks to her,my dishes has got extra 'ingredients'.haha!oh and my nieces are so damn cute!!one of them is the flower gurl and she is so damn uber cute lah!!!!!!! yah,its proven!it runs in the family.LOL! shall find her pic to upload one day.after the dinner,all of us were heading home.ive finally managed to see my grandma after god knoes how long.and she was holding my hands so tightly..and it made me realised how much i miss her and how nasty i am for not visiting her so damn long.yes,i'll make it a point to visit her after O levels..THIS,i promise.aiight,shall hit the sack right about now..ciaos!
cindy
[ 4:33 PM ]

Thursday, November 10, 2005
wooo~its been SUBER(as created by derrick)long since i last updated my blog! been preparing for the exam man.well,yupp..O levels has started since monday.first paper was maths paper1 and social studies.maths was..hmm,how do i put it?its not as difficult as i thought it was but den again,its not as easy =p.social studies was crap!yes,Venice came out..but i didnt have time to finish up my structure-essay.i spent far too much time on source-based..so in the end,i jus jumble up everything together and hopefully,i can gain some marks from it.
yesterday was chemistry.it was ultra easy but of cus,if you study.but sadly,i didnt.i mean i kinda feel damn demoralised on my science..therefore,i dare not hope too high for it.but oh wells! today,3 paper down.yay! =) english paper1 and 2 and physics.it kinda a weight load off my chest for now cus im left with only 3 more papers and dats it!=D damn fast and im simply lovin`it!!HEHEHE! english was okay..i did on marriage for my composition.hopefully i didnt sound too emo on it.hahaa!and for letter writing,my format it totally gone.im damn dumb i admit.it was supposed to be a speech.and at the beginning of the speech,i didnt even greet my fellow classmates.ITS A SPEECH!i was supposed to write something bullshit like..GOOD MORNING MY FELLOW LOVELY CLASSMATES blah blah blah~but i didnt.and,i end it off by writing..SPEECH BY:CINDY CHEN.OHMEGOD!how dumb.but oh wells!again,hopefully my content is good enough to distract the markers' attention eh? LOL!
and there was physics.not as difficult as we thought again.a few questions which ive revised came out but the rest was crap.tomorrow i have no paper but gonna have tuition for the last time before my maths paper2 on friday.so fast lah!1 year jus gone by like dat *snap fingers*.
aiight,i think im gonna get some sleep now.laterrs!
cindy
[ 2:43 PM ]

Sunday, November 06, 2005
oh good good! i managed to cover up 3 chapters of social studies now..leaving me with 2 more chapters to go! OH ME GOD! actually im kinda worried dat what if(
choy!)
those topics dat ive studied doesnt come out,HOW!? ok,cant be that accurate lah uh? hahaha.im just being paranoid here.but being paranoid is sometimes good becus it will spur me to study even harder.=p
woke up at 11,read newspaper,talked to my dad,bathed,lunched and studied S.S.wanted to do some chemistry but when i looked at the pile of books/notes on the table,i got seriously turned off.not dat other subjects turns me on lah,but really,science is a killer.or rather,im a total sucker for SCIENCE! hahaa.aiight,nuthin to update actually..IM JUST FEELING BORED!! gonna hit on maths soon..laterrs!
cindy
[ 7:23 AM ]

Saturday, November 05, 2005
aiight,its been pretty long since i update eh?hehee! got woken up by derrick in the morning..i realised karen and derrick belongs to the same breed.calling pple in the morning and sound so damn hyper.and so,like ive said..he was hyper and started singing alil verse of Ricky Martin's She Bangs. -_-" its okai,im getting kinda used to it already.im jus worried he might go around singing and torture the shit out of people.LOL! jus kidding! =D
aniwaes,went to eat supper with derrick and andy the other night.karen was supposed to join us too.but as expected,she gave it a miss.but its okai,theres always a next time..after Os rite karen!? hahaa!and den,we ate roti prata and dim sums and went mustafa for midnight shopping.LOL.and the 2 guys can get really lame,and i mean..REALLY lame when they are together.did i ever mention dat their voice can get off to a pretty high-pitch?oh wells,yes they can!hahaa!and wooo! I LOVE MUSTAFA! it has EVERYTHING lah! from fooooooood to stationary to home appliances,u name it..MUSTAFA has it! hahaa,free advertising here.hehee! so,i bought some sweets and chocolate and took a cab home.freakk..midnight charges are a killer i swear!
esther came over to my place yesterday.did alil revisions but afterward,ended up watching teevee and slacking around.hahaa!ive been pretty abnormal i admit.i can only get myself started at night.never in the day.i dunno why!so i tot i was the only abnormal one until i talked to someone of my own specimen.i shall present this award to the one and only ass who has known me for ages but still failed to even remember my full name..elena lim.
so i chatted with her on msn and she was pretty stressed i guess.being the usual saint,i entertained her lor.and she didnt even thank me for dat.LOL! okai,jokes aside.its just 3 days to the starting of O levels.my godddd!!!! friggin friggin fast! >.<" and seriously,my science is gonna suffer like nobody's business.crapp..too fast too fast!! =( aiight,say no more.im out!
cindy
[ 5:41 AM ]

Wednesday, November 02, 2005
HAPPY DEEPAVALI EVERYONE!!! =)
aiight,u knoe wad? its 6 days from now.6 DAYS!![mon,tues,wed,fri,wed,thurs,tues and im DONE WITH O LEVELS!!!!!!!! or so i hope]ahhh!!omg,have i done enough revisions?NO.it is never enough!okok,jus a short update before i start on my revisions.
yesterday was the MT paper.dont have much confidence abt it.guess i'd prolly maintain a B4?i realli hope i can get an A2..i wont mind B3 though.the feeling sucks but oh wells!
#edited#after reading derrick's blog,i forgot to mention abt my seat.total wowness!i was right at the back!!! for the first time in my entire secondary school life!!!!! like,YAH! first time ok! and man,the feeling was ultra nice!! i was like looking around for my seat becus its usually in the first row or 2nd row.but all was occupied.so i went outside the hall to look for my seat and wiki told me it was behind.so i was like..'WAH!! YAY!!' i was beaming lah.LOL!its like,when i finished my paper and i looked up..i can see the rest doing their paper.becus usually..yes,as pathetic as it sounds..when i looked up after finishing my paper,i'd either stare at the WALL..or,the stage.so poor thing rite? moreover,the weather yesterday was so damn good!so damn cooling!=Dand yes,finally somebody understand how it feels to be sitting right infront! hahaa,the teachers are forever talking so loudly i agree.
so after the paper,went to tekka mall with sam.i didnt bring any books to revise becus i didnt knoe we were going to meet esther.so,i guessed i wasted my time there.but i did read alil bit on S.S lah.after which,sheena,abi and andrew joined us from bugis followed by chunhui.chunhui is so shuai!okai,dats outta the point.hahaa.terence and k.k was there too and dat place was pretty crowded.guess it was the eve of deepavali.went back home at abt..5.30?
at nite,i waited for the clock to strike 9pm.so dat i could wish ruiza happy birthday.BUT i was late for 2 mins.hahaa,i was panicking lah.my mind went blank.LOL! hahaa,aiight aniwaes..
HAPPY 18th BIRTHDAY RUIZA!!!!!!!!!!!!
hahaa,ure the oldie of the oldie club eh! congrats!! =D aniwaes,enjoy ur day and lovvvee youuu!! cant wait for u to get ur ass back here.wooo! =))
GOOD DAY PEOPLE!