Cindy.Chen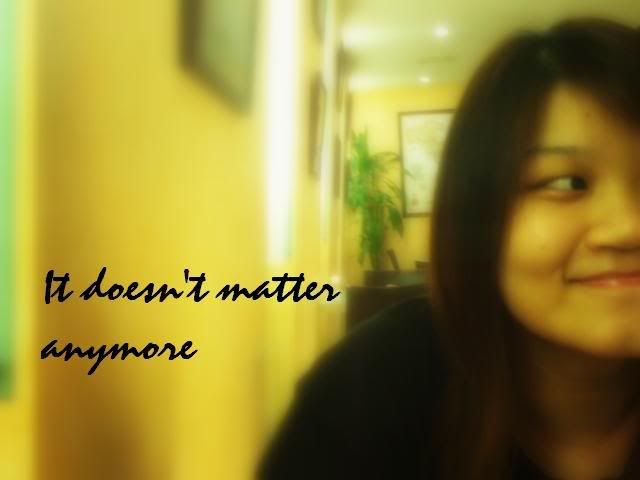 About ME


+25th Jan 1988.
+20 years old
+PSBAcademy.
+mhss.
+family.
+music.
+travel






Friday, June 29, 2007

Christy has left for Australia already.

I seriously can't stand sending people off at airport.It's damn sad.But we all know its for her future and her own good,so yup.

Anyway before going to the airport,Esther a.k.a Miss Piggy came to my house and gave me a shock!I really had no idea she was coming my house and the best thing was,she didn't even press the doorbell lor!And my younger sister let her in.I mean,its ok lah but wah lao,she always leave me speechless one.But,she's sweet lah.Come all the way and bought baos for me to eat.Haahaha!

Okay,im off!



cindy

[ 11:46 AM ]

Monday, June 25, 2007
This is what my sister and i do on MSN.Very unglam of her.
i was telling her she looked damn funny when she looked into the webcam,expressionless.
*The self-proclaimed PROFESSIONAL ACTRESS*
Scared.
Act GONG.
Need i say more?
Every half and hour,she'll say she's hungry and starts finding for food.So basically,all i do is to sit there and watch her eat.Little wonder why she's born in the year of PIG yea?FOREVER HUNGRY one!
Anyway,speaking of eating,went to have steamboat dinner just now.Both Sam(s),Christy,Wiki,Wiki's bf(Raymond) and myself.Ultra nice!We were so full man.Sam Heah and myself started eating from 7.30 to about 10 plus but now,i'm feeling better becus i've just completed my big business.So many business these few days!
And my fart is damn smelly.HAHAHAHAHAHAH!
cindy
[ 1:08 AM ]

Saturday, June 23, 2007
Wah lao,i don't know what's with IMEEM's 30-seconds preview of songs man.
Anyway,went to Christy's party yesterday.The place was not too bad,in fact,a very cool place to chill with friends.AND,she wore a dress!Don't play play,Christy can be feminine too okay.But she totally ruined her image soonafter.HAHAAHA!
She was so drunk that after cutting the cake,she said she wanted to go home.We couldn't get a cab,so she asked her friend to send us back.
All in all,it was not too bad actually.Got to meet up with the rest and seriously,if someone were to organise something like this for me,i think i'll cry forever!
EH,I'M NOT HINTING HOR!!
My friends also not sweet one.
LOL!!!!!!!!!
Anyway,i just wanna declare something.My camera is officially spoilt.After 3 years,i dropped it for the 1st time.FIRST TIME and it spoilt right before me.Thanks to MIAO lah!Keep wanting to touch my chin,bloody shit.HAHAHAHAAH!Okay lah,she's feeling so bad already,i shan't be hard on her.
OH!And while we were chilling at Starbucks just now,this crazy woman came along.Goodness.She was very steady.
We were sitting on those sofa seats and there were 2 other ladies sitting opposite us.So beside me,there was this empty seat.That woman came into Starbucks,saw the seat beside me,sat down and LAID DOWN ALMOST IMMEDIATELY(nearly!)ON ME!Wah,i got the shock of my life i swear!
So,i quickly swifted my body since her head was so near my ass that if i were to ever let go of my gas,she might die.Actually come to think of it,i should!DAMN!So far only Karen knows the smell.LOLOLOLOL!!
Slient killer!
I've actually took a picture of her SECRETLY!I'll post it up soon when i receive the pic from miao.
Alright,i think i'd better go now!CIAO!
cindy
[ 2:45 PM ]

Tuesday, June 19, 2007
Met up with Esther and Sam on Saturday.Met up,but didn't catch up.It was really damn ultra last minute.Esther only sent us a msg 3 hours beforehand.
That meet-up was all about cabs,and taxi-drivers.
Sam and myself took a cab down to Vivo since we were already late and that cab driver was abit soot.During that 10 minutes or so ride,he kept TSK-ing non stop.For example,me and sam are talking..
Sam:*blahblahblah*
Me:*blahblahblah*
Uncle:TSK
Wah kao!Even when we stopped talking,he was still tsk-ing can.
So never mind,we thought that was one of the very rare weird taxi rides we will ever come across but NOOOOOO.Read on.
We went to have our dinner for like,15 minutes and Esther suggested to go to this Live band place.We decided to take a cab down instead.
Wrong choice.
That stupid taxi driver doesn't even know where is Fort Canning!WAH LAO!Go slap yourself please.Even a 3-year-old knows where is it lah!
So his excuse was 'Because i'm new.'
Right,NEW.Let me repeat.Even a 3-year-old knows where is Fort Canning lah!
No,don't be mistaken.I'm perfectly fine with taxi-drivers who doesn't know their road directions.BUT,this particular driver really deserves some shit on his face.
We were talking among ourselves and bloody hell,he had to interupt our conversation and ask stupid questions which is,really,none of his business.So ok,Esther was trying to direct him the way(i mean,since he don't know right?!) and he kept trying to interupt her.Until a point she got fed-up and said,
Esther:i already said go straight right?!
Then when we ALMOST reached the place,Esther asked him to turn in to the carpark and he can actually tell us,
Stupid kay kiang driver:cannot!here how to turn!
We were so pissed off so we asked him to drop us at the traffic light.By the way,the turn was RIGHT INFRONT OF THE TRAFFIC LIGHT ok?DUMB SHIT.So the fare was $7.80 but he charged us 8 bucks.SCREW HIM MAN!
OH,and did i mention it was POURING HEAVILY?!WHAT'S THE POINT OF TAKING A CAB SINCE YOU WILL STILL BE CAUGHT IN THE RAIN AND GETTING DRENCHED,RIGHT?!
IDIOTIC!
We had to run all the way to the Live band place and guess what?It was damn crowded that although we were in the 'shelter',we were still getting wet constantly.So no choice,we decided to run back to the bus stop to wait for a cab,again.It was really dumb.
After waiting for about half an hour,we finally got a cab and again,it was a shit ride.Esther had to drop off at my place because the uncle doesn't want to go all the way to the west side.
How bad can that 2 hour 'meet-up' be,right?We didn't even have a proper talk.
Anyway,i've been webcam-ing with my elder sis these few days.The wonders of technology!;)HAHAHHAHA!
Some overdue pictures!
me and karen
the 3 couples i was talking about.
i'll miss them!:'(
oh,that's me.
and me again!HAHAHAAHH!I love myself too much lah sometimes.
things we do when we're bored.i don't like to use the word 'camwhore'.sound so wrong!
On Mother's Day:

HAHAAH!MY AH MA!=)

I LOVE HER!
My mom!Very ancient pose,i know.HAHAHAHAH!


LOL!I SIMPLE LOVE THIS PICTURE!DAMN FUNNY!
Does anyone know what the Gatsby commercial is all about?I don't leh.
cindy
[ 6:23 AM ]

Wednesday, June 13, 2007
Went to eat steamboat with Christy,Kelvin,Wiki,Wiki's bf,Pk,Sam Chua and Wendy on Sunday.It was okay only,not as nice as how Esther describe lor.So wanna smack her!HAHAAHAH!
Sometimes i find girls can ask really stupid questions.
That day while walking back to Christy's house after steamboat,Wiki's bf started to sneeze A FEW TIMES.And then..
Wiki:Dear,why you keep sneezing?
Eh,hello?!Like as if you can control hor?Wah lao,damn joker she.
I was like,
'wiki,what kind of stupid question is that?!'
I guess she was trying to 'create some topic' lah.HAHAAHA!It's like asking..erm,ok,i can't find any example but yah,it's damn lame can?
My dad drove us to Newton to get some supper just now and i'm so damn full man!Anyways,i'm so glad my sister will start flying to Singapore by 27th Sept!This means that she'll be coming back more often!
O'righty!Gotta go and catch some beauty sleep now.Ciao!
cindy
[ 5:42 PM ]

Saturday, June 09, 2007
The initial thought of blogging today is because I needed to complain.But i think never mind lah,i don't want to tarnish your reputation,Elena.HAHAHAHAHAAH!
I still can't get over it lor!I booked you 2 weeks in advance leh.
But anyway,IT IS REALLY OKAY LAH,ENJOY yourselves okay?=)
HAHAHAHAH!I mean it lah.
Anyway,I'm so proud of myself today!After work,i went over to Ruiza's house for some gym workout.Wah lao,am i impressed with myself or what?!I actually ran 15 minutes straight on the treadmill leh.Ok,then you'll start comparing and say who can't,right?Don't friggin compare because running seriously isn't my cup of teh.And i haven't been exercising ever since,i really have no idea,that is why even if it's for 5 minutes,i'd have been pretty impress with myself already.So,15 minutes is like WOAH to me ok?
So after gym,we suddenly have the urge to go for a swim and man!it's been AGES since i stepped into a pool and damn,it felt damn right!=D
Then,we ordered McDonalds.Yah,stupid right?After working out,eat mac = wasted.But no choice lah.Everytime after swimming will be damn hungry one lor.So while waiting for the mac to arrive,Ruiza and myself had alil chat since it's been damn damn long since we actually sat down and talk.Although the topic is always the same but i don't know why we can never get bored of it.
Maybe not now.Maybe soon.But it's always good to stop,sit back and relax and look at what's been happening around you.
cindy
[ 4:42 PM ]

Friday, June 08, 2007
Work as usual.Ivy Lee went to the shop today.Pretty average looking actually BUT!!DAMN!She doesn't even look like she's a mother of three kids can!?!Her figure is flawless and her waist is 27inch only.Please hor,mother of three,27 inch is like WOAH ok?
Ok lah,IF i'm a taitai,i'll go for Marie France.If not,i think Mary Chia is quite good also.
HAHAHAHAHAHAHAHAH!
ANYWAY,after work,went to meet up with Ms Soo,Christy,Pk and Aaron.It was quite last minute but since they were meeting at Taka,i thought it was very convenient for me.So because i wanted to opt for something 'healthier',i suggested to eat Subway.IN THE END,when we reached Cineleisure,it was closed.DAMNIT!I want to eat healthy also cannot.SHIT!
SO,ended up eating Yoshinoya,and saw Steven Lim.
I everyday see him one know!I can never forget that stupid question he asked me,
'Excuse me,are you a Chinese?'
He is hilarious.HA HA.
I want to comment on something but i'd better not.IN CASE anyone sue me for defamation.Yah i know,not as if i have a famous blog but eh,you may never know man.I might become XiaYu.
Right,i don't want to wait for my elder sis to come online already.I'm tired.Ciao!
cindy
[ 4:25 PM ]

Wednesday, June 06, 2007
I don't know how my elder sister can be this suay.
She was supposed to fly back this morning to A.D as she is scheduled to fly to NY in the night.So she went to the airport early in the morning only to be told her flight will be delayed.And because she can't afford to wait 4 hours for the flight,she paid 180bucks to transit to KL.
So,she reached K.L and wanted to purchase the tickets but her card can't be processed and she doesn't have any cash with her.SO,no choice,she has to come back to Singapore again for another 2 days.
Wah lao,no refund somemore.As in,the delayed flight.
And now,she has to pay another 1200bucks for a straight flight from SG to A.D.Goodness!And the best thing is,she will be coming back on the 11th again for the press conference.I told her to stay on until next week since she has to come back anyway but her company doesn't allow.So cock!
Ok lah,i'm gonna go sleep now.
cindy
[ 2:50 PM ]

Tuesday, June 05, 2007
These few days,my sisters and i have been doing nothing but eaT,eAT,EAT and still eating.I swear everytime when Cel comes back,her luggage is filled with nothing but snacks!And when she leaves?WORSE!She came back with one luggage but goes back with two.
She's leaving tomorrow though.But will be coming back a week's later for her airline's press conference in Singapore.Finally!Her flying route will include Singapore!
I had damn funny encounter yesterday.
I received a msg from my sis's bf.He was being damn funny,and i would say,weird?So he msged and asked me to take care of Cel as he's not around to take care of her in the first part of his msg which i thought was very sweet of him.AND THEN,i read on.
'...because she's the air that i breathe,my life,my everything!'
Cliche,i know.
I was like,huh!?What?!And i was laughing to myself while Cel was beside me.So i told her and she was like,
'siao!'(but urm-chioing)
I mean,you don't go about msg your gf/bf's siblings telling them that their sister/brother is (the ok-so-whats-new sentence like,)the air he's breathing and the reason he's living for and blah blah blah,right?
SO WEIRD LAH!LOL!
And when i told Elena..
I guess he knew i'd tell Cel for sure so,in a way,he's smart.
HAHAHAHAAH!
Anyway,i was so pissed off with my dad that day.And my mom.I don't know what the hell is wrong with them sometimes.So difficult to read their mind!Yes,this time i've declared cold war with them.Maybe more with my dad.Everytime he declare,now it's my turn man!
Working tomorrow.BORING!
Experts say,find a job you enjoy, and never work a day in your life.So if one day you realise i don't use the word WORKING anymore,it may be that i've already become a taitai.