Cindy.Chen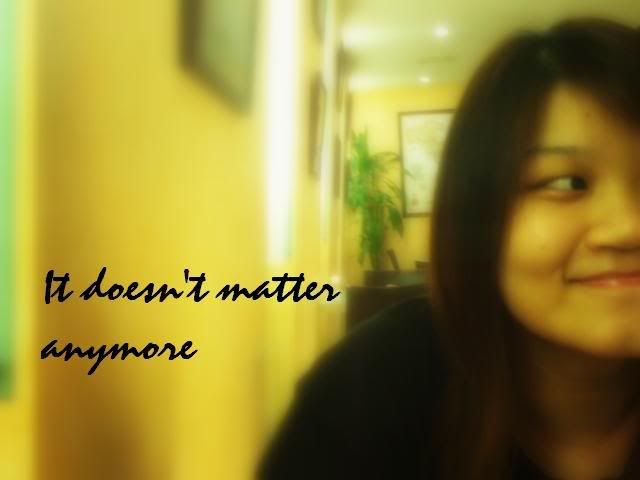 About ME


+25th Jan 1988.
+20 years old
+PSBAcademy.
+mhss.
+family.
+music.
+travel






Monday, October 30, 2006

hi all..

im getting lazier to blog.
im getting bored with Blogspot.
im thinking of either:-

1)delete my blog
2)delete my blog

looks like im left with no option.haha!

nah,seriously i cant bear to.look at the archives!its only been a year yet it seemed like alot of things has been happening.i thought of printing them all out and keep in my personal diary.LOL!but then again,there're just too many posts and pictures..so harya nvm.

life's been good.just dat exam is drawing near and ive yet to study,whats new?

anyway,today when i woke up,i was looking at my phone when it suddenly rang.it was esther,and she was crazy.

esse:HELLO!u wake up already?
me:yah,just woke up..
esse:huh?eh sorrie leh.
me:nvm lah..siao.what's up?
esse:oh no lah,have you read the newspaper?
me:huh?no..why?
esse:oh cus ah,got this story very touching!!
me:heh?=.="

and she started reading out the story.

she called me early in the morning(ok,actually not really in the morning..)just to read to me a story touching story.this girl seriously,leaves me speechless.=p

the other day,i bumped into Mr Karamjit while i was on the way home with a friend after sheena's house..

me:HELLO MR KARAMJIT!!
Mr K:hello tecksin!
me:...CINDY LAH!

he NEVER gets my name right ever since secondary school.NEVER.and when he does,he will empathsize on my surname not chen as in ch-en but chi-qian.you know,with the especially high tone.so it goes like 'cindy

CHI-QIAN'

.urgh,you get my drift.

okay,i think this post is kinda random.but well at least i update lah.hehee!aiight,i think i'd better hit the books now!if not im so gonna fail,flunk,flop the paper.CIAO!



cindy

[ 9:15 AM ]

Monday, October 23, 2006
ive been doing alot of house-visiting lately.all the festivals and the different occasions.hehee,i love it!
just came back home from a friend's birthday party.i left at 11 and yes,i reached home just 5 mins ago!the jam at Geylang is OMG.got stucked at the traffic for nearly an hour!when i got down the bus,i really felt like vomiting.
ANYWAYS,like i was saying,my friend's birthday party.it was held at her house and
OMG!!
I SWEAR,I SWEAR,I SWEAR
HER HOUSE IS
BLOOOOOOODDDDYYY HUGE
WITH A CAPITAL H MAN!!!!!its the BIGGEST house ive ever been to.
dudes,just imagine.
- 2 Semi-D combined
- 14 bedrooms and mind you,all 14 bedrooms WITH TOILETS.so its equivalent to,yah,14 MASTER bedrooms.
- EACH room with a 32 inch plasma tv.
-2 bloody big balconies(which can really,really be built as swimming pools)
-2 friggin style Mercedes-Benz.S-class and SLK-class..(!!!!!!!)
have you fainted?
dont be kuku.
her guest room is already twice my bedroom!!but the greatest thing about her is that,shes really damn humble.or rather,too humble to be true.i seriously have no idea she was THIS RICH.=.="no airs,no show offs..just a very simple lady.very nice person!
i met alot of new people there too.all very nice and friendly!it was a great dinner i would say..although its rare to hear me saying dat especially with a group of people i barely know!but yup,they made me feel warmth.=)sorrie no pics becus i didnt bring along my camera.I SHOULD HAVE!!!
aiight,i think i'd better run now!house visiting tomorrow!;)
Selamat Hari Raya all!
cindy
[ 3:31 PM ]

Sunday, October 22, 2006
i was supposed to have class yesterday,but i decided to skip it.due to the many distractions and erm,just not being able to understand what was being taught.so,met up with ruiza at cine and trust me,we really studied.
i started from the very first topic.
'What is Economics'
oh,while i was on the way to meet ruiza,i saw dat Steven Lim guy again.That 'professional eyebrow-plucker'.'That guy who always appear in ALL KINDS OF CONTEST SHOWS.That clown.i was listening to my mp3 YET i could still hear him asking ME,
'hello excuse me,are you a chinese?'
LIKE,CAN I SLAP YOU PLEASE?
do i not look chinese to you?
as for today,i woke up at 2.30,yes,half the day gone but im gonna make full use of the time to study after this post.yah,and to think that the exam is 2 weeks from now!aiight,shant waste anymore time.CIAO!
happy deepavali all!=)
this song rock my socks!this is not the original video though,but its cool.so just enjoy!=)
cindy
[ 7:53 AM ]

Wednesday, October 18, 2006
hihi!
yesterday went to Vivocity again but this time round,with ruiza.we just walked quite aimlessly becus there're just too many shops to shop anyway!saw quite alot of actors too.so we ended up chilling at the Pacific Coffee Club and seriously,i could just sit there till they close for the day.too comfortable!=)
i totally agree with my cousin.
the other day,we were sitting outside Starbucks at Bugis,stoning and..yah just stoning.i mean,we did talk but it wasnt dat much.and she was telling me..
'even without talking,you'll still feel comfortable with each other if the companion is right.'
just simply relax and enjoy the surroundings(definitely not with the presence of the haze!)and dat was what happened to ruiza and myself yesterday at the cafe.we didnt really talk much..i mean,its been a while since we last met so there should be alot of things to catch up on with each other.but no,all we did was..just relaxing and it felt really good!=)
and today,i met up with her again.went to eat subway becus i was craving for it and after which,went off for class.and today,while i was waiting for ruiza,2 person commented i dont look local.=.="
first time in my life;people commenting i dont look local;and,2 in one day.
one said i looked like Taiwanese;
another said i looked like those ABCs who just came back.
i wish man!if i were that rich,i wouldnt be slogging so hard.HAHAHA.boo to that!=(
slog hard = pathetically pathetic pay+time passes DAMN SLOWLY+bad air+everything boo.
anyways!
today in class was photo-taking session.hahaa!ive finally took a picture of and with my DEAREST lecturer!=D
super cute right?!HAHAHAAH!
the different groups in the class.not everyone's inside.example,the Annoying Ah Pek.ok lah,hes no longer THAT annoying.but still quite annoying.lol
ruiza and myself at Subway.
to end off,i shall present the one and only..FACE SMACKER!
cindy
[ 2:50 PM ]

Monday, October 16, 2006
i merely put 'OMG!HAPPY BELATED BIRTHDAY EDISON!!I LOVE YOU!!!WAHAHAHA' as my msn nick,and i got so many response..
1)'you think he can see meh?siao!'
2)'siao ah?'
3)'whatever'
4)'who edison?your bf?' (OH MAN,I LOVE THIS PERSON EVEN MORE!hahaah!)
5)'change your nick lah!'
...
what can i say?
ive been faithful all these years..cant you guys just accept it?!
ANYWAYS,
yesterday met up with my cousin after class.she went to undress the bandage on her finger just the other day and she showed it to me.one word,no,3 words..
DAMN BLOOOOOOOOOOOODY GROSS!!!!
GROSS WITH A CAPTIAL G MAN!!!
i should have taken a picture of it and SHARE it with you guys but i decided not to.im not so bad can?then,it was kbox.i swear,it was the first and the last time im gonna go to the clementi's one.totally SUCKED.the system is oh-so-damn-bloody-eat-shit bad and yah,its just the system.hahaah.but dats bad enough already okay?oh,and the english songs are damn limited..all with the stupid videos made in i dont know which country.
before dat,we were in mac and one of the staff was giving out the balloons to the kids and guess what?she ALMOST gave me one!=.="my cousin was laughing/saying SOOO loudly,'dats how childish u looked',she made me feel embarrassed.eh,i should feel happy what.
damnit.
the irritating haze is irritating the shit out of me.my skin is terrible,terrible,TERRIBLEEEEEEE!!!!its like,touching sand paper.maybe even worse than dat.
just when will the haze go away?!arrrghhhh!
gonna meet ruiza tomorrow after WORK(argh!!),so im gonna go now!ciao!
cindy
[ 2:50 PM ]

Friday, October 13, 2006
went to check out Vivo City after work today and man,i swear when all the shops are offically open,no more going to Orchard.ok,maybe not as often.its like a huge shopping paradise lah!so many shops..awesome!=)
didnt really do much becus it was 2 of my working mates'last day.so,we just walked around;dinner and went back home.they were all so sad,one of them almost teared.im sure lunch wouldnt be as fun but well,we just gotta learn to accept it.dat is why i hate GOODBYES!where's the good in goodbyes,seriously?there'll always come a time,when u have learnt to adapt to everything,grown used to it,loving it but somehow,the time will be up.
who says theres a time for everything?
dad's back!and luckily,he was okay with the amount of money spent on grocery.after this trip,he seemed alot calmer,more..discussable.LOL!!he even agreed to SPONSER me something!!!HAHAHAHAH!!now i can sorta retreat my budget strike already(u know,dont have to fret over how to save the amount of money when my pay is so pathetically pathetic!)..so yayyyhoooo to dat!
yup,work tomorrow and weekend here i come!
darn!next week's classes will be on tues and fri instead of wed and sat.class after work?sucks.
cindy
[ 2:27 PM ]

Thursday, October 12, 2006
hello there!:)
life's been okay.lessons are boring,still.
well,had steamboat dinner with wiki,kelvin and wendy on monday and i tell you,the 'Ba Wan'(meatballs)is
DAMN
delicious man!!ask them,they know.cus all i could see was
MEATBALLS
floating on the surfaces.yes,i was the culprit.=)
yesterday went grocery shopping with my sister.and i seriously didnt know we spent so much.im so dead when my dad comes back!
went to far east with sheena after work today.finally ate Subway after so darn long!!and it still rocks my socks!after which,we were hesitating to go for lesson or not.but in the end,we still went lah.no choice,we paid for it.
i know this post seemed like a lazy one.becus well,i AM lazy.i'll probably write a more detailed post when...i have the time.ciao!
the reasons why i always look forward to lunch!there're supposed to be 3 more!anyway,please DO REALISE dat we are all ALMOST of the same height.finally,im mixing with tallies.lol!
cindy
[ 2:47 PM ]

Monday, October 09, 2006
i have been going out of late and its not good becus,
going out = money spent.
more going out = more money spent.
im still on a budget strike!
yah.
anyway,finally met up with my primary school frens at holland v the other day,just the few of us and well,it was okay.luckily there wasnt any like 'okay,this is so awkward,im gonna play with my hp' sorta thing.if not,
I WILL FLARE UP
.i used to do dat and i find it really stupid now becus whats the point of meeting up when all u do is to stare at ur phone and..'play' with it?
so we were talking about the different polys and one of them was like,
E:eh,where is Temasek Poly?
M:oh,its at Tam-pines.
*note - Tam-Pines.
Tam-Pines.
LOL!!!!
Tam-Pines.
i was really laughing my ass off lah!he said it so confidently leh,my gosh.
den they started to have this stupid 'confession' thing and they kept forcing me to fess up but i think mine was pretty obvious,so i dont have to confess,they would have or might have already know..hahaa!den after which,we headed down to River Valley for supper.the haze was really damn bad.i couldnt even see the building!
and yesterday,was singing session with my relatives again.we went last sunday when my elder sis was back.but this time,it was with my grandma!hahaa,super funny becus its so rare to hear ur uncles and aunties
SINGING!
oh and guess what?
IM WORKING TOMORROW MAN!!HAHAHAHAAH!how nice can it get?!
right,im off.
cindy
[ 1:24 PM ]

Friday, October 06, 2006
GUESS WHO'S BACK!?!IT'S.... ................ ..................
ME!!;))
first of all,sorry for neglacting you my dear blog.it wasnt my fault,it was the stupid never-ending faulty computer.wasted my 30 bucks of 'consultation' fee when all i needed was christy's MAGIC hands to get the computer working.=.="
yah,'consultation'.damn dumb,all he did was 'oh,you need to change your modem' and blah blah shits and my elder sis already predicted it was an easy money.but what to do?my dad was fuming becus he couldnt go onto the net and we didnt know what was the cause to it.but anyway,its over!(hopefully)
elder sis has gone back.my dad,to China for 10 days.both left on the same day and the house became so damn quiet.well,it was all good during the past 3 weeks.short but well-spent!;)nothing beats more than that.
it seemed like ive got quite alot to update but i dont know where to begin.ok lah,i moodswing now.i'll update another day or something.need to sleep now!oh yes,ive been sleeping relatively early ok?healthy lifestlyle!=D yay!LANTERN-VIEWING TOMORRRROOOWWW!!