Cindy.Chen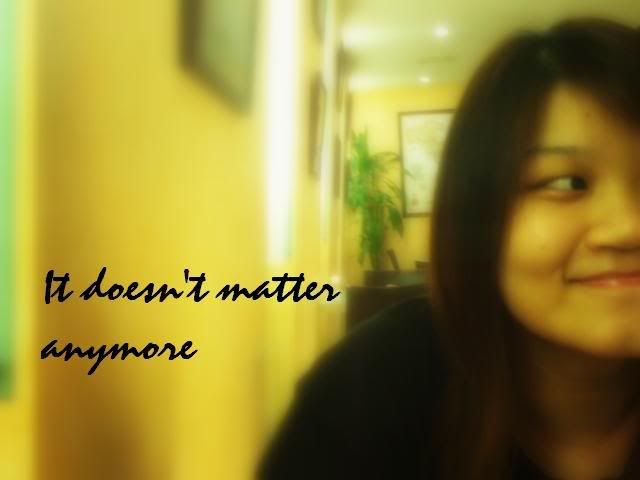 About ME


+25th Jan 1988.
+20 years old
+PSBAcademy.
+mhss.
+family.
+music.
+travel






Friday, February 23, 2007

Yesterday,my dad brought us to this pier near Marina Bay where we get to see all the sailors and OHMEGOD,the sailors are HOT MAN!!They were from Russia and there were so many of them!For a moment,i thought i was in my own paradise.HAHAAAAAAHAHAH!Now i know where do all the good-lookers come from.SAILOR somemore!awww~

Anyway,how do i know they were from Russia?Because my dad wanted to act friendly,one of the sailors was walking towards our direction,my dad was like,

'HI!where are you from?!'
'Oh,we're from Russia'

And poor guy,i think he got shocked or something.He was holding this card and when my dad said hi,the card kinda flipped off his hands.HAHAAHA!Funny shit man.

So we went for yet another seafood feast(getting quite sick of it though)at ECP and strolled around the area.

My sister and beppe left this morning.I didn't send them off at the airport because like i've said,i hate that kind of feeling.Woke up early just to bid them goodbye and help them pack some stuff and arrghh,the whole house seemed to be quiet again.

Oh well,am really looking forward to their next visit..which is still sometime away.Alright,here are some pics i've taken from the past days.



its some sista-lovin'!


our love-hate relationship;)


my dad went to hire some lion dance troop especially for beppe.wah lao,we don't even have that kind of treatments lor!


WHY 128?


i managed to touch the sharks too!(that's not my hand btw)


i think the face is super funny.we kept laughing at it.it looks like a smiley-face isnt it?


GIANT crab!


super ugly leh!come eat me lah?nanny nanny poo poo!


jelly fish!very nice!


we were on the beach,but it was raining.it's like finally im on a beach YET its raining.im destined to be white.


the jungle we had to walk though..never-ending.


mommy,beppe,ah ma and sis.


oh my,this is good!it's 'orh-be-bei with ICE CREAM!!!'


us at the seafood restaurant.

I've got somemore pics though.But i'm really very lazy to upload.So there you go!=)



cindy

[ 10:18 AM ]

Wednesday, February 21, 2007
These few days has been great!Tiring but yah,great!
Eating,coming home in the wee hours,going out(acting like a tourist) and just spending time together with my family.Plenty of photos to be uploaded but i'm just far too lazy.Probably when i have the mood lah,okay?You can't say no.
CNY Day 1.
Went to catch a movie with my cousins after all the visitings.I swear it's been soooooooooooooooo long since all of us went to watch a movie together,10 of us.It just feels..more than great!Before the movie,we went over to the arcade at TBP and played the different games.It was ultra FUN!!!We were like screaming and laughing like nobody's business(as if the arcade was ours),it felt just like the good'ol days!AHHH,I MISS THAT!
We watched Ghost Rider and it was not too bad,I'll probably give it a 3/5 but because the guy who acted as the young nicholas cage is so damn handsome,I shall give it a 4/5.LOL!!awww~
CNY Day 2.
We were supposed to wake up in the morning to go Sentosa but we ended up going only in the afternoon.It rained so we didn't managed to go to the beach but oh man,the place was flooded with Indians.They damn selfish can?We were in the Underwater World and this whole bunch of Indian men just stood infront of the aquarium leaving the people behind with no choice but to 'skipped' that aquarium and U-turn back to another exit.Never see fish before meh?Must stand there so long.So after that,we were all sticky and dirty and wanted to get a cab home but there wasn't any.We had to walk all the way back to the main entrace to take the Sentosa Express train.The jungle is like never-ending.We probably spent like 1/2 hr walking back?So we went home;changed and went for dinner with my relatives&cousins at Marina South for some seafood.Yah,i was supposed to be allergic to seafood but guess what?!I WAS SO DAMN FINE YESTERDAY!NO ALLERGY,phew~the chilli crab is like,fifty thumbs up!The food was good man!
We finished eating at about 11.30pm and then we went for some bowling session!I managed to strike 2 times!Cool stuff hey!ANY CHALLENGER?!HAHAAHAH!Kidding dude!Played for awhile and went home at about 3am.
CNY Day 3.
WORK.
There were countable souls.But it was okay because we get to relax since there isn't any customers or goods to check so yeah,my colleague and myself were browsing the net and chit-chatting all the way,and getting paid for that.It's only for 1 day lah.Then,it was dinner at some Italian Restaurant at Esplanade and we went to sit the Boat Taxi for,I've no idea why.Wanted to join my sis and beppe to The Clinic for a drink but decided to skip it since i've to work tomorrow.
Anyway,my dad's gonna re-employ another maid soon!Goodness,i used to think we can live without a maid.But now,i seriously doubt it.Tsktsk,this is bad.
Aiight,gonna ciao now!
cindy
[ 3:30 PM ]

Sunday, February 18, 2007
So my sis and her boyfee is finally in town!Went to the airport yesterday and waited a good 3 hours for their grand arrival.
Yup,her boyfee,we called him 'beb-beb' in short form(i think that's how you spelt it?he said it's a short name for him in Italian),looks much younger than in the pictures.He's super funny!And I think my dad loves him.
Went over to my grandma's place for reunion dinner and man,learnt some 'past stories' from my uncle about my parents/relatives.It's amazing and it's true that the world is friggin small.My cousins were damn hilarious too.Here's one of the conversation they had,
(Cousin 1 is the Elder Brother of Cousin 2)
Cousin 2:eh kor,get me (i can't remember the brand of it) when you fly to NY okay?
Cousin 1:okay,but that's provided if they have lah.But what exactly do you want?
Cousin 2:im very sure they have it.get me those tees with offensive logos on it.
Cousin 1:like?
Cousin 2:hmm..probably something like 'smile if you are gay'.
LOL!!OHMEGOD,it was super funny man!Yah lah,you're probably thinking I'm damn narrow-minded but eh,don't act hor!You confirm also think gay as gay-gay kind of gay right!
So after dinner,which was about 11ish,we decided to go to Chinatown to walk around.Yah,crazy right?It was friggin crowded but as least I feel 'safer' compared to counting down for Christmas at Orchard,get what I mean?;p
We walked around and I've finally caught 'LIVE' fireworks!As in,it was just right infront of my eyes!Wow,it was fantastic!=)
HAPPY CNY EVERYONE!=D
cindy
[ 6:50 PM ]

Friday, February 16, 2007
Today,I went for a major shopping spree for my CNY clothes,
ALONE

.
OHMEGOD,I never knew shopping alone would be
THIS COOL
.I swear I'm gonna go shopping alone from now on.BUT trust me,other than shopping,there seriously is nothing cool about being alone.
It's feels so good to be carefree,like you don't have to worry about other people waiting for you and stuff.You can just take your own sweet time and browse around,wahhh I love it man!
Yah,I did mention about MAJOR shopping spree right?Guess what?I spent more than 300 bucks.=.="
'XUETE!'
A quarter of it was from my pay but well,I can already predict the next war is coming up real soon!So,stay tune!;p
Anyway,of course I didn't spend the whole day alone.Met up with my cousin for dinner and continued to hunt for things.I seriously hate people who delibrately avoid me.It's like when I message them,they don't reply and when I call,they don't pick up.Then probably till the end of the day,they just send a 'oh sorry,my phone was on silent mode' and then that's that.
Wah lao,please lah.Find a better excuse can?
Or even worse,don't even bother to call/msg back.Bloody hell,feel like bitch-slapping these people.My blood pressure always goes up to another level after trying to reach them.I think I shall CHOOSE who to call/msg from now on.Tell me I suck.
Yay,2 more days and my sis will be back and 3 more days to recoup all my losses!HAHAAHA,I can't wait!
cindy
[ 3:52 PM ]

Saturday, February 10, 2007
Okay,so I think I'm offically sick.Serious flu here!I could barely open my eyes now so this is gonna be an 'agaration' post.
Anyway,I don't know how did the flu bug get into me but well,it did.I was practically tearing and blowing out and sucking in my mucus while I was doing cashiering which by the way,was really very tedious for me.
It's like,I have to be all smile and go like..
'thank you,see you again.'.... .... ...while holding my mucus back.
So it sounded like as if I couldn't bear to see them leave the shop.
'thank you *sniff*,see you again *sniff*'
Worst of all,my eyes were redish because of the constant blowing of my nose and wanting to sneeze but can't!OHMEGOD,THAT'S LIKE THE WORST FEELING OF ALL!!And,please don't call me for the time being because I seriously think I sound damn sexy I'm afraid you guys can't take it.LOLOLOL!!REALLY!!
Anyway,so after work I met up with the Missing-In-Action-For-A-Gazillion-Years,Jumay Chin.Went for some don't know what SMU Carnival which turned out to be well,nothing interesting at all.Then went for steamboat,yes,just the two of us.
And I was wrong,Jumay can really eat!
Hahaaha!Yup,it was a nice steamboat dinner overall.So after which,we decided to come to my place and do stupid stuff,and we really did.Okay,maybe only Jumay.HAHAAHAH!!
She's the LAME-IST PERSON I'VE EVER MET!Yah,ever since sec 2 I've been saying that and she never fails to impress me even further.I swear I laughed so hard I had tears rolling down my cheeks.
It was a great day though.But the flu wasn't helping one bit.
ROAR!!I'm so so so sickkkkkk yet I have to do closing tomorrow..NOOOOOOOOOO!!!!!!!!!=(
cindy
[ 3:44 PM ]

Wednesday, February 07, 2007
Spring Cleaning Day is one of the rare days I think I'll die without a maid.And I might,since now I don't have one.
My house is in a really,really messy state I don't think any of you should witness.It is piled with DUST,dirt you may call it.And that stupid vaccum cleaner isn't working.
Now,I need a REAL CLEANER.
The tables are filled with all the new year goodies but it doesn't look appealing because the entire house is messy.Instead of coming home cheery,I always come home with a stressed-look and no one in the house would dare to futher agitate me,even the emperor himself.
How ahhhh??
Oh,I've started talking to my dad again.Apparently,the cold war has ended,for now.For now lah,sooner or later will have another one.It's ROUTINED.HAHAA!Tell me I'm used to it.
Back to my job.Well,I'm starting to love it actually.HAHAAHA!Okay,and then probably a few weeks later,you'll start to see stuff like 'this job sucks' and blah blah and then fwalah~I've changed job again.NO LAH!This time I'm quite certain in a way.;)
I was supposed to give tuition to this korean girl sometime next week but I decided not to because I don't want to rush to 3 places after my school starts.But,I seriously love the feeling of being busy!HAHAAHAH!
My elder sis and her boyfee is coming back for CNY next week so,YAY to that!=)I can't wait man,seriously!Although I know there'll be MORE laundrys to do,MORE dishes to clean and the house is gonna be MORE messy than it already is.
WAH LAO,AMINAH,COME BACK PLEASE!I need youuuuuuuuuuu='(
cindy
[ 3:08 PM ]

Sunday, February 04, 2007
This job is killing me softly.
My back has been aching like
CRAPPPPPPPPP!!!!
I really feel like chopping off my entire arm!It really ached so badly I might die anytime.
And,
this job = free gym
Every other day,we'll have to carry this and that,walk up and down,climb high and low so yah,we really don't need to go gym at all.Just give me a few more months and I shall show you my newly-formed muscles.
But,the worst thing is,since I usually skipped breakfast and lunch,I tend to binge on dinner.And I mean BINGE.The other day,I ate a 12-inch subway sandwich plus 4 small packets of I don't know what crackers because I just grabbed whatever I can see on the table.WAH LAO,I seldom eat 12-inch subway sandwich lah!PLUS I can still eat the crackers,it's really damn bad for health man.No,not just the weight issue alone but because I had gastric flu before,so the chances of recurrence is pretty damn high.Oh shit,I'll
NEVER EVER EVER EVER
want to go through it again!!Might as well kill me.
Dang!I'll be doing opening tomorrow,ALONE!OHMEGOD,how am I gonna survive through the day?!It's so damn boring because there isn't alot of customer lately.hurhur=( okay,I think I'd better go now!
GOT TO WAKE UP EARLY ON A SUNDAY MORNING,HOW BLOODY NICE?!
Anyways,these are some outdated piccas from the other day(s).
who's the man!?

the people who came over;)
this year birthday quite budget.no cake,so just make do candles=(
artistic leh
ruiza wanted to do this,not me.
esther love this pic..cus she look nice in it?
yours truly!
hahah!quite budget hor?=p
cindy
[ 3:50 PM ]

Thursday, February 01, 2007
I'm seriously considering taking up a second job,probably in the night or something.
No,I'm not quitting this current job.I'm quite sure I'll be sticking to this job for a long time.FINALLY right?I don't know.This job seemed to be quite slack for me.I already had 2 days off in this week alone.Not shiok at all please,I need money!No work,no money!
And if you ask me am I really that desperate for money?
YES I AM!
I've never been so desperate before ok?Like what I've said before,it sucks to grow up.You have be RESPONSIBLE for your own actions and blah blah blah.I need to clear all my 'debts' from my dad.You guys may probably think I'm damn dumb when I was the one who initiated not to have anymore allowance given to me.But you know what?I feel better without taking allowance from him.It's like half-way through independance.I think my father is worst than loansharks,PLUS,if you're having a cold war with him,it just doubles up.I just can't wait to be debt-free!Then I'll be a free man again,literally.
I'm so budget now,it's like the things I do or feel like buying,I need to think not twice but thrice!OHMEGOD,I feel damn poor thing lah.
Anyone wants to be a Saint?