Cindy.Chen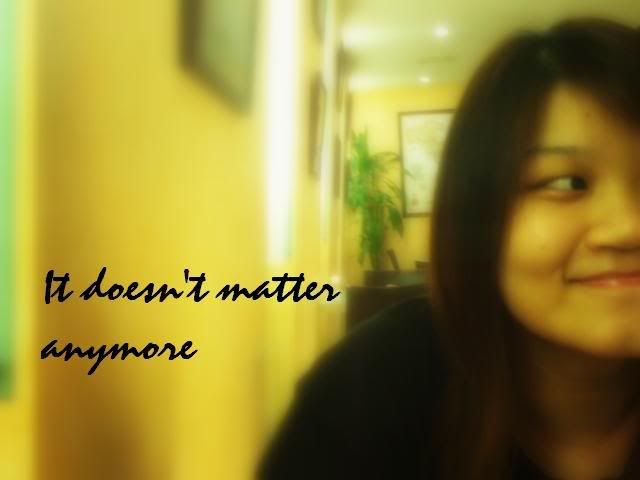 About ME


+25th Jan 1988.
+20 years old
+PSBAcademy.
+mhss.
+family.
+music.
+travel






Wednesday, February 27, 2008

I'm feeling like crap right now!My sore throat is killing me softly..

I know Strepsils are to be consumed every 3 hours but sorry hor,i've already finished 3/4 of it in less than 2 hours.I feel like a Strepsils-addict now.

AHHH!!

Can you imagine even sneezing hurts for me?!Like,WTH MAN.Not connected also pain.So far i've only talked 2 sentences.

'morning daddy.'
'muthi(maid),go buy strepsils.'

Don't laugh at the maid's name hor.

Anyway,should i go to school or not?I think i should.Just to check out if theres any cute guys but argh!PSB doesn't have any cute guys to begin with.So,should i go or not?Maybe not.But it's abit dumb right?Pay for the course but don't go.

Ok,i think i will go.

But for now,i shall just take a nap first.



cindy

[ 5:54 AM ]

Tuesday, February 26, 2008
Ok,i felt the tremor again.Just awhile ago.It was really big!This is the 2nd time i felt it since yesterday.I told everyone there's an earthquake but nobody believed me.
My news is latest than the news ok.
I wonder how's the situation in Indo.God bless them!
cindy
[ 8:53 AM ]

While some of my friends have already completed their diploma,or moved on to the next phase of their life,school will resume for me tomorrow,again.
And i'm not even at the beginning yet.Chicken.
I don't know why i'm in a private school when i'm so much slower than the rest.Private school is SUPPOSED to be faster.Damn,why am i not born smart?
Nevertheless,i'm friggin determined to study harder.I won't just stop at Diploma please.I think in the next few years,Diploma is equivalent to O levels.Or maybe even now!So yup,i'm definitely aiming higher than that.My cafe is waiting for me:)
Yesterday was down at Creative Hands for some clay demo in the shop.
YES,I DO DEMO OK.
It was my first attempt and man,it sucked.Clay is just not my thing.Haaha!Yah,i'm damn loser one,can?
Anyways,last friday i did my TP and as expected,i flunked.Stupid instructor.I hate my instructor!
I had driving in the morning on the day itself for some sort of last min preparation.So we went to the circuit and did all the warming ups.I told my instructor,
me:eh mdm teo(YES,A WOMAN),can i do the parallel parking?i'm not very confident in parking.
sickening instructor:har cannot lah,no time already.you think you want to do then can do meh,alot of people queuing up to park leh.(when there's actually NONE).
And she kept yakking non-stop and suddenly,it became my fault.
irritating instructor:who ask you come late?told you don't come late already,see now you want to do also cannot.
Just so you know,the sickening and irritating instructor belongs to the same person.She displays a variety of loathsome character as you can see.
WTH is her problem man?And i was late for only like what,5 mins?!!?Hell yeah it made alot of difference.And it's NOT that i can't do is she DON'T WANT TO let me do.
Right at that moment,i knew i was gonna fail.AND I WAS SO DAMN RIGHT!I DID WELL FOR ALL EXCEPT FOR THAT STUPID PARALLEL PARKING!Can you imagine i even overcame my phobia on slope that i managed to control it and i was 'urm chio-ing' when i drove back thinking i might have a chance to pass ONLY to recall that STUPID PARALLEL PARKING which caused me an immediate failure?!YOU KNOW HOW HAPPY AND THEN ANGRY I WAS OR NOT!!!!!!!!
So when i showed her the result slip,i could tell from her face she was damn guilty.SHE'D BETTER BE!!
Now,i'm just gonna wait till next week for a new lesson with Karen's instructor.HOPEFULLY it will be a better choice.If not,forget it.I shall just hire a chauffeur.
My schedule for this week and the next will be jam packed.PLEASE LET ME SEE MORE

$$$$

in the next paycheck!:)
Long overdued pictures.
tsktsk,so hardworking.
cindy
[ 6:15 AM ]

Friday, February 22, 2008
EDISON IS QUITTING THE ENTERTAINMENT INDUSTY!?!!!DAMNIT!!!!!!!SEEEEE!!THANKS TO ALL THOSE BASTARDS!!!NOW THERE WON'T BE ANYMORE EDISON FOR ME!!THANKS MAN,I COULDN'T THANK YOU ENOUGH!F******!
NOW DON'T COME AND TELL ME HE DESERVES IT OR WHO ASK HIM TO BLAHBLAHBLAH.OR CALL HIM A PERVERT.SHIT YOU!I SEE PEOPLE MAKING OUT IN PUBLIC,SO WHAT MAKES THEM?
LIKE I'VE SAID,YES,HE SHOULDN'T HAVE TAKEN THOSE PICTURES IN THE FIRST PLACE BUT HOW WAS HE TO KNOW IT WILL LAND UP ON BAD HANDS?!AHHHH!WHATEVER!WHATEVER I SAY IS OF NO USE.
EDISON HAS QUIT.:'(
YOU GUYS MUST BE NUTS FOR HATING HIM SO MUCH!!CRAZY PEOPLE!
HIS POSTER IS TO BE BY MY BEDSIDE FOR GOOD.
EDISONNNNNNNNNNNNNNNNN:((((
REMEMBER,WHEN THE WHOLE WORLD TURNS IT'S BACK ON YOU,I'LL STILL BE SUPPORTING YOU!!
AT LEAST YOU'RE MAN ENOUGH TO ADMIT YOUR MISTAKES!MY 7 YEARS OF GOING GAGA OVER YOU IS SO NOT WASTED!
EDISONNNNNNNNNNNNNNNNNNNNNNNNN!!YOU DAMNERS SHOULD JUST GIVE HIM A BREAK ALREADY!HE'S HAD ENOUGH!
When i saw the news earlier on,my heart almost dropped.He looked so different,so lost.Can you imagine the stress and the whole lot of negative things he had been facing for the past few weeks?!It's not easy for him ok!Just give him a break!He needs it.
Aww,I love you too!:)
And,i heard of Lydia Shum's passing on.It's really damn sad.I went on to buy the chinese newspaper for the 2nd time(first time was because of Edison)and read more about her passing.
You know,i can feel that she's such a great mother!I can feel her love towards her daughter,it's something that's so..touching to one's heart.It's not easy to bring up a child single-handedly,given that i came from similar background.Except that it's my dad who brought the 3 of us up.I've never doubted my mom's love for us though,it's just there.Every child can feel a mother's love,i'm sure.
So when i read on about her life and marriage and so on,i was on the verge of crying.
Men are jerks.Well,most.
She did so much for her ex-husband,Adam Cheng i think,and in the end?He fell for another woman.HUSSY!Chicken McNugget.And her last wish was to see him BUT??He didn't even bother to rush back and see her for the last time.Bastard.
And i really could feel my tears welling up when i read the part when her daughter said 'Don't leave me,i'll be good.'WAH LAO :'( I don't know if you guys can feel the way i feel but if you don't,it's ok.This only shows that you're cold blooded.
Anyway,yesterday saw me out with my cousin and we went to watch 'Ah Long Pte Ltd'.
One word.
KNS!
Wah lao,what a disappointment.I didn't bother about all the bad critics against the movie because well,i personally feel you should always experience it yourself first before you judge and damn,was i wrong.Only for this movie.
It's really so not funny for a Jack Neo's movie.Oh wells...
Before i met my cousin,i went over to Far East to look for Ruiza since she's working.She's more hardworking than me leh!I hadn't been working for this week yet.HAHAAH!Yup,so again,no sales.
No really,you can blame me for being a jinx.
So today,went over to my grandma's place for dinner.Last day of CNY,so fast!And finally,i got to 'LO-HEI'!I bet everyone of you must be sick and tired of lohei-ing but damn,today is my first time lohei-ing for this CNY hor!!
And guess what?Next year's CNY is 26 january.Which means?My birthday falls on CNY eve.Thanks lor.Like who will celebrate with me?Somemore is my 21st leh!:(((
Ok,i think i'd better hit the sack right about now.Need to prepare myself for tomorrow!!!!!Maybe before i do,i shall go listen to 'Gu Yi' again.:(
cindy
[ 3:57 PM ]

Wednesday, February 20, 2008
First and foremost,CONGRATULATIONS ELENA LIM TING a.k.a 'MI MI YAN' FOR PASSING YOUR TP!!
Your $2k+ is so not wasted.And thanks for waking me up.
WAHAHAHAH!
I'll be waiting for you to drive me around in March.Don't come and tua me.I know your pattern one.I will write out 1 full list of places to go,petrol i pay 10%.Don't talk too much,at least i'm willing to pay.
MARCH HOR PEOPLE,TAKE NOTE PLS.If not i will declare war again.
I was supposed to declare war with her for NOT bringing me to Fullerton and feast on my birthday.But since she bought 3 boxes of my favourite chocolate,i shall make friendly with her.
So yah,if March you this mimiyan don't drive me around,SOMEBODY'S GONNA GET A HURT REAL BAD(quoted from Russell Peters).
Right,i'm hungry now.Will update later......i hope.
cindy
[ 4:23 AM ]

Sunday, February 17, 2008
I must be deaf.
My phone is just right beside me and i had no idea how i got 5 missed calls and 3 messages when it wasn't on silent mode.
Anyway,work was okay today.
Early morning we had Lion Dance coming to our centre for some erm,lion dance.I don't really fancy these stuff anymore because as a matter of fact,i don't really like them.
I don't know why Kaijia is like crazy over them.Keep saying they're cute and blahblahblah.Probably the guy beneath it lah,right Kaijia?Don't kay kay ah you!
Yah,i seemed to be hating everything.
Clowns.
Lion Dance.
Mascots.
Ronald McDonalds.Ok,it's classfied as clown but i just want to name it can?
I think that's about it.For now.
Don't know why lah,don't ask me.It's just like that.
I love cartoons though!Especially TWEETY BIRD!!!I think for all i can remember,when i was younger,i was at Movie World in Gold Coast and the ONLY mascot i'd run to to take picture with was TWEETY.Ok,and Bugs Bunny i think?No way was i going any nearer to other mascots.
Don't you think Tweety is like,DAMN CUTE?!My friggin all-time favourite leh!
Snoopy too!
Bugs Bunny!
Garfield!
Casper!
And the list goes on..
Haha!This post is damn random i know.My initial purpose was to blog about how deaf i was for the last hour or so.Oh wells....
cindy
[ 3:38 PM ]

Saturday, February 16, 2008
Morning!
My body clock has been acting weirdly.No matter how late i slept the previous night,i will automatically wake up before 11 the next day.Actually,i think it should be a good thing.If not,waking up in the morning has always been a drat for me.
Yesterday was down to Ruiza's place for CNY visiting.I know,who still go visiting right?!What to do?She busy,i busy,everybody's busy.It's not easy to find a time when everyone is free man!
So after that,her mom dropped us off at Far East Plaza because...RUIZA HAS TO WORK!!
WAHHH,sound damn weird.Ruiza working?YAH,SHE WORK I SLACK.COOL MAN!!How often do you see that!?
Anyway,being a good friend i am,i accompanied her all the way from the time she worked till the time she knocked off.Tsk,seriously,my friends should learn to cherish me.I'm almost extinct.
However,being a good friend aside,i think i jinxed the shop.
NO SALES at all please.
She was saying this is the first time there's NO SALES at all.She broke the record and blahblahblah.Harna,bottomline,i'm a jinx.
I AM A JINX!
HOW AH?!:(
So after knocking off,we took a bus down to Newton for dinner with Henry(ruiza's bf)and her mom.Yah,i'm such a lightbulb.
Oie!But they didn't mind me being the lightbulb what.Maybe they do lah but they didn't say mah.So i will just take it as no.
HAHAHAHAHAHAHAHAHH!
I don't have a choice,do i?My friends and i mean MOST of my friends are attached!OMG,come to think of it,yah ah.Those whom i'm close to.Even miao is attached!Ok,i will do some self-reflection later on.
ANYWAYS,
We ate quite a few things and i was bloated to the max.Came home and had diarrhoea.Such a waste of food.HAHAHAA ok,i'm being gross.
Ok anyway,back to Singapore Flyer.
It was fun!
The people there are nice,uniform like cock but it's ok.
The first day was all the VVIPs and VIPs,some were cocky,some were nice.Luckily i attended to the nicer ones.We had to carry this board that has the company's name on it and hold it high up so that the VIPs know where to queue.
So behind me were all the employees from the company which i'm holding and then they started chit-chatting.So they started talking to me as well and asked me if i'm still studying blahblahblah and finally,it was their turn to board the wheels,they were each given a binoculars to overlook the island.
Then,this uncle..
Uncle:binoculars for what?
Me:oh,you can actually overlook Malaysia and Indonesia from your capsule when it's at the top.
Uncle:really?!cool,then i can see what the women in Batam are doing!
Me:heh?
Wah lao,lao ti ko.
Yup,that's about it.
I told you my life is so mundane it only consists of working and studying and the only thing to make my my life interesting is to meet some random funny/weird/cocky/funny/weird/cocky/funny/weird..ok enough.
Is to meet some random funny/weird/cocky people along the way.
Ahh,tell me about it.
cindy
[ 2:41 AM ]

Monday, February 11, 2008
Eh seriously man,why is everyone pin-pointing Edison as the pervert,the sick one,the whatever you want to call him and not the girls?!

YOU MEAN TO SAY THE GIRLS ARE SUCH ANGELS THEY WERE ACTUALLY FORCED TO TAKE THOSE PICTURES?!

I admit i'm utterly disappointed in Edison but as much as he is responsible for the pictures,no one should spare the girls either.I'm not being biased but,isn't it obvious it was VOLUNTARILY?You cannot push the blame to one person because it takes two hands to clap!Well,in this case,maybe more but YOU GET MY DRIFT!

You can't blame him if that's what he does during his leisure time because everyone has got their own ways to entertain themselves.Yes,he may be kinky but hey,that's his PRIVATE life.Do you have a right to interfere?NO,YOU DON'T.

If you can't even do what you like in your PRIVATE life,then what's PRIVATE life for?

It wasn't his fault that the pictures got leaked out.I believe anyone in the right frame of mind wouldn't want these kind of free publicity.He didn't intend to SHARE with everyone his cute weewee and the girls' abalones.And to those who THOUGHT he was gay,this proves right through your arse that he is straight as can be.He is just a human trying to satisfy his needs.

Ok,maybe he's got far too many but argh!I don't have to go on any further with this.

IT WAS THAT BASTARD or maybe,BASTARDS who were desperate for money(and maybe,fame)that caused the 'edison and his secret abalones' blown out of proportion.That's his life lor,for goodness's sake.Does it affect you in any ways?!

It could have remained a secret.It could have saved all these controversies that are going on on who's to blame for the pictures and blahblahblah.

Now those criminals must be happy.In fact,over the moon that all of these people's life are ruined by them.It must have made them feel like king.

Whatever it is,Edison,be a man and answer to the media!Not just film a cold 'break your silence' video,which lack sincerity and leave it hanging there.Stop running away like a coward.Face the music and this shit will soon be gone.Remember,you are still hot.
cindy
[ 12:50 PM ]

Sunday, February 10, 2008
Remember in one of my earlier posts,i said i will love whoever to death if the person buys me a dozen of ROYCE chocolate?
I shall announce the lucky winner.....
.....
...
..
.
ELENA LIM TING!!!
Fine,i know you will most likely be thinking 'eeee,who want to be that WINNER'.I CAN'T POSSIBLY SAY WHO IS THE LOSER RIGHT!?!*roll eyes until eyeball stuck*
Ok,she didn't buy me A DOZEN but she bought me 3 boxes!I'm already more than happy can!?!WAH LAO,she really deserved to be my best friend!:)
I mean the other 3 short musketeers too lah!The damn good SINGLLYWOOD actresses!HAHAHA!I'm really glad to have such good friends around!:D
So anyway,Elena,Miss Piggy and Sam(and Sister Zaw joined us later)came over to my place for initially some LO HEI session but guess what?Our 'yusheng' doesn't have all the MAIN DISHES,only the seasoning.So in the end,no LO HEI!!:(
BUT....!!I was on a winning streak man!Won quite abit but poor Elena and Sam,they were on a losing bet.It's ok lah babes,there's always a NEXT YEAR right?;)HAHAHAA!
I guess CNY is becoming quieter each year.Other than day 1 itself this year,the rest of the days i've been staying at home doing nothing but eating those new year goodies.
GOODIES indeed.Goodies which caused me to have constipation,pimples,sore throat and pimples.
And angbaos are getting lesser!WHY HUH WHY!?!The other day i was complaining to my dad why is my angbao getting lesser and lesser each year and,
dad:eh,counted good already leh.next year u wait and see lor.
OK,thanks for the hint dad.
I know,i know.I'm not getting any younger and i shouldn't be asking for too much but oie!I'm barely an adult for god's sake.Then when next year comes,i've got nothing to say.So i shall take back what i just said.
TSK!This is terrible.To think i was happily writing down how much i would be getting this year and the bills that i can FINALLY clear with the angbao money.ARGH!STRESS!
So tomorrow will be work as usual and monday will be my first day at Singapore Flyer!I think i should really,just get a full time job.What say you?
And..i don't know what's up with everyone!EVERYONE and i mean EVERYONE!The first day of CNY,my cousins were all making fun of me and kept telling me about Edison's scandal and blahblahblah.Yes,the whole world knows that i'm crazy over him.Then,miao came over to my place and she was like,
miao:cannot,i must talk to edison.i must ask him why he like that.
Those who came to my house before will know that even before you stepped into my room,you'll see a gigantic poster of him.So,she walked in and started blabbering shits.
Whatever happened,it's over.Disappointed yes,but you really can't deny he's hot.I already said i don't care if his weewee is as small as my baby nephew's,as long as his looks is still intact,he is still Edison.And that's the only reason why i liked him.FULLSTOP
LOL!I speak as though i know him personally.
money money money!!$kaching$
cindy
[ 3:06 PM ]

Friday, February 08, 2008
Please watch.
Apparently,those 'Taiwan Celebrities' were saying the way Singaporean speaks English is weird.Yes,'Taiwan Celebrities'.To tell you the truth,i barely know who they are except for the hosts.So by calling the rest 'celebrities',it's quite an honour.
Who knows,maybe they're huge in Taiwan but look,do i give a damn?Anyway,i doubt they are.
The reason it got me so annoyed is because they are just a bunch of ignorant idiots.They THINK they are
that
proficient in that language when majority of them can't even pronounce a simple word like,'BIRTHDAY'.
'Birsday',that's how they pronounced.
They think they are funny.Let me tell you,they are not.
Like,seriously man!A pot calling the kettle black.Oh wait,maybe not.As far as i'm concerned,we definitely know how to pronounce simple words.
It's probably our lack of pitch in tone that makes it sound awkward but that is what made us unique,no?
You think you can speak like a Singaporean so easily meh?!It takes years of practice ok!?
If you haven't already notice,when we watch variety shows from Taiwan,they are also speaking a mixture of mandarin and english.So what makes them?A copycat?
Look,i'm not saying all taiwanese are like that because no,they are not.I've been to Taiwan and the people there are hospitable enough for me not to badmouth them.It's just that with people like those 'celebs',who speaks like as though they know what they are really saying in front of national tv,it makes it hard not to bombard them with sensitive issues.
Our country may be small but oie,look who's the more advanced country?!We are so much better off than them,seriously.
Laughing at our accents?We shall see who has the last laugh.
Anyway,what a way to start CNY.
I had this HUGE RED PIMPLE RIGHT ON MY FOREHEAD and guess what?While i was waiting for the lift,my neighbour actually shouted,
neighbour:why you put the red dot on your forehead?!
me:IT'S NOT RED DOT LAH OIE!!
neighbour:then what is it?
me:PIMPLE!!!!!ARGH!!
WAH LAOOO,RED DOT!So can you imagine how big it is?!
This year angbao collection is not as intensive as of previous years.:( my total actually dropped a few hundred compared to last year's,can you believe it?!
I THOUGHT EVERYONE JUST HAD THEIR BONUSES?!?!
Alright,i'm gonna hit the sack now.Will update more tomorrow!
cindy
[ 4:16 PM ]

Wednesday, February 06, 2008
HILARIOUS!!!!!!!
cindy
[ 8:32 AM ]

Tuesday, February 05, 2008
The wonders of technology!:)
once the clock strikes 12,i brought the laptop in to my dad's room and we started singing the birthday song..
hmm,what is my dad looking at?

...
.....
......
........
..........
.............
*waving to Celine and Joseph*'HI!'
ok,i know you guys will probably focus more on the background.that's how i intend to put on another 10kg during cny,happy?

*dad looks at the com* : WAH!wear until so nice just to sing birthday song for me ah?!
answer:eh,no.i guess it's their inborn ability to steal limelight from others.Before she starts screaming her head off at me...OIE,IT'S A COMPLIMENT HOR CELINE CHEN!

stop counting the candles ah!man's age is a secret too.........

HAPPY BIRTHDAY DADDY!!:))
So this year,i've been pretty fair to my parents by buying cakes on their birthdays.Just that my dad got to hear Celine and Joseph singing birthday song through the video call but my mom didn't.So does it mean i'm not being fair afterall?EH DON'T LIKE THAT LEH!!!NEXT YEAR NEXT YEAR!

See,sometimes QnA yourself helps to relieve stress in a way.Try it!

Last year,i've only bought the cake for my mom and guilt had been bugging me ever since.So yup,i've decided to play fair this year and having consumed different types of cakes for 3 consecutive weeks,(my birthday itself,my mom and dad's whose birthdays are exactly a week's apart),i shall hereby officially announce...

NO MORE CAKES FOR ME UNTIL NEXT YEAR

Erm,right.

Ok,i know i probably won't be able to endure for so long but...!

No really,i'm beginning to have phobia for cakes and it's not even funny at all.

HAHAHAHA?No,not funny.

I need inspiration to write something that's more interesting.Like how my boss's daughter pronounced the word CORK as COCK repeatedly with every sentence she said.

'you can move that COCK over there.'
'no wait,i think if the COCK put like that not very nice hor?'
'ok you just clear all of that then you move the COCK up.'

Wow,that cock sure is flexible!:D
Ok sorry.I meant Cork.
cindy
[ 4:52 PM ]

Friday, February 01, 2008
With all the bad press going on and the what seem like endless photos circulating all over the net of Edison,i went on to youtube and search for the song which made me starstrucked for years.
It brings me back all the way to sec 1 and 2,which i really went crazy over him.
And after watching the video and listening to the song all over again,i have only one thing to say.
....
.....
.......
I'M STILL CRAZY OVER HIM!!!
HAHAHAA!I don't care if his weewee is small or that he is a philanderer because i'm shallow.His good looks makes me happy:)